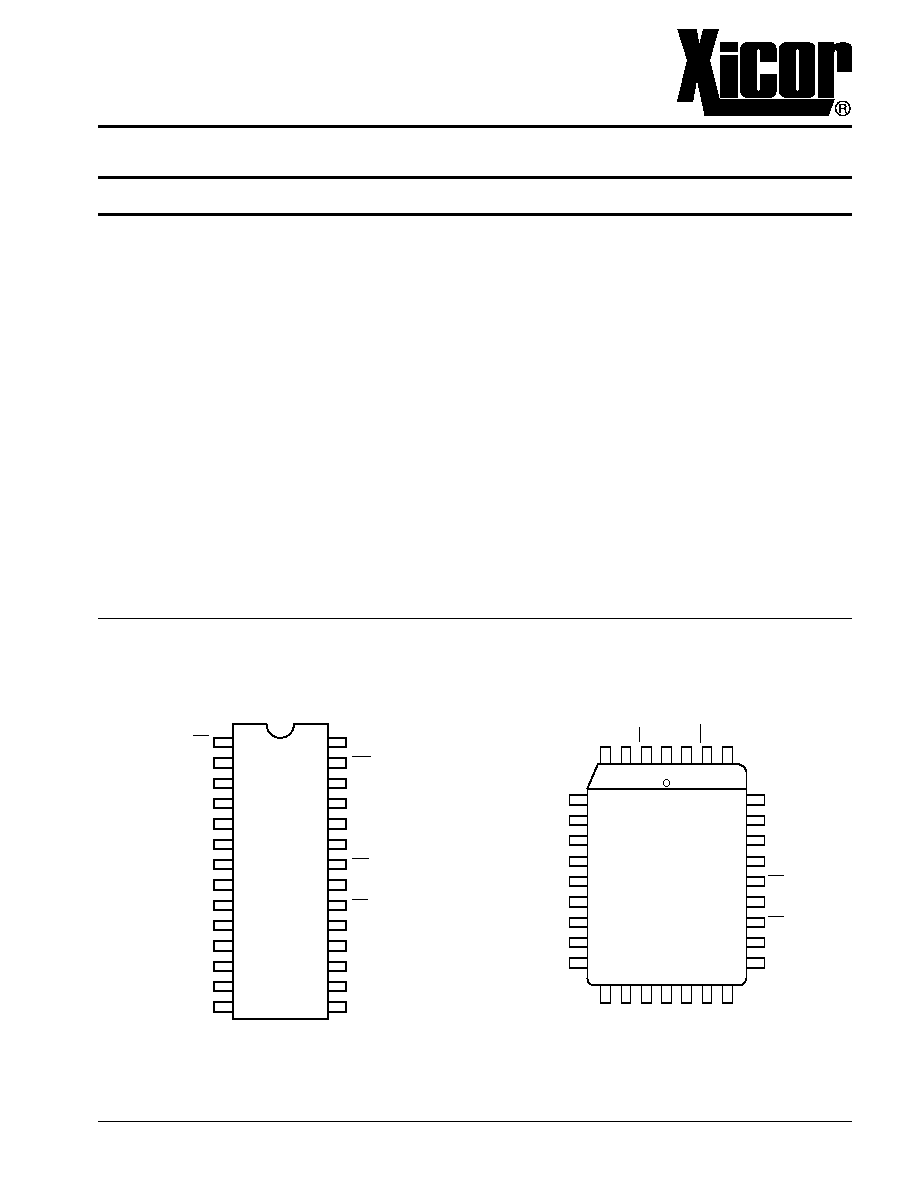 X20C04
©Xicor, Inc. 1992, 1995, 1996 Patents Pending
Characteristics subject to change without notice
3825-2.8 7/31/97 T4/C0/D0 SH
Nonvolatile Static RAM
DESCRIPTION
The Xicor X20C04 is a 512 x 8 NOVRAM featuring a
static RAM overlaid bit-for-bit with a nonvolatile electri-
cally erasable PROM (E
PROM). The X20C04 is fabri-
cated with advanced CMOS floating gate technology to
achieve low power and wide power-supply margin. The
X20C04 features the JEDEC approved pinout for byte-
wide memories, compatible with industry standard RAMs,
ROMs, EPROMs, and E
The NOVRAM design allows data to be easily trans-
ferred from RAM to E
RAM (recall). The store operation is completed in 5ms or
less and the recall operation is completed in 5
Xicor NOVRAMS are designed for unlimited write
operations to RAM, either from the host or recalls from
E
PROM, and a minimum 1,000,000 store operations to
PROM. Data retention is specified to be greater
FEATURES
·
High Reliability
--Endurance: 1,000,000 Nonvolatile Store
Operations
--Retention: 100 Years Minimum
·
Power-on Recall
--E
2
PROM Data Automatically Recalled Into
SRAM Upon Power-up
·
Lock Out Inadvertent Store Operations
·
Low Power CMOS
--Standby: 250
A
·
Infinite E
2
PROM Array Recall, and RAM Read
and Write Cycles
·
Compatible with X2004
4K
X20C04
512 x 8 Bit
PIN CONFIGURATION
A6
A5
A4
A3
A2
A1
A0
A8
NC
I/O7
I/O6
LCC
PLCC
A7
A6
A5
A4
A3
A2
A1
A0
I/O0
I/O1
I/O2
VCC
WE
A8
NC
I/O7
I/O6
I/O5
I/O4
I/O3
PLASTIC
CERDIP
X20C04
PIN DESCRIPTIONS
Addresses (A
0
­A
8
)
The Address inputs select an 8-bit memory location
during a read or write operation.
Chip Enable (
CE
)
The Chip Enable input must be LOW to enable all read/
write operations. When
is HIGH, power consumption
Output Enable (
OE
)
The Output Enable input controls the data output buffers
and is used to initiate read and recall operations. Output
Enable LOW disables a store operation regardless of
the state of
Data In/Data Out (I/O
0
­I/O
7
)
Data is written to or read from the X20C04 through the
I/O pins. The I/O pins are placed in the high impedance
state when either
Write Enable (
WE
)
The Write Enable input controls the writing of data to
both the static RAM and stores to the E
Nonvolatile Enable (
NE
)
The Nonvolatile Enable input controls all accesses to
the E
PROM array (store and recall functions).
PIN NAMES
Symbol
Description
FUNCTIONAL DIAGRAM
X20C04
Power-Up Recall
), the X20C04 performs an auto-
matic array recall. When V
recall is initiated, regardless of the state of
Write Protection
The X20C04 has five write protect features that are
employed to protect the contents of both the nonvolatile
memory and the RAM.
Sense--All functions are inhibited when V
· A RAM write is required before a Store Cycle is
· Write Inhibit--Holding either
HIGH during power-up and power-
down will prevent an inadvertent store operation.
· Noise Protection--A combined
pulse of less than 20ns will not initiate a Store
· Noise Protection--A combined
pulse of less than 20ns will not initiate a recall
DEVICE OPERATION
inputs control the X20C04
operation. The X20C04 byte-wide NOVRAM uses a
2-line control architecture to eliminate bus contention in
a system environment. The I/O bus will be in a high
impedance state when either
RAM Operations
RAM read and write operations are performed as they
would be with any static RAM. A read operation requires
HIGH. There is no limit to the number of read or write
operations performed to the RAM portion of the X20C04.
Nonvolatile Operations
LOW, recall operation is performed in the same
manner as RAM read operation. A recall operation
causes the entire contents of the E
into the RAM array. The time required for the operation
to complete is 5
s or less. A store operation causes the
entire contents of the RAM array to be stored in the
nonvolatile E
PROM. The time for the operation to
SYMBOL TABLE
Must be
steady
Will be
steady
May change
from LOW
to HIGH
Will change
from LOW
to HIGH
May change
from HIGH
to LOW
Will change
from HIGH
to LOW
Don't Care:
Changes
Allowed
Changing:
State Not
Known
Center Line
is High
Impedance

X20C04
ABSOLUTE MAXIMUM RATINGS*
Temperature under Bias .................. ­65
Storage Temperature ....................... ­65
SS .......................................
D.C. Output Current ........................................... 10mA
Lead Temperature (Soldering, 10 seconds) ..... 300
*COMMENT
Stresses above those listed under "Absolute Maximum
Ratings" may cause permanent damage to the device.
This is a stress rating only and the functional operation of
the device at these or any other conditions above those
indicated in the operational sections of this specification is
not implied. Exposure to absolute maximum rating condi-
tions for extended periods may affect device reliability.
D.C. OPERATING CHARACTERISTICS (Over recommended operating conditions unless otherwise specified.)
Limits
Symbol
Parameter
Min.
Max.
Units
Test Conditions
Address Inputs = 0.4V/2.4V levels
@ f = 5MHz. All I/Os = Open
POWER-UP TIMING
Symbol
Parameter
Max.
Units
Power-Up to RAM Operation
Power-Up to Nonvolatile Operation
Notes: (1) V
max. are for reference only and are not tested.
(2) This parameter is periodically sampled and not 100% tested.
CAPACITANCE T
Symbol
Test
Max.
Units
Conditions
RECOMMENDED OPERATING CONDITIONS
Temperature
Min.
Max.
Supply Voltage
Limits
X20C04
ENDURANCE AND DATA RETENTION
Parameter
Min.
Units
EQUIVALENT A.C. LOAD CIRCUIT
A.C. CONDITIONS OF TEST
Input Rise and
Fall Times
Input and Output
Timing Levels
MODE SELECTION
CE
WE
NE
OE
Mode
I/O
Power