Document Outline
WM2331

10-bit 30MSPS ADC with PGA and Clamp

FEATURES
APPLICATIONS
BLOCK DIAGRAM
PIN CONFIGURATION
PIN DESCRIPTION
ORDERING INFORMATION
ABSOLUTE MAXIMUM RATINGS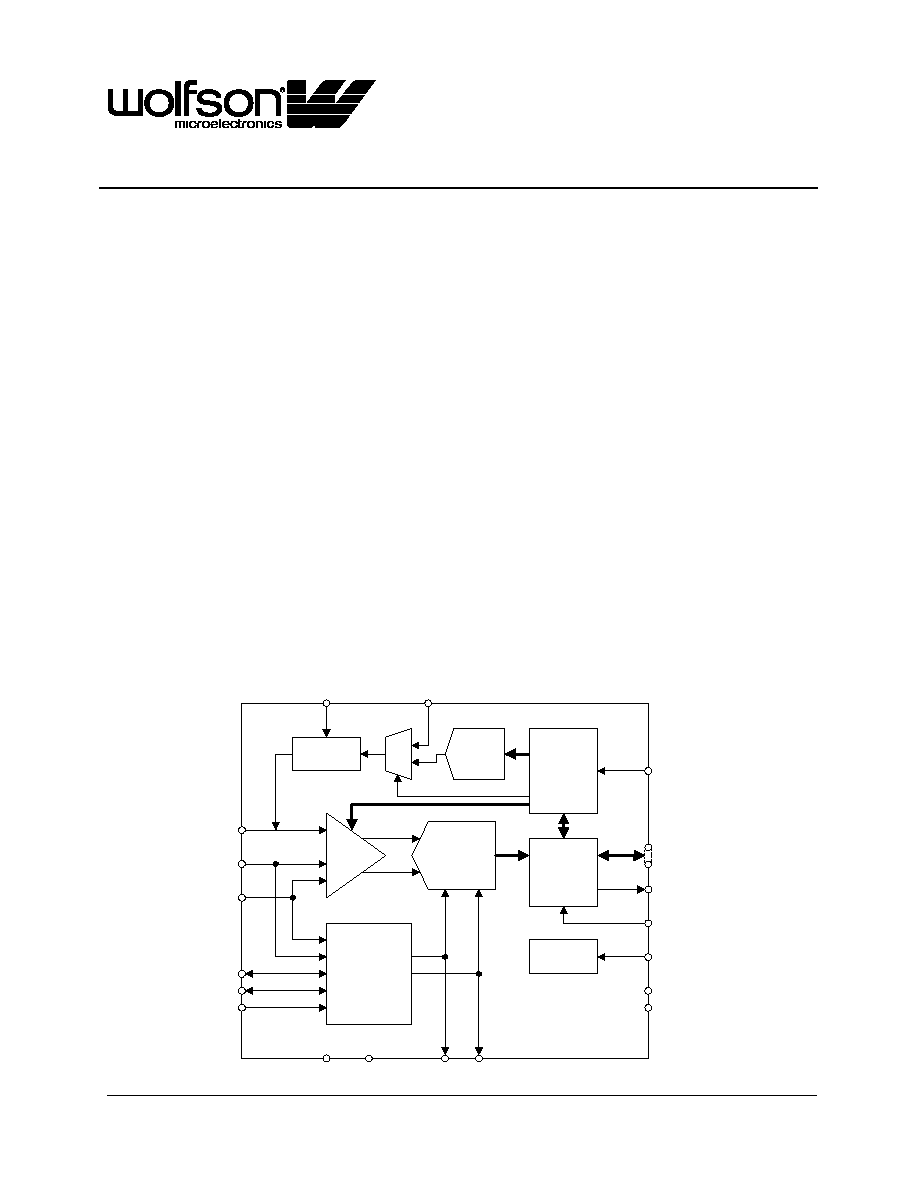 WM2331
10-bit 30MSPS ADC with PGA and Clamp
WOLFSON MICROELECTRONICS LTD
Production Data, July 2001, Rev 1.5.
2001 Wolfson Microelectronics Ltd.
DESCRIPTION
The WM2331 is a high speed, 10-bit pipeline analogue-to-
digital converter (ADC) with on-chip programmable gain
amplifier (PGA) and clamp circuit, and internal voltage
references. Conversion is controlled by a single clock input.
The device has a high bandwidth differential sample and
hold input, which gives excellent common-mode noise
immunity and low distortion. Alternatively, it can be driven
in single ended fashion with an optional voltage clamp for
DC restoration that can take its reference from an on-chip
10-bit DAC or an external source.
The WM2331 provides internal reference voltages for
setting the ADC full-scale range without the requirement for
external circuitry. However, it can also accept external
references for applications where common or high-precision
references are required.
A bidirectional 10-bit parallel interface is used both to
control the device and to read ADC conversion data. ADC
data can be output in unsigned binary or two's complement
format. An out-of-range output pin indicates when the input
signal is outside the converter's range.
The WM2331 operates with independent analogue and
digital supplies of 3V to 5.5V and is supplied in a 28-pin
TSSOP package.
FEATURES
Programmable Gain Amplifier (PGA)
Built in clamp function (DC restore) with 10-bit DAC
Adjustable internal voltage references
Wide Input Bandwidth - 150MHz
Unsigned Binary or Two's complement output format
Programmable via parallel interface
Independent analogue and digital supplies, 3V to 5.5V
Low power - 92mW typical at 3.0V supplies
Powerdown mode to 3mW typical
APPLICATIONS
Composite Video Digitisation
IF and Baseband Digitisation
High Speed Data Acquisition
BLOCK DIAGRAM
AIN
ON-CHIP
REFERENCE
GENERATOR
ADC
Core
S/H
PGA
REFTS
DIO[9:0]
INPUT/
OUTPUT
BUFFERS
OVR
REFBS
MODE
REFSENSE
AGND
AVDD
REFBF REFTF
CLAMP
LEVEL
DAC
CLAMP
AMPLIFIER
OEB
DGND
DVDD
CONTROL
REGISTERS
CLAMP
CLAMPIN
M
U
X
WR
TIMING
CONTROL
CLK
VREF
WM2331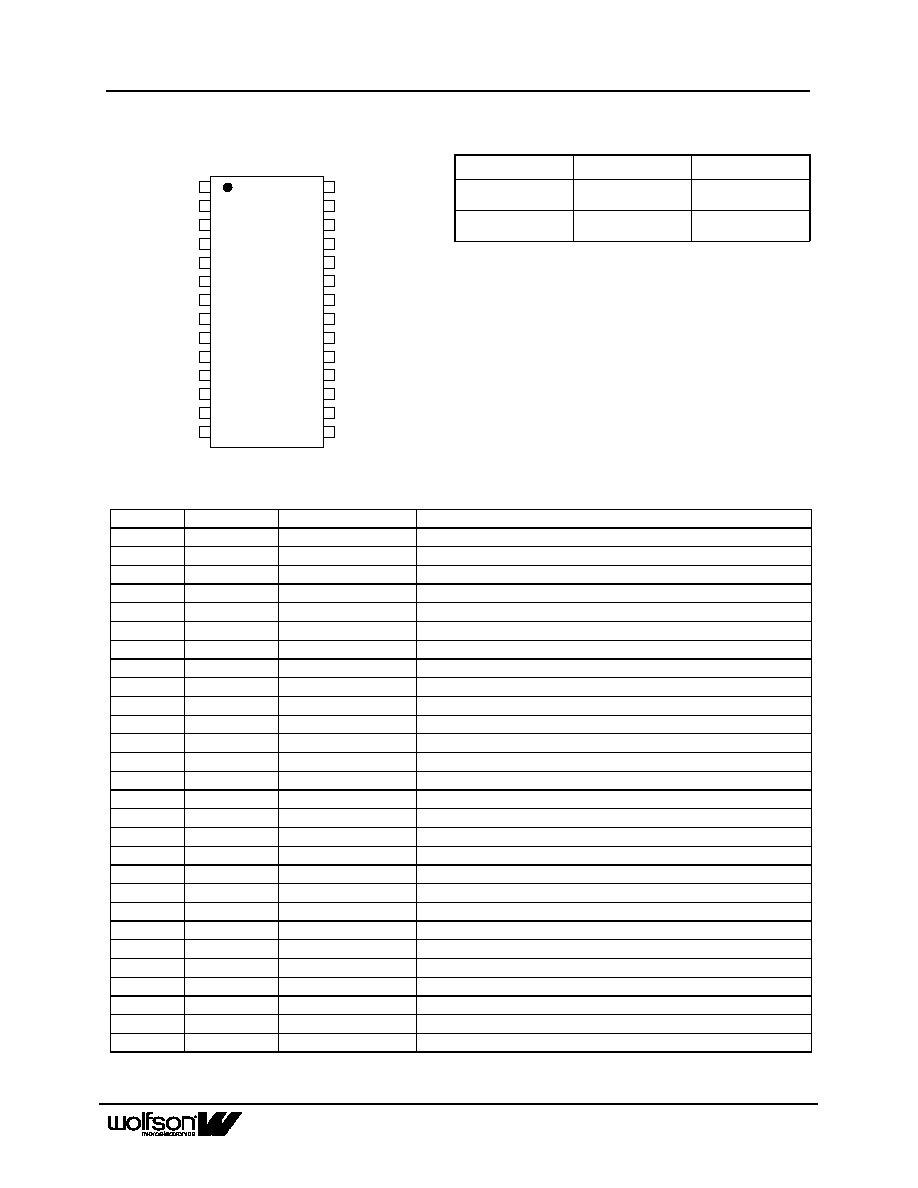 WM2331
PIN CONFIGURATION
ORDERING INFORMATION
DEVICE
TEMP. RANGE
PACKAGE
DIO0
OVR
OEB
AGND
DVDD
REFTS
REFBS
REFBF
REFTF
MODE
VREF
AIN
AVDD
DIO8
REFSENSE
DIO2
DIO3
DIO1
DIO7
CLAMP
DIO6
DIO5
CLAMPIN
DIO4
DIO9
DGND
WR
CLK
PIN DESCRIPTION
PIN
NAME
TYPE
DESCRIPTION
Digital input/output bit 0 (LSB)
Digital input/output bit 1
Digital input/output bit 2
Digital input/output bit 3
Digital input/output bit 4
Digital input/output bit 5
Digital input/output bit 6
Digital input/output bit 7
Digital input/output bit 8
Digital input/output bit 9 (MSB)
Overrange output (tri-state)
Output enable bar ­ low to enable DIO[9:0] and OVR
Clamp control ­ high to enable clamp amplifier
WM2331
ABSOLUTE MAXIMUM RATINGS
Absolute Maximum Ratings are stress ratings only. Permanent damage to the device may be caused by continuously operating at
or beyond these limits. Device functional operating limits and guaranteed performance specifications are given under Electrical
Characteristics at the test conditions specified.
ESD Sensitive Device. This device is manufactured on a CMOS process. It is therefore generically susceptible
to damage from excessive static voltages. Proper ESD precautions must be taken during handling and storage
of this device.
As per JEDEC specifications A112 and A113, this product requires specific storage conditions prior to surface mount assembly. It
has been classified as having a Moisture Sensitivity Level of 2 and as such will be supplied in vacuum-sealed moisture barrier
bags.
CONDITION
MIN
MAX
Digital supply voltage, DVDD to DGND
Analogue supply voltage, AVDD to AGND
Supply voltage difference, AVDD to DVDD
Ground difference, AGND to DGND
Voltage range digital inputs (DIO[9:0], WR, CLAMP, OEB)
Voltage range analogue inputs (REFTS, REFBS, REFTF, REFBF, AIN,
VREF, REFSENSE, CLK, MODE)
Operating temperature range, T
Lead temperature (1.6mm from package body for 10 seconds)
RECOMMENDED OPERATING CONDITIONS
PARAMETER
SYMBOL
TEST CONDITIONS
MIN
NOM
MAX
UNIT
Operating Free Air Temperature

WM2331
ELECTRICAL CHARACTERISTICS
Test Conditions:
= 30MHz, 50% duty cycle, MODE = AVDD, REFTS = 2.5V, REFBS = 0.5V, PGA gain = 1.0,
, unless otherwise stated.
PARAMETER
SYMBOL
TEST CONDITIONS
MIN
TYP
MAX
UNIT
DC Accuracy
Differential nonlinearity
No missing codes guaranteed
Analogue Input Signal to AIN pin
Input signal range for unity PGA
gain (see Note 1)
Switched input capacitance
Conversion Characteristics
Dynamic Performance
Spurious free dynamic range
Total harmonic distortion
Signal to noise and distortion
ratio
PGA
Gain range (linear scale)
Gain step size (linear scale)
Clamp
External clamp reference on
CLAMPIN
Clamp output voltage error
WM2331
Test Conditions:
= 30MHz, 50% duty cycle, MODE = AVDD, REFTS = 2.5V, REFBS = 0.5V, PGA gain = 1.0,
, unless otherwise stated.
PARAMETER
SYMBOL
TEST CONDITIONS
MIN
TYP
MAX
UNIT
Analogue Reference Inputs / Outputs in Top/Bottom Mode (MODE=AVDD)
Bottom reference voltage
applied to REFBS
Top reference voltage applied to
REFTS
Differential reference input
(REFTS ­ REFBS)
Reference input common mode
(REFTS + REFBS) / 2
Switched input capacitance on
REFBS
Switched input capacitance on
REFTS
Analogue Reference Inputs / Outputs in Centre-Span Mode (MODE=AVDD/2)
Reference voltage derived or
applied to VREF
Non-AIN side of differential input
applied to REFTS and REFBS
Analogue Reference Inputs / Outputs in Full External Reference Mode (MODE=AGND) (Note 3)
Differential reference voltage
applied (REFTF ­ REFBF)
Reference input common mode
(REFTF + REFBF) / 2
Reference input resistance
VREF Input / Output specifications
Internal 1V reference to VREF
Internal 2V reference to VREF
External reference applied to
VREF pin in centre-span mode
Input impedance in centre-span
mode