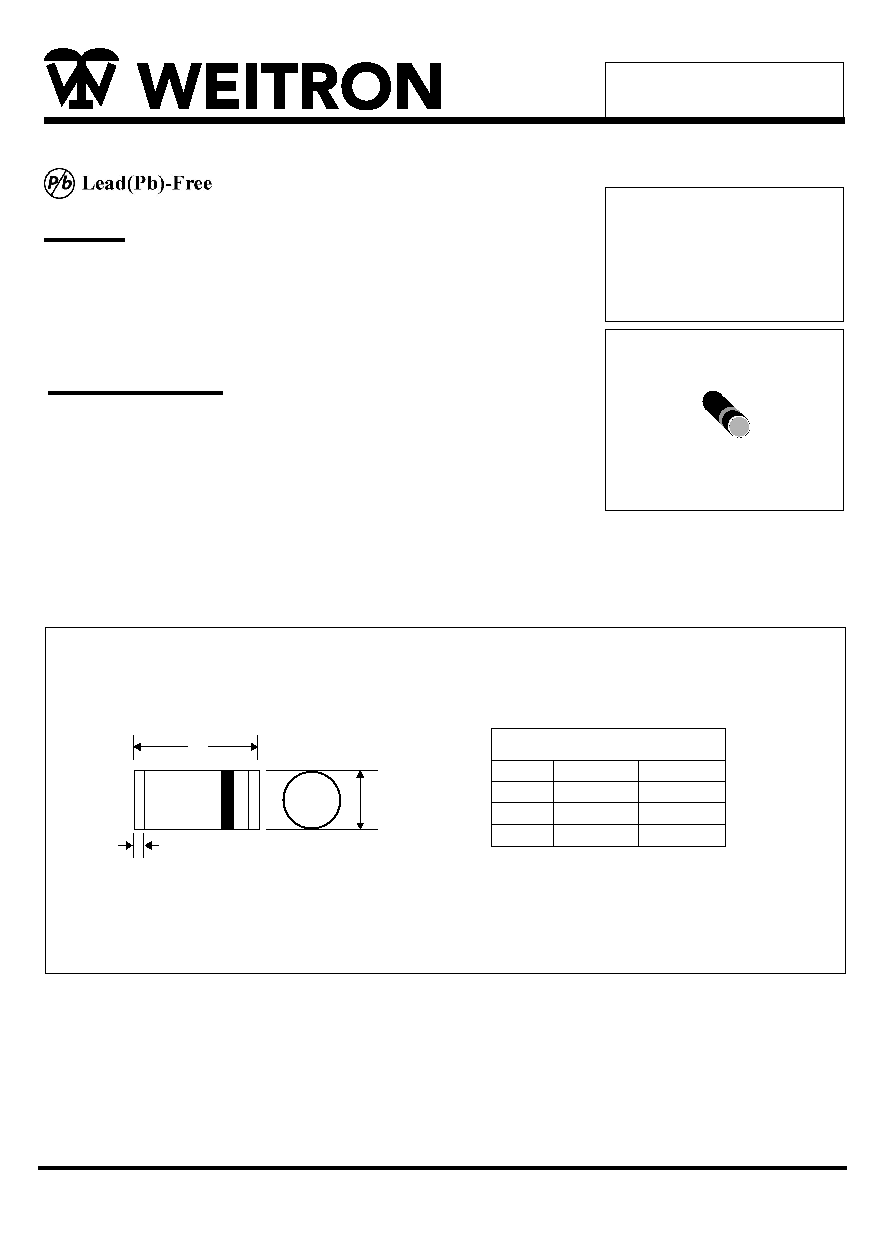 Surface Mount Schottky Diodes
*Low Forward Voltage
*Fast Switching
*Low Switching Noise
*Ideal for Surface Mounted Application
Features:
WEITRON
http://www.weitron.com.tw
M5817 thru M106
SMALL SIGNAL
SCHOTTKY DIODES
1.0 AMPERES
20-60 VOLTS
MELF
MELF Outline Dimensions
Dim
A
B
C
Min
4.80
2.40
0.46
Max
5.20
2.67
0.60
MELF
*Case : Molded Plastic
*Polarity :Indicated by cathode band
*Weight : 0.005 Ounce ,0.016 grams
Mechanical Data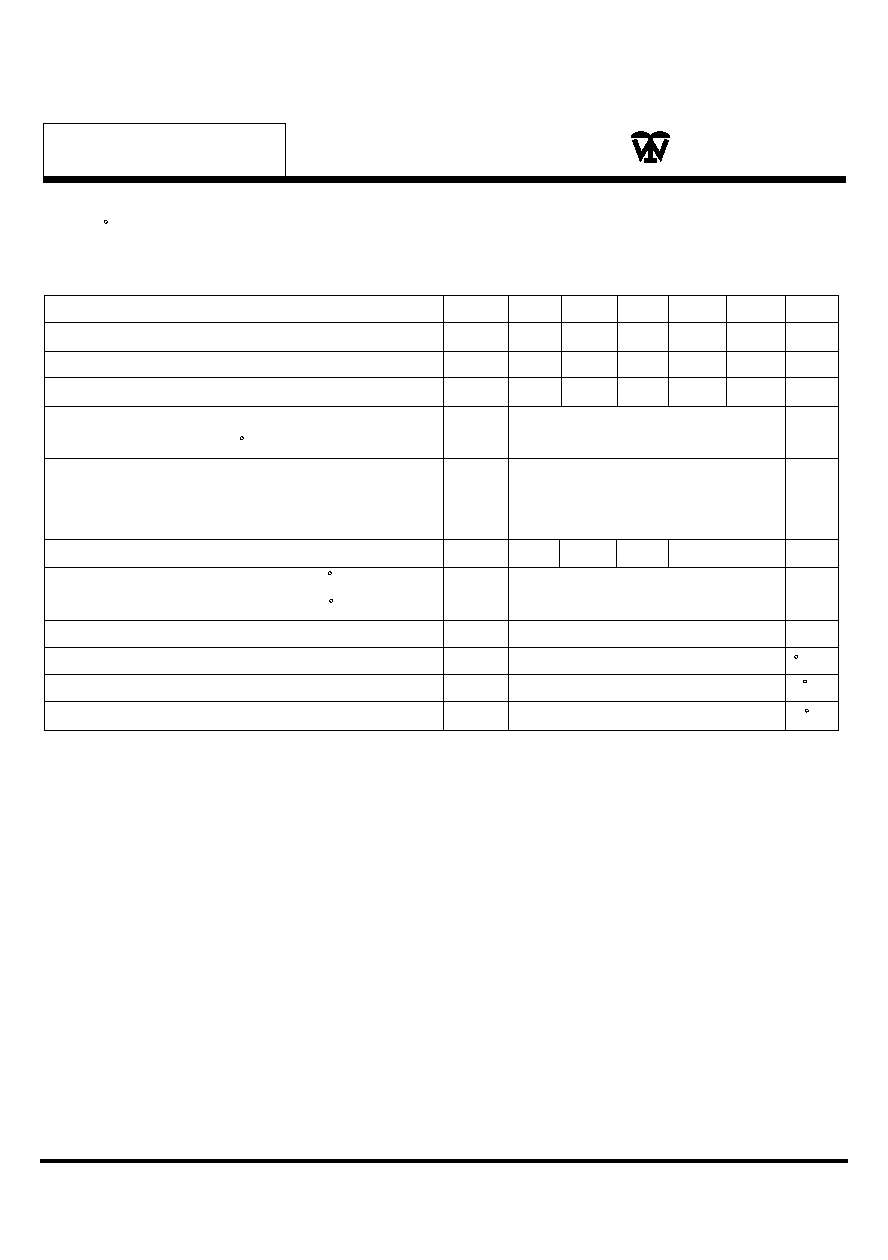 M5817 thru M106
Maximum Ratings and Electrical Characteristics
Characteristics
M5817 M5818 M5819 M105 M106
Symbol
Unit
Maximum Recurrent Peak Reverse Voltage
Maximum RMS Voltage
Maximum DC Blocking Voltage
Maximum Average Forward
Rectified Current @T
Peak Forward Surge Current,
8.3 ms Single Half Sine-Wave
Superimposed on Rated Load (JEDEC Method)
Maximum Instantaneous At 1.0A DC
Maximum DC Reverse Current @Tj=25 C
At Rated DC Blocking Voltage @Tj=75 C
Typical Junction Capacitance
Typical Thermal Resistance
Operating Temperature Range
Storage Temperature Range
V
V
V
Rating 25 C Ambient Temperature Unless Otherwise Specified.
Single Phase Half Wave, 60Hz , Resistive or Inductive Load.
For Capacitive Load, Derate Current by 20%.
NOTES:1.Measured at 1.0MHz applied reverse voltage of 4.0V DC.
2.Thermal Resistance Junction to case.
10
80
WEITRON
http://www.weitron.com.tw
M5817 thru M106
WEITRON
http://www.weitron.com.tw
RATING AND CHARACTERISTICS CURVE
TERMINAL TEMPERATURE C
A
V
E
R
A
G
E

F
O
R
W
A
R
D

C
U
R
R
E
N
T

(
A
)
FIG.1 FORWARD CURRENT DERATING CURVE
Single Phase
Half Wave 60Hz
Resistive or
Inductive Load
REVERSE VOLTAGE (V)
C
A
P
A
C
I
T
A
N
C
E

(
p
F
)
FIG.4 TYPICAL JUNCTION CAPACITANCE
NUMBER OF CYCLES AT 60Hz
P
E
A
K

F
O
R
W
A
R
D

S
U
R
G
E

C
U
R
R
E
N
T

(
A
)
FIG.5 MAXIMUM NON-REPETITIVE
SURGE CURRENT
8.3ms Single Half Sine-Wave
PERCENT OF RATED PEAK REVERSE VOLTAGE
I
N
S
T
A
N
T
A
N
E
O
U
S

R
E
V
E
R
S
E

C
U
R
R
E
N
T

(
m
A
)
FIG.3 TYPICAL REVERSE CHARACTERISTICS
INSTANTANEOUS FORWARD VOLTAGE VOLTS
I
N
S
T
A
N
T
A
N
E
O
U
S

F
O
R
W
A
R
D

C
U
R
R
E
N
T

(
A
)
FIG.2 TYPICAL INSTANTANEOUS FORWARD
CHARACTERISTICS