Vicor Corporation Tel: 800-735-6200 vicorpower.com
V·I Chip Evaluation Board
Please read this document before applying input voltage to
the Evaluation Board.
Factorized Power Architecture (FPA) offers a fundamentally
new and improved approach to distributed power.* The FPA
Evaluation Board described in this document is intended to
acquaint you with some of the benefits and features of FPA,
and it is not designed to be used or installed in "End Use"
equipment.
The PRM / VTM Chip Set mounted on this Evaluation Board
features a unique "Adaptive Loop" compensation feedback:
a single-wire alternative to traditional remote sensing and
feedback loops that enables precise control of an isolated
Point-of-Load (POL) voltage without the need for either a
direct connection to the POL or for noise sensitive, bandwidth
limiting, isolation devices in the feedback path.
In operation, V·I Chips can operate safely at high temperatures.
Use caution when connecting test probes and interface lines to
avoid touching hot surfaces. Be sure the power is off before
making or breaking connections to the Evaluation Board.
* Refer to Vicor document "DC-DC Converter Chip Set Overview"
for a description of FPA and an overview of its essential elements.
Recommended Fastening Hardware:
All hardware is Stainless Steel except Ring Lugs.
Kit # 26647 is not included with Evaluation Board.
1.0 Recommended Equipment
1.1 DC Power supply ­ 0-100 V; 500 W; 10 A
1.2 DC Electronic load ­ Pulse capable; 0-100 V; 100 A
1.3 DMM
1.4 Oscilloscope
1.5 Interconnect cables (appropriately sized for current)
1.6 Fastening hardware
1.7 Fan
1.8 Safety glasses
1.9 Data sheets for the specific PRM and VTM models
2.0 Description of FPA Evaluation Board Components and
Features
(Refer to Figure 2 or 3 for item location)
Source voltage connection terminals
Enable / disable connection terminal
Resistor R1 for adjusting current limit
Capacitor C5 for adjusting soft start
Output voltage set resistor R4
Compensation device resistor R6
+ / -VTM input Kelvin connection
test points
+ / -VTM output Kelvin connection
test points
Vo VIEW output voltage oscilloscope jack
2.12 +OUT / -OUT Load connection terminals
· DC-DC Converter Chip Set
· Up to 100 A output
· Easy to use
· Features Adaptive Loop feedback
VC
PC
TM
IL
OS
NC
CD
Figure 1 -- The P048F048T24AL PRM is used with any 048 input
series VTM to provide a regulated and isolated output.
DC-DC Converter Implementation
PRELIMINARY
Vicor Corporation Tel: 800-735-6200 vicorpower.com
V·I Chip Evaluation Board
Figure 2 -- EVAL Board Layout -- Top side
3.0 Hook Up
An external power supply (1.1) should be used to provide power.
3.1 Connect Positive input lead to Eval Board +IN and
3.2 Connect Negative input lead to Eval Board -IN and
An external load (1.2) should be connected to the output
terminals with leads and lugs having adequate current capacity.
3.4 Connect Positive output lead to Eval Board +OUT
3.5 Connect Negative output lead to Eval Board -OUT
!! As the output current of the Eval Board can achieve
100 Amperes, connections must be tight and properly sized
in order to minimize losses due to contact resistance !!
4.0 Verify Connections
5.0 Test Sequence
5.1 Assure DC supply is set to 0 Vdc prior to turning unit on
and set supply current to 8 A minimum.
5.2 Turn on DC supply.
5.3 Make sure DC load is set to 0 A prior to turning on load.
5.4 Turn on DC load.
5.5 Connect DMM or scope probe to the test points
provided to monitor output voltage (Vout). Vf View and
Vo View (J1 and J2) are provided to make accurate
measurements of the Factorized Bus (Vf) and Vout.
Various types of scope probes may be directly connected
to these points if the probe is equipped with a removable
plastic sheath. Be careful to avoid creating ground loops
when making measurements of Vf and Vin.
It is recommended that these measurements be made
separately since shorting ­IN to ­OUT of the PRM disables
current limit.
5.6 Turn-on fan (Use of an external fan is recommended.)
5.7 Slowly raise the DC input voltage to 48 Vdc (Output
voltage should be present at 36 Vdc input).
5.8 Verify no load operation by raising and lowering the input
voltage through the entire 36 ­ 75 Vdc range. Output
voltage should remain constant.
5.9 Re-establish 48 Vdc input.
5.10 Slowly increase the load current to full load while
monitoring the output voltage. The output voltage should
remain within the limits specified in the appropriate PRM
/ VTM data sheets.
5.11 Return the load current to 0 A and decrease the input
5.12 Repeat step 5.10 ­ depending upon the external supply
source and the source impedance it may be necessary to
adjust the supply's voltage to keep the input voltage to the
PRM at 36 Vdc.
5.13 Return the load current to 0 A and increase the input
FPA board output voltage
F
48
P24A
--
V12
--
19
Factorized
Power
Eval Board
Input voltage
designator for
PRM
Factory installed PRM
output power ÷10 (e.g. 240W)
Adaptive Loop
max output current available from
PRM / VTM Chip Set
PRELIMINARY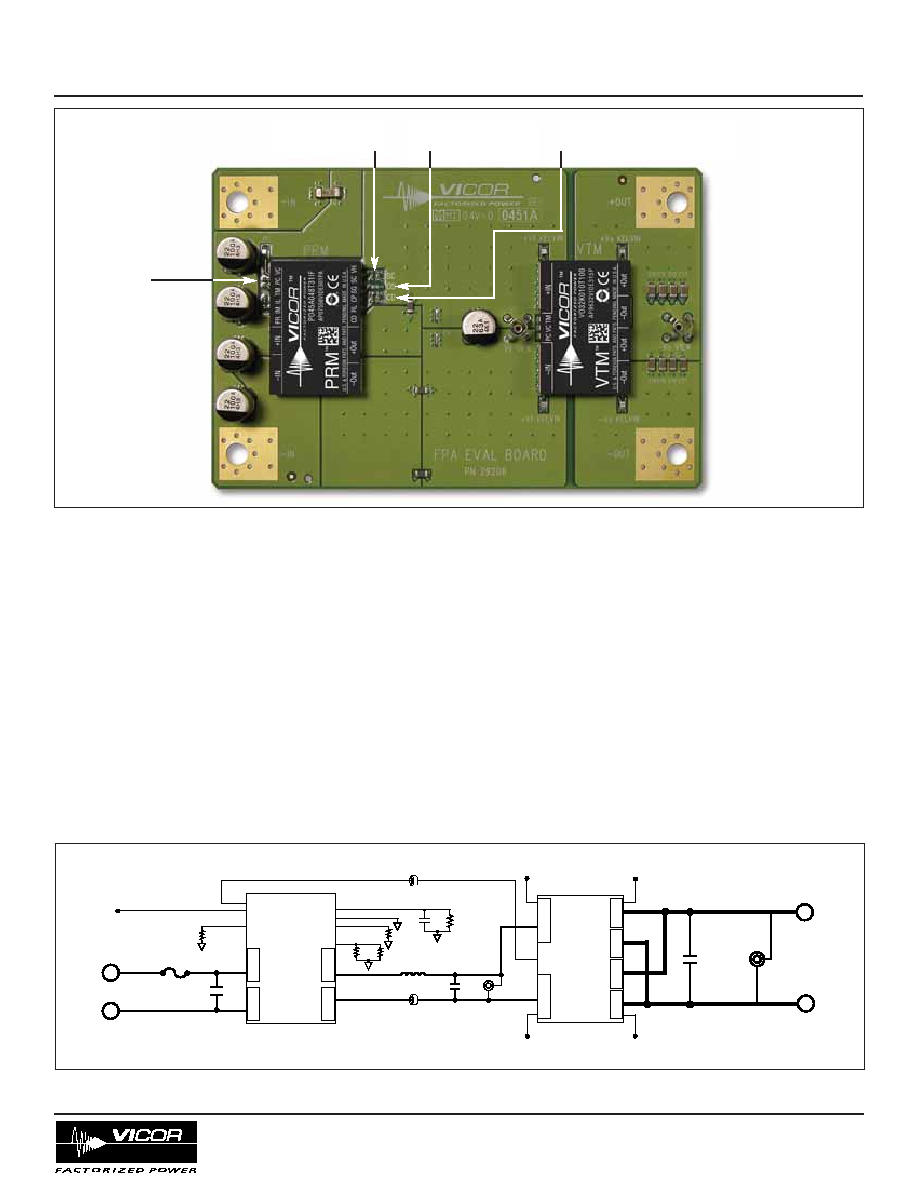 Vicor Corporation Tel: 800-735-6200 vicorpower.com
V·I Chip Evaluation Board
Vin
Vout
Vf
VC
PC
TM
IL
OS
NC
CD
Figure 4 -- EVAL Board Schematic Diagram
The functionality of the FPA Eval Board has now been
verified over the entire line and load operating range.
As you can see, the PRM's Adaptive Loop regulates the output
of the VTM without sense lines. You may monitor the Vf View
(J1) while increasing the load current: the Vf voltage increases
with the load current, compensating for the insertion loss due
to the VTM output resistance.
Connecting the PRM's PC (TP1) to the -IN disables the output
of the Evaluation Board. Use CAUTION when probing,
especially on or near TP1 and VC on the PRM. Accidental
shorting between these two points can cause permanent
damage.
The Evaluation Board has provisions for changing the factory
set output voltage, the current limit, the Adaptive Loop Gain,
and the turn on ramp rate. Refer to the PRM data sheet for
more information on these features. Refer to Figure 4 for a
Schematic representation of the FPA Evaluation Board.
Locations for these components are shown in Figure 3.
For assistance, feel free to contact Vicor Applications
Engineering at 800-927-9474
This Evaluation Board is being provided as a means to facilitate
successful demonstration of Factorized Power Architecture and its
elements. Vicor assumes no obligation or liability for the advice given,
or results obtained. All such advice being given and accepted is at
user's risk.
Figure 3 -- FPA EVAL Board configuration may vary
Location for 0603 soft
start capacitor, SC
Location for 0603 output
voltage set resistor, OS
Location for 0603
compensation device resistors, CD
Position for 0603
current limit
adjust resistor, IL
PRELIMINARY
Vicor Corporation Tel: 800-735-6200 vicorpower.com
V·I Chip Evaluation Board
Vicor's comprehensive line of power solutions includes high density AC-DC
and DC-DC modules and accessory components, fully configurable AC-DC
and DC-DC power supplies, and complete custom power systems.
Information furnished by Vicor is believed to be accurate and reliable. However, no responsibility is assumed by Vicor for
its use. Vicor components are not designed to be used in applications, such as life support systems, wherein a failure or
malfunction could result in injury or death. All sales are subject to Vicor's Terms and Conditions of Sale, which are
available upon request.
Specifications are subject to change without notice.
Intellectual Property Notice
Vicor and its subsidiaries own Intellectual Property (including issued U.S. and Foreign Patents and pending patent
applications) relating to the products described in this data sheet. Interested parties should contact Vicor's
Intellectual Property Department.
Vicor Corporation
email
Vicor Express: vicorexp@vicr.com
Technical Support: apps@vicr.com
Vicor products are guaranteed for two years from date of shipment against defects in material or workmanship when in
normal use and service. This warranty does not extend to products subjected to misuse, accident, or improper
application or maintenance. Vicor shall not be liable for collateral or consequential damage. This warranty is extended
to the original purchaser only.
EXCEPT FOR THE FOREGOING EXPRESS WARRANTY, VICOR MAKES NO WARRANTY, EXPRESS OR IMPLIED, INCLUDING, BUT
NOT LIMITED TO, THE WARRANTY OF MERCHANTABILITY OR FITNESS FOR A PARTICULAR PURPOSE.
Vicor will repair or replace defective products in accordance with its own best judgement. For service under this
warranty, the buyer must contact Vicor to obtain a Return Material Authorization (RMA) number and shipping
instructions. Products returned without prior authorization will be returned to the buyer. The buyer will pay all charges
incurred in returning the product to the factory. Vicor will pay all reshipment charges if the product was defective within
the terms of this warranty.
Information published by Vicor has been carefully checked and is believed to be accurate; however, no responsibility is
assumed for inaccuracies. Vicor reserves the right to make changes to any products without further notice to improve
reliability, function, or design. Vicor does not assume any liability arising out of the application or use of any product or
circuit; neither does it convey any license under its patent rights nor the rights of others. Vicor general policy does not
recommend the use of its components in life support applications wherein a failure or malfunction may directly threaten
life or injury. Per Vicor Terms and Conditions of Sale, the user of Vicor components in life support applications assumes
all risks of such use and indemnifies Vicor against all damages.