V I A S W I T C H C H I P S
8-/9-port Switch Controller Solutions
The VIA Atlantic family of switch controllers provides network system
manufacturers the ideal platform for building intelligent, cost-effective,
and scalable 8-/9-port switches for small to medium sized businesses.
The VIA Atlantic (VT6508) and VIA Atlantic SMF (VT6509) 8-/9-port 10/100 Base-T
single chip switch controllers combine the benefits of network scalability, man-
ageability and plug and play connectivity. Their highly integrated feature set
enables network system manufacturers to build next-generation, intelligent
switches for the fast-growing small to medium business market segment at
price points only previously possible with unmanaged switches and repeaters.
VT6508 VIA Atlantic
The VIA Atlantic is an 8-port intelligent switch controller that utilizes fast store
and forward architecture to ensure low latency and high data integrity. All
8 ports can be individually configured to connect to both 10Base-T and
100Base-T devices through auto sensing or manual selection. IEEE 802.3,
802.3.u and 802.3X specifications are fully supported. The VIA Atlantic is
housed in a 128-pin PQFP package.
VT6509 VIA Atlantic SMF (Smart Management Functions)
The VIA Atlantic SMF, an intelligent 9-port switch controller has all the features of the VIA
Atlantic with the addition of smart management functions. With an MII interface for flex-
ible 10 Base-T, 100 Base-T or 100 Base-FX expansion capabilities and support for smart
management functions. The VIA Atlantic SMF also allows Trunking, Port Mirroring and
supports the Spanning Tree Protocol. Any of the VIA Atlantic SMF's 9 ports can be used as
the sniffer port to monitor other ports. The VIA Atlantic SMF is housed in a 208-pin PQFP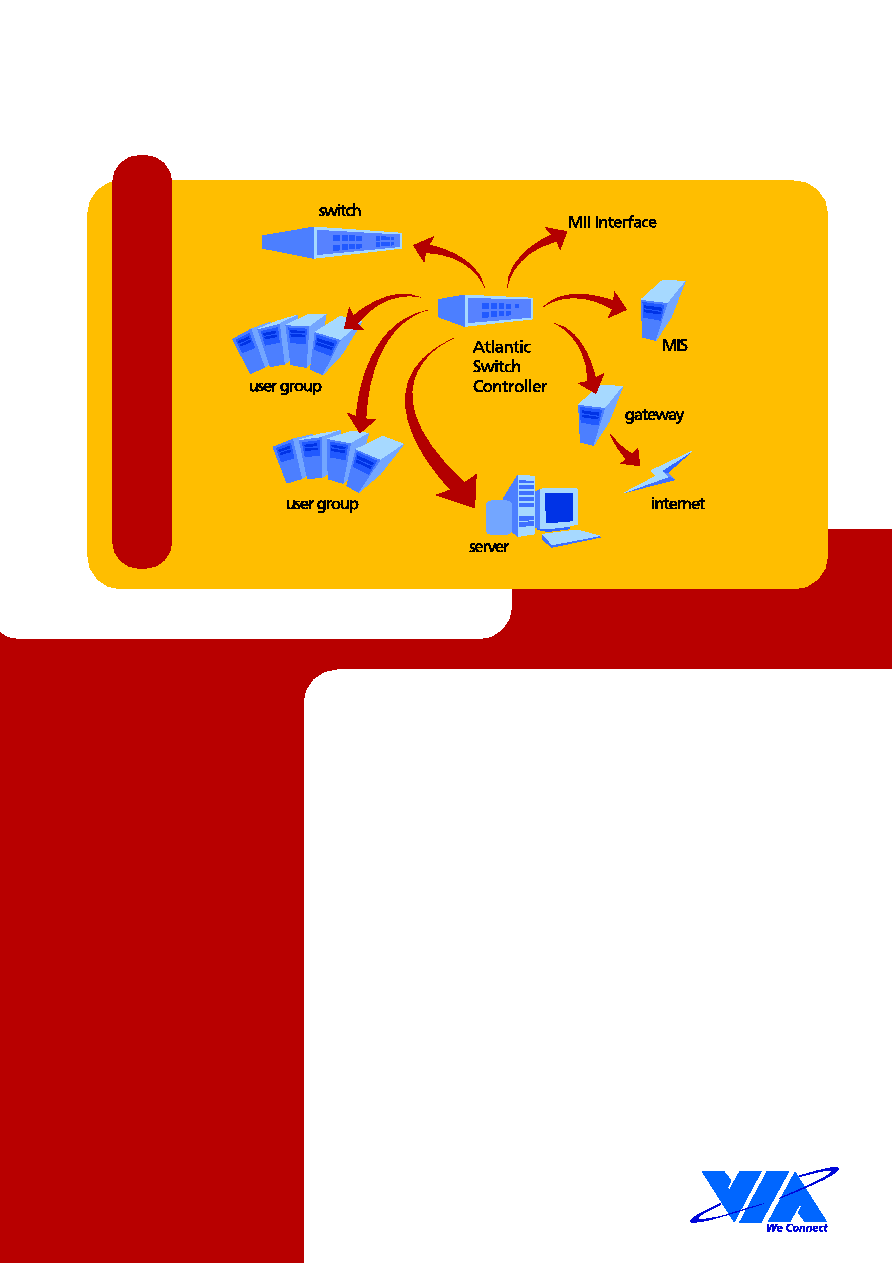 VIA Atlantic / VIA Atlantic SMF
V I A S W I T C H C H I P S
w w w . v i a t e c h . c o m
VIA A
TLANTIC / A
TLANTIC SMF
VIA Technologies,Inc.
Offices
USA
1045 Mission Ct.,
Fremont, CA 94539
USA
tel: (510)683-3300
fax: (510)683-3301
Taiwan, ROC
8F, #533, Chung-cheng Rd.,
Hsin Tien, Taipei,
Taiwan, ROC
tel: (886-2)2218-5452
fax: (886-2)2218-5453
email:mkt@via.com.tw
FEATURES
VIA Atlantic
· Single chip 8 port RMII Fast
Ethernet switch controller
selection for 10 and 100Mbps
speed settings
· IEEE 802.3X flow control for
· Optional back pressure for half
· Performs full wire-speed
· Support for port trunking
· Sniffer function monitors
· 128-pin PQFP package for the
VT6508, 208-pin PQFP package
for the VT6509
VIA Atlantic SMF
· Single chip 9-port RMII Fast
Ethernet switch controller
· CPU Interface to support
· Reversed MII interface for on-
board CPU with embedded
MAC, e.g. ARM
- Port-based Trunking
- Two 2-ports trunk groups
- Load balance
- Any of 8/9 ports could be
Sniffer Port
- Monitor any other ports
- Support Spanning Tree
Protocol (STP)and Bridge
Protocol Data Unit (BPDU)
· STP packets generated by CPU
· Simplicity
Provides a simple low mainte-
nance plug and play network
interconnect system for small to
· Scalability
Highly scalable feature set allows
system manufacturers to enable
or disable a range of features to
best meet their target price
· Economical
Highly integrated design drives
down overall switch manufactur-
ing costs enabling the migration
from unmanaged switches and
repeaters to intelligent next
generation switch solutions.
BENEFITS OF VIA ATLANTIC-
BASED NETWORK SWITCHES