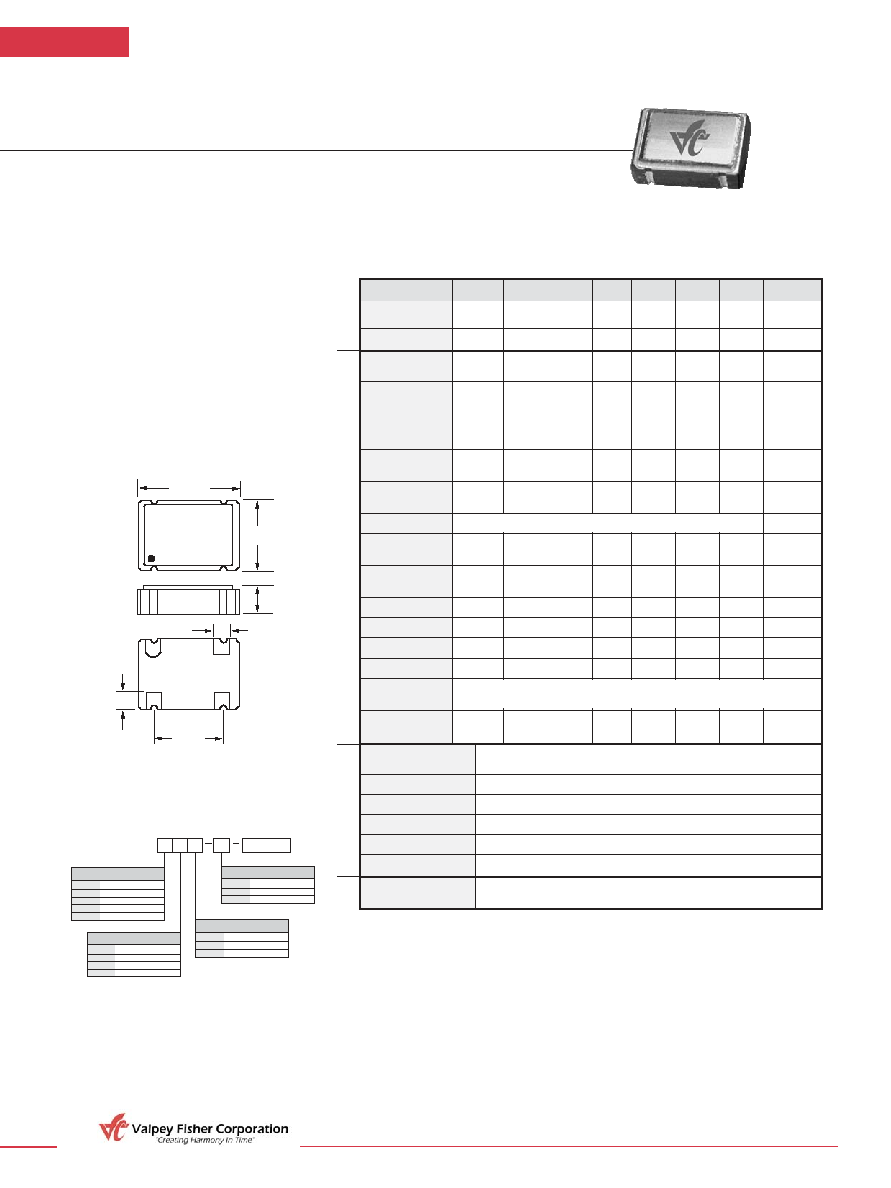 75 South Street, Hopkinton, MA 01748 800-982-5737 508-435-6831 Fax: 508-435-5289 www.valpeyfisher.com
VFAC3
VFAC3
FREQUENCY STABILITY
Code
Specification
S
A
B
DUTY CYCLE
Code
Specification
HH
H
INPUT VOLTAGE
Code
Specification
L 3.3
OPERATIONAL TEMP. RANGE
Code
Specification
1 -40
FREQ.
Example: VFAC3H-L-125MHz: Frequency Stability
5.0%, Input Voltage 3.3 Volt
ACMOS/LSTTL Compatible
Surface Mount Clock Oscillators
Miniature Ceramic Package
Tight Duty Cycle Available
Wide Temperature Range Available
Tristate Control Standard
Parameter
Symb
Condition
Min
Typ
Max
Unit
Note
Frequency F 80 170 MHz
Range
Operating
Temperature Range
0°C to +70°C (­40°C to +85°C available)
Per MIL­STD­202, Method 213, Cond. E
Per MIL­STD­883, Method 1011, Cond. A
Per MIL­STD­883, Method 2007, Cond. A
260°C, for 10s, Max. or 230°C, for 90 sec
Leak rate less than 5 x 10
10 LSTTL gates or 30pF Typ, 50pF Max.,
Environmental and Mechanical
Input HIGH (>2.5V) or floating: ACTIVE
Input LOW (<0.5V): INFINITE IMPEDANCE
Notes:
1. Standard frequency stability (±20, ±25, ±50, others available).
2. Current is load and frequency dependent.
3. Tighter duty cycle available.
4. Some versions enable time 10ns.
5. 50pF Max drive available, frequency an Vcc dependant
All specifications are subject to change without notice.
All dimensions are typical unless otherwise specified.