TPS2045A, TPS2046A, TPS2047A, TPS2048A
TPS2055A, TPS2056A, TPS2057A, TPS2058A
CURRENT-LIMITED POWER-DISTRIBUTION SWITCHES
SLVS251A ­ SEPTEMBER 2000 ­ REVISED FEBRUARY 2001
80-m
High-Side MOSFET Switch
250 mA Continuous Current Per Channel
Independent Thermal and Short-Circuit
Protection With Overcurrent Logic Output
Operating Range . . . 2.7 V to 5.5 V
CMOS- and TTL-Compatible Enable Inputs
2.5-ms Typical Rise Time
Undervoltage Lockout
10
A Maximum Standby Supply Current
for Single and Dual (20
A for Triple and
Quad)
Bidirectional Switch
Ambient Temperature Range, 0
C to 85
C
ESD Protection
The TPS2045A through TPS2048A and
TPS2055A through TPS2058A power-distribution
switches are intended for applications where
heavy capacitive loads and short circuits are likely
to be encountered. These devices incorporate 80-m
N-channel MOSFET high-side power switches for
power-distribution systems that require multiple power switches in a single package. Each switch is controlled
by an independent logic enable input. Gate drive is provided by an internal charge pump designed to control
the power-switch rise times and fall times to minimize current surges during switching. The charge pump
requires no external components and allows operation from supplies as low as 2.7 V.
When the output load exceeds the current-limit threshold or a short is present, these devices limit the output
current to a safe level by switching into a constant-current mode, pulling the overcurrent (OCx) logic output low.
When continuous heavy overloads and short circuits increase the power dissipation in the switch, causing the
junction temperature to rise, a thermal protection circuit shuts off the switch to prevent damage. Recovery from
a thermal shutdown is automatic once the device has cooled sufficiently. Internal circuitry ensures the switch
remains off until valid input voltage is present. These power-distribution switches are designed to current limit
at
TPS201xA
TPS202x
TPS203x
33 m
, single
0.2 A ­ 2 A
0.2 A ­ 2 A
0.2 A ­ 2 A
TPS2014
TPS2015
TPS2041
TPS2051
TPS2045
TPS2055
80 m
, single
600 mA
1 A
500 mA
500 mA
250 mA
250 mA
GENERAL SWITCH CATALOG
TPS2042
TPS2052
TPS2046
TPS2056
80 m
, dual
500 mA
500 mA
250 mA
250 mA
260 m
IN1 500 mA
IN2 10 mA
IN1 500 mA
IN2 100 mA
1.3
TPS2043
TPS2053
TPS2047
TPS2057
80 m
, triple
500 mA
500 mA
250 mA
250 mA
TPS2044
TPS2054
TPS2048
TPS2058
80 m
, quad
500 mA
500 mA
250 mA
250 mA
80 m
, dual
TPS2080
TPS2081
TPS2082
TPS2090
500 mA
500 mA
500 mA
250 mA
TPS2091
TPS2092
250 mA
250 mA
80 m
, quad
TPS2085
TPS2086
TPS2087
TPS2095
500 mA
500 mA
500 mA
250 mA
TPS2096
TPS2097
250 mA
250 mA
2001, Texas Instruments Incorporated
PRODUCTION DATA information is current as of publication date.
Products conform to specifications per the terms of Texas Instruments
standard warranty. Production processing does not necessarily include
testing of all parameters.
Please be aware that an important notice concerning availability, standard warranty, and use in critical applications of
Texas Instruments semiconductor products and disclaimers thereto appears at the end of this data sheet.
IN
IN
OUT
OUT
OUT
OC
TPS2045A, TPS2055A
D PACKAGE
(TOP VIEW)
OC1
OUT1
OUT2
OC2
TPS2046A, TPS2056A
D PACKAGE
(TOP VIEW)
OC1
OUT1
OUT2
OC2
OC3
OUT3
OUT4
OC4
TPS2048A, TPS2058A
D PACKAGE
(TOP VIEW)
All enable inputs are active high for the TPS205xA series.
NC ­ No connect
OC1
OUT1
OUT2
OC2
OC3
OUT3
NC
NC
TPS2047A, TPS2057A
D PACKAGE
(TOP VIEW)
TPS2045A, TPS2046A, TPS2047A, TPS2048A
TPS2055A, TPS2056A, TPS2057A, TPS2058A
CURRENT-LIMITED POWER-DISTRIBUTION SWITCHES
SLVS251A ­ SEPTEMBER 2000 ­ REVISED FEBRUARY 2001
AVAILABLE OPTIONS
RECOMMENDED
MAXIMUM CONTINUOUS
TYPICAL SHORT-CIRCUIT
NUMBER OF
PACKAGED DEVICES
TA
ENABLE
MAXIMUM CONTINUOUS
LOAD CURRENT
(A)
CURRENT LIMIT AT 25
C
(A)
NUMBER OF
SWITCHES
SOIC
(D)
The D package is available taped and reeled. Add an R suffix to device type (e.g., TPS2045ADR)
TPS2045A, TPS2046A, TPS2047A, TPS2048A
TPS2055A, TPS2056A, TPS2057A, TPS2058A
CURRENT-LIMITED POWER-DISTRIBUTION SWITCHES
SLVS251A ­ SEPTEMBER 2000 ­ REVISED FEBRUARY 2001
functional block diagrams
TPS2045A
OUT
OC
IN
EN
GND
Current
Limit
Driver
UVLO
Charge
Pump
CS
Thermal
Sense
Power Switch
Active high for TPS205xA series
TPS2046A
Thermal
Sense
Driver
Current
Limit
Charge
Pump
UVLO
CS
Driver
Current
Limit
CS
Thermal
Sense
Charge
Pump
Power Switch
GND
EN1
IN
EN2
OC1
OUT1
OUT2
OC2
Active high for TPS205xA series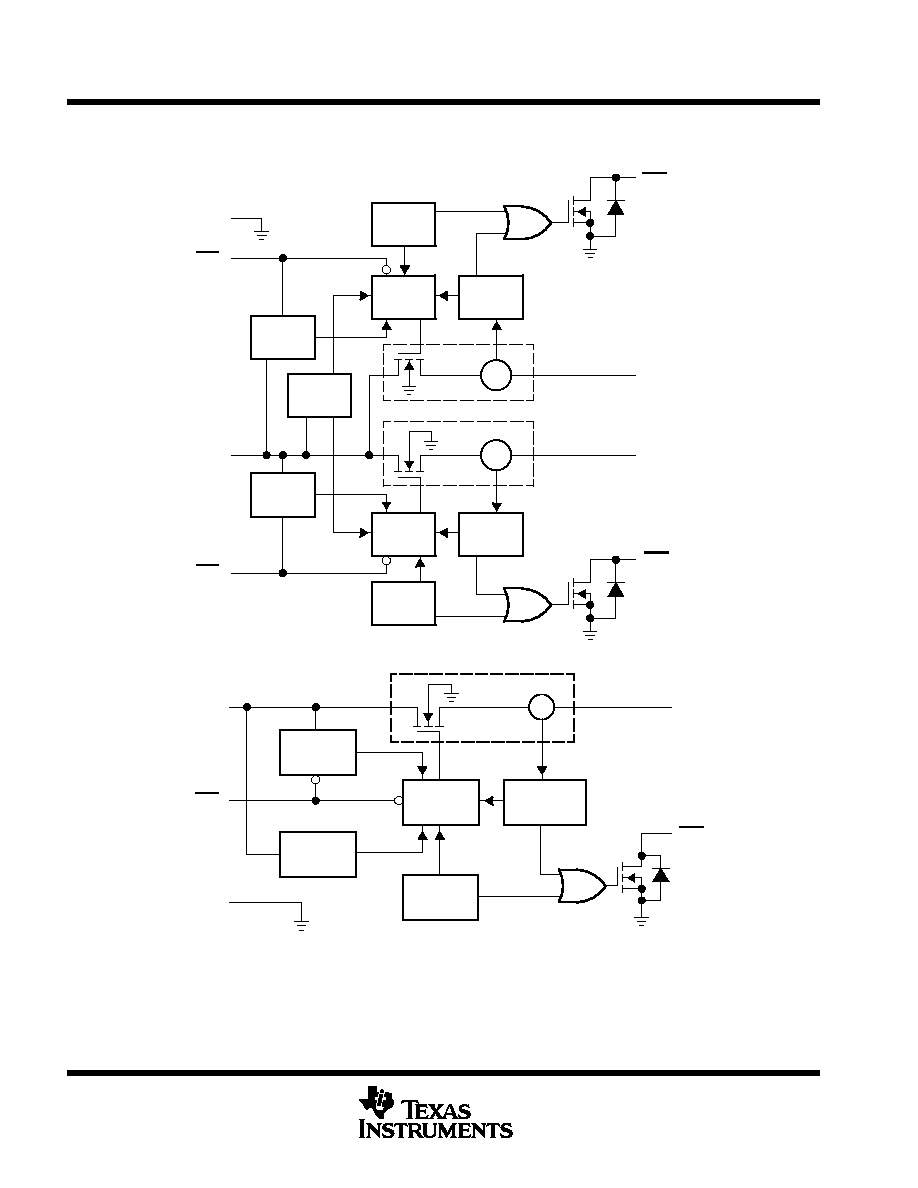 TPS2045A, TPS2046A, TPS2047A, TPS2048A
TPS2055A, TPS2056A, TPS2057A, TPS2058A
CURRENT-LIMITED POWER-DISTRIBUTION SWITCHES
SLVS251A ­ SEPTEMBER 2000 ­ REVISED FEBRUARY 2001
functional block diagrams
TPS2047A
Thermal
Sense
Driver
Current
Limit
Charge
Pump
UVLO
CS
Driver
Current
Limit
CS
Thermal
Sense
Charge
Pump
Power Switch
GNDA
EN1
IN1
EN2
OC1
OUT1
OUT2
OC2
OUT3
OC3
IN2
EN3
GNDB
Current
Limit
Driver
UVLO
Charge
Pump
CS
Thermal
Sense
Power Switch
Active high for TPS205xA series
TPS2045A, TPS2046A, TPS2047A, TPS2048A
TPS2055A, TPS2056A, TPS2057A, TPS2058A
CURRENT-LIMITED POWER-DISTRIBUTION SWITCHES
SLVS251A ­ SEPTEMBER 2000 ­ REVISED FEBRUARY 2001
functional block diagrams
Thermal
Sense
Driver
Current
Limit
Charge
Pump
UVLO
CS
Driver
Current
Limit
CS
Thermal
Sense
Charge
Pump
Power Switch
GNDA
EN1
IN1
EN2
OC1
OUT
1
OUT
2
OC2
Thermal
Sense
Driver
Current
Limit
Charge
Pump
UVLO
CS
Driver
Current
Limit
CS
Thermal
Sense
Charge
Pump
Power Switch
GNDB
EN3
IN2
EN4
OC3
OUT3
OUT4
OC4
TPS2048A
Active high for TPS205xA series