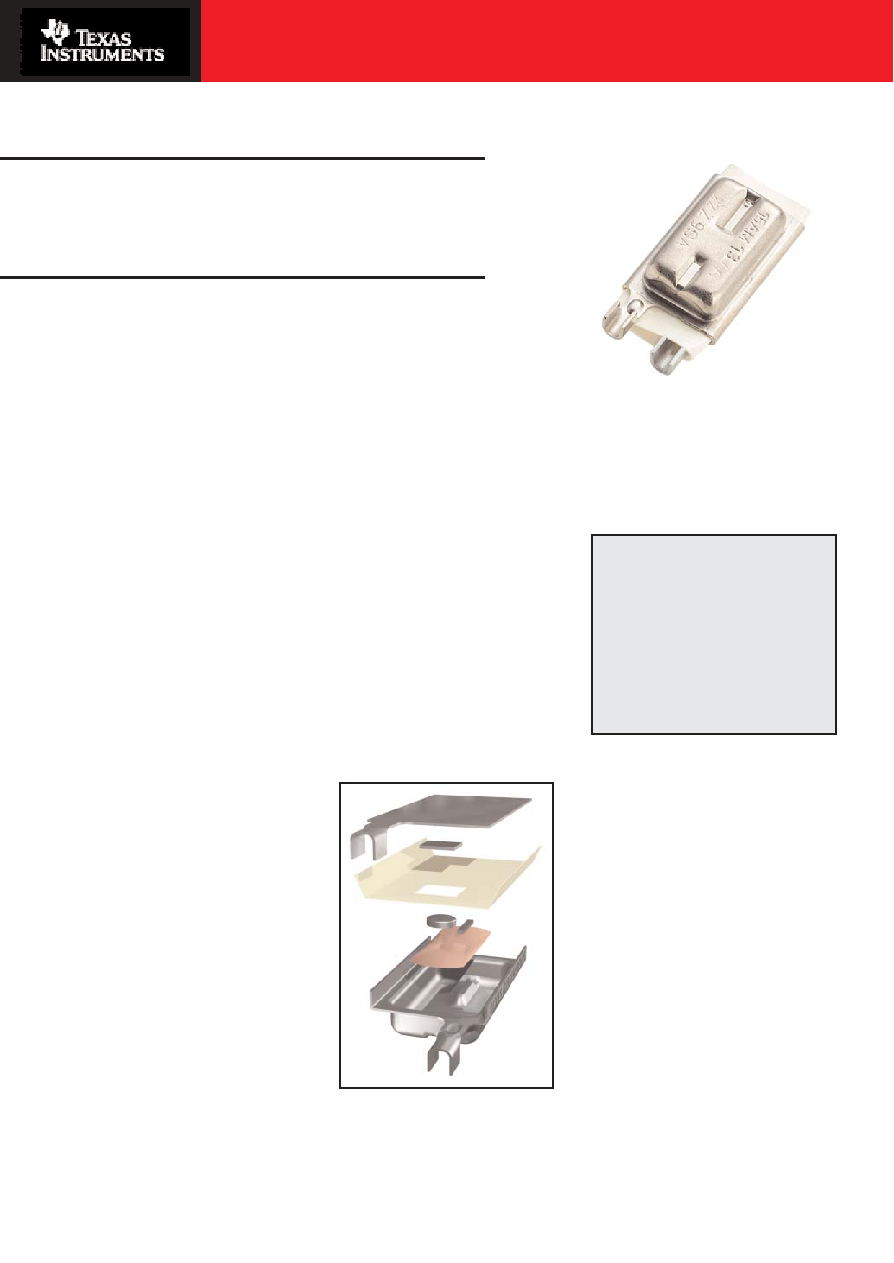 I
N N O V A T I V E
S
O L U T I O N S I N
S
E N S O R S A N D
C
O N T R O L S
Product Bulletin
Motor Protector/Thermal Cut-out
As world market leader in appliance
motor protection Texas Instruments
builds the 15AM motor protector to
meet almost any application in this
field. The 15AM is designed to pro-
vide locked rotor and overload pro-
tection in a wide variety of motors
for industrial and domestic appli-
ances. The 15AM is the leader in
the European AC motor protection
market.
Design & operating principles
In the 15AM design the nickel plated
shell holds and protects the inner
components against varnish pene-
tration and mechanical forces. The
heart of the device is the calibrated
KlixonTM bimetal disc, responding to
current and temperature changes. It
is supported by a slug and a contact
welded on the disc. The fixed con-
tact is placed on the opposite nickel-
zinc coated plated steel shell, sepa-
rated by a coated gasket for insulat-
ing and sealing. The 15AM can be
supplied as a basic device with
leads and other integrated quick
connectors or automated connection
systems. Customized lead configu-
rations are available on request. The
15AM can be fitted in the best possi-
ble mounting location in combination
with the optimum assembly opera-
tion. As the 15AM is a metal device
it may be necessary to insulate the
device from other conductive parts,
an insulating sleeve is available on
request.
The operating principle of the 15AM
is both simple and effective. A cur-
rent flows through the resistive
KlixonTM bimetal disc. When a fault
condition occurs, the increased cur-
rent and shell temperature heats up
the bimetal disc which opens the
contacts. As the device cools down
to a safe temperature, the contacts
will automatically reset.
Applications
The 15AM operates as an incorpo-
rated thermal sensitive protector in
electric motors for pumps, washing
machines, dish washers, dryers and
in several other applications like
vacuum cleaners, fans, battery
chargers, transformers for lighting
(EN 61558) and microwave ovens.
Key Benefits
· Texas Instruments Engineering
· Provides mounting flexibility
· European supply
· Competitive price
· Local Engineering
Important Notice: The products and services of Texas Instruments and its subsidiaries described herein are sold subject to TI's standard terms and
conditions of sale. Customers are advised to obtain the most current and complete information about TI products and services before placing orders. TI
assumes no liability for applications assistance, customer's applications or product designs, software performance, or infringement of patents. The
publication of information regarding any other company's products or services does not constitute TI's approval, warranty or endorsement thereof.
EN60730-2-2 Thermal motorprotector
A-res (A-ind. @ PF=0.6)V / cycles
20(5)A250 Vac @ 3.000 cycles
13(5)A250 Vac @ 10.000 cycles
EN60730-2-9 Thermal cut-out
TI Worldwide Technical Support
www.ti.com/snc/docs/index.htm
Dimensions (mm)
Dimensions (mm)