L293B
L293E
PUSH-PULL FOUR CHANNEL DRIVERS
OUTPUT CURRENT 1A PER CHANNEL
PEAK OUTPUT CURRENT 2A PER CHANNEL
(non repetitive)
OVERTEMPERATURE PROTECTION
DESCRIPTION
The L293B and L293E are quad push-pull drivers
capableof delivering output currents to 1A per chan-
nel. Each channel is controlledby a TTL-compatible
logic input and each pair of drivers (a full bridge) is
equipped with an inhibit input which turns off all four
transistors. A separate supply input is provided for
the logic so that it may be run off a lower voltage to
reduce dissipation.
Additionally, the L293E has external connection of
sensing resistors, for switchmode control.
The L293Band L293E are package in 16 and 20-pin
plastic DIPs respectively ; both use the four center
pins to conduct heat to the printed circuit board.
POWERDIP (16 + 2+ 2)
ORDERING NUMBER : L293E
DIP16
ORDERING NUMBER : L293B
PIN CONNECTIONS
DIP16 - L293B
POWERDIP (16+2+2) - L293E
BLOCK DIAGRAMS
DIP16 - L293B
POWERDIP (16+2+2) - L293E
L293B - L293E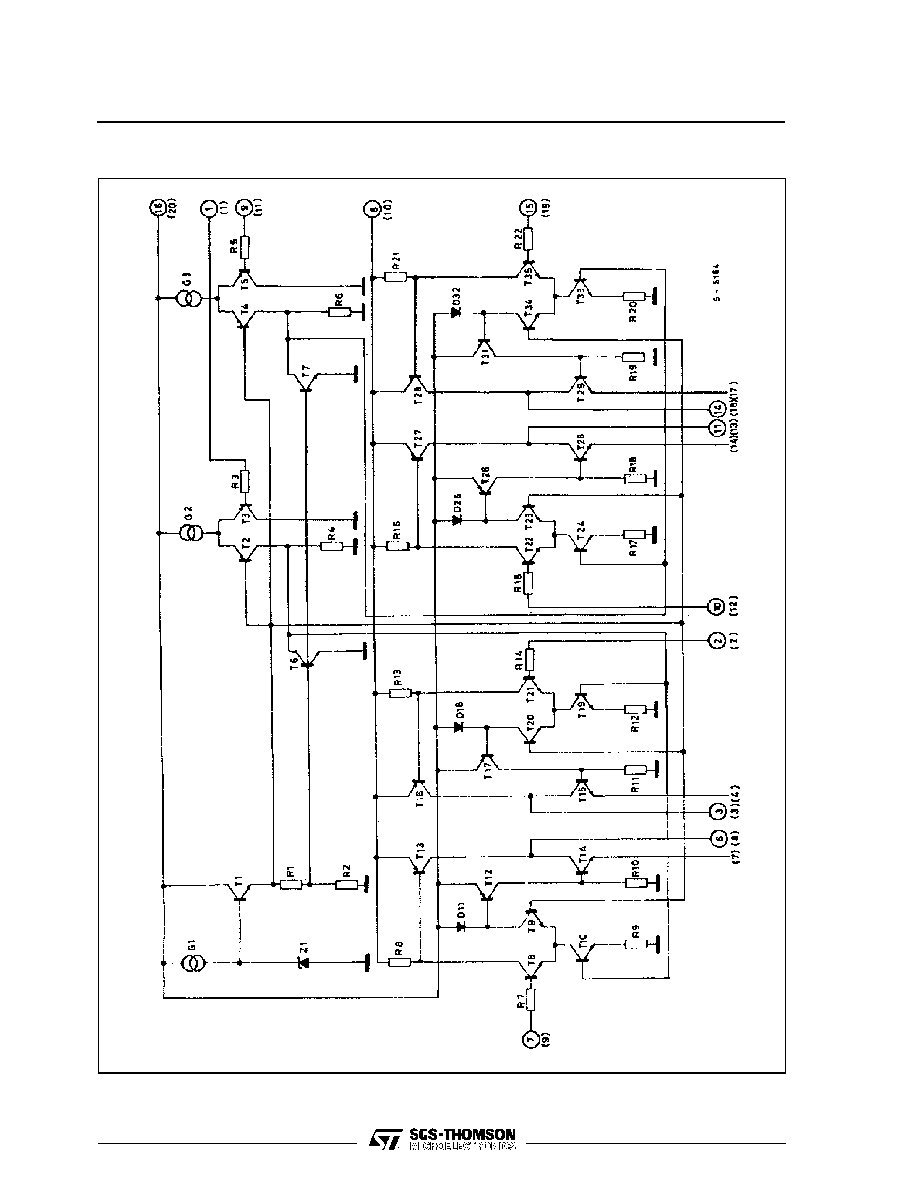 SCHEMATIC DIAGRAM
(*) In the L293 these points are not externally available. They are internally connected to the ground (substrate).
O Pins of L293
L293B - L293E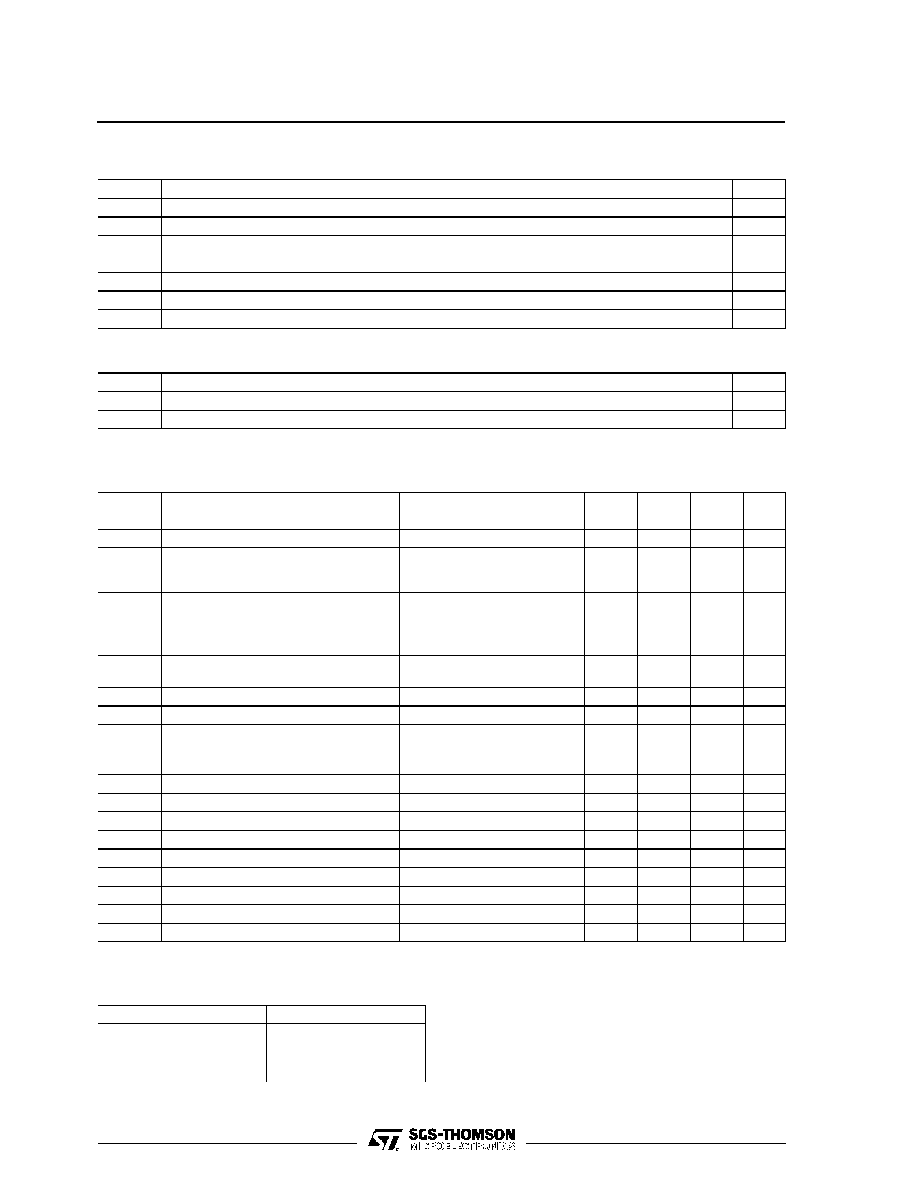 THERMAL DATA
Symbol
Parameter
Value
Unit
Thermal Resistance Junction-case
Thermal Resistance Junction-ambient
ELECTRICAL CHARACTERISTICS
= 24V, V
C, unless otherwise specified
Symbol
Parameter
Test Conditions
Min.
TYp.
Max.
Unit
Total Quiescent Supply Current
Total Quiescent Logic Supply Current
44
16
16
60
22
24
2.3
2.3
Low Voltage Input Current
High Voltage Input Current
2.3
2.3
Low Voltage Inhibit Current
High Voltage Inhibit Current
Source Output Saturation Voltage
Sink Output Saturation Voltage
Sensing Voltage (pins 4, 7, 14, 17) (**)
ABSOLUTE MAXIMUM RATINGS
Symbol
Parameter
Value
Unit
Peak Output Current (non repetitive t = 5ms)
Total Power Dissipation at T
Storage and Junction Temperature
TRUTH TABLE
V
i
(each channel)
V
o
V
inh
(
)
H
H
L
L
(**) Relative to the considerate channel
L293B - L293E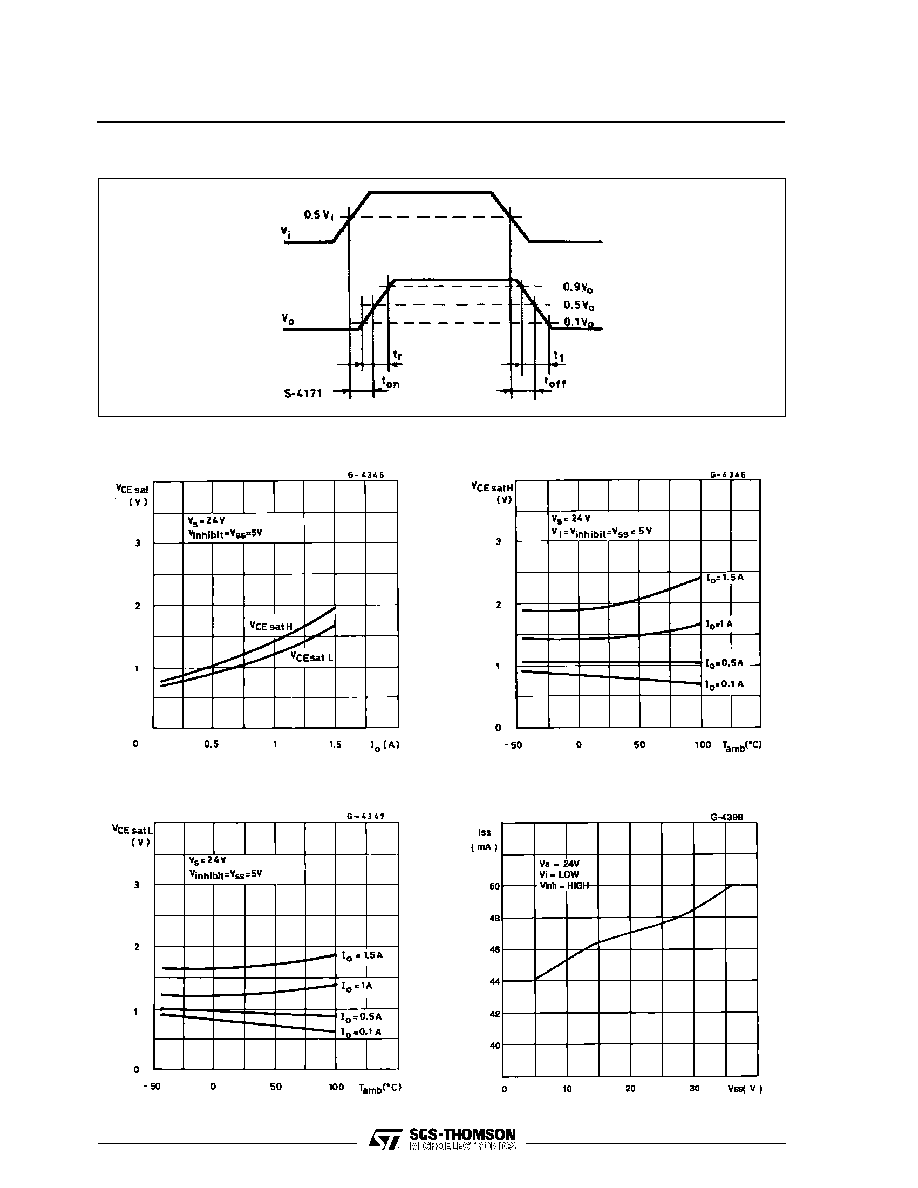 Figure 1 : Switching Timers
Figure 3 : Source Sa turation Voltage versus
Figure 5 : Quiescent Logic Su pply Current
versus Logic Supply Voltage
Figure 2 : Saturation voltage versus Output
Figure 4 : Sink Saturation Voltage versus
L293B - L293E