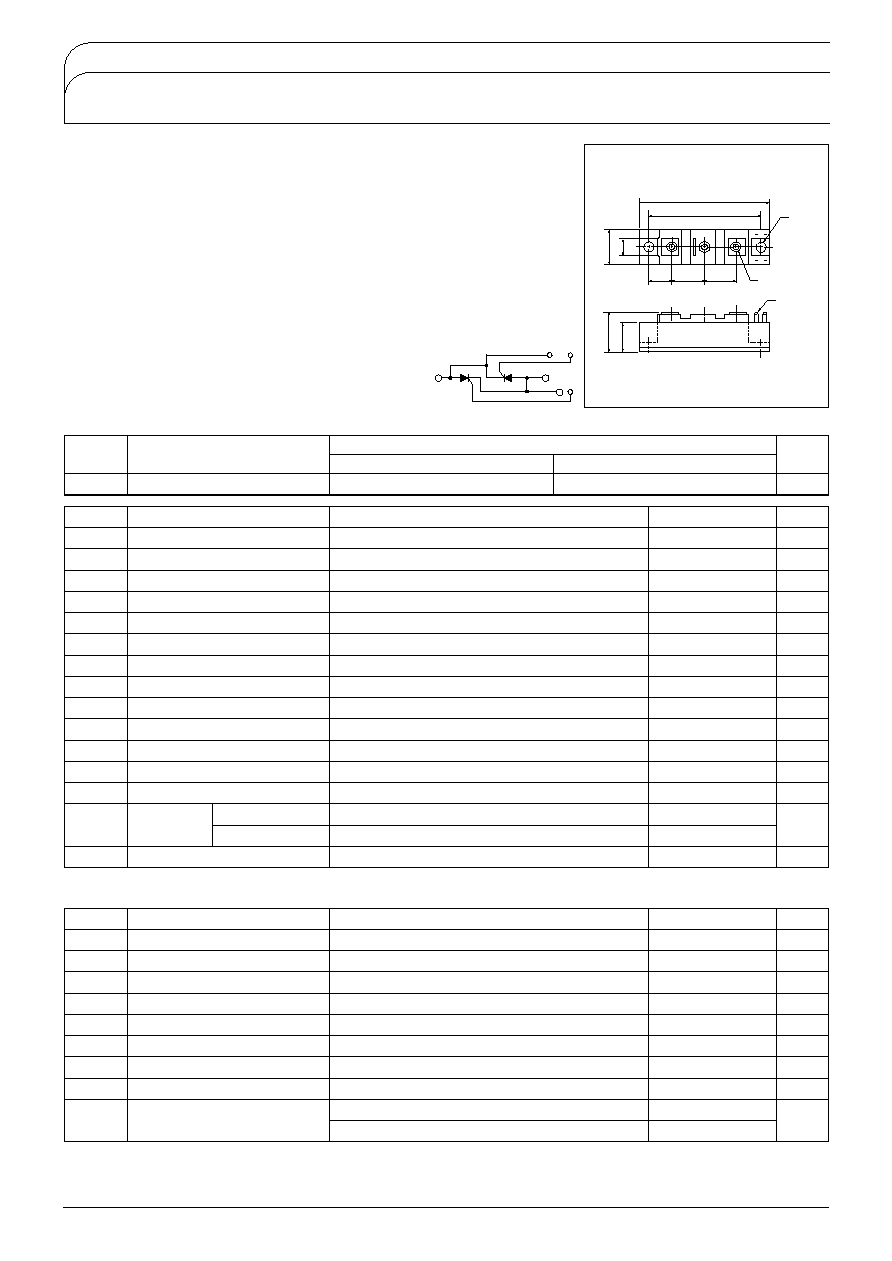 50 Seaview Blvd. Port Washington, NY 11050-4618 PH.(516)625-1313 FAX(516)625-8845 E-mail: semi@sanrex.com
THYRISTOR MODULE
Single phase, half wave, 180
Peak Gate Power Dissipation
Average Gate Power Dissipation
cycle, 50Hz/60Hz, peak value, non-reqetitive
Value for one cycle of surge current
Critical Rate of Rise of On-State Current
Isolation Breakdown Voltage
Operating Junction Temperature
Mounting
Torque
Recommended Value 2.5-3.9
Recommended Value 1.5-2.5
Repetitive Peak Off-State Current, max.
, Single phase, half wave, Tj
Peak On-State Voltage, max.
Gate Trigger Current/Voltage, max.
Non-trigger Gate, Voltage, min
Critical Rate of Rise of Off-State Voltage, min.
On-State Current 165A, Tj
j-c Thermal Impedance, max.
Junction to case, per 1 Module
Electrical Characteristics
AK55GB40
AK55GB80
Repetitive Peak Off-State Voltage
Power ThyristorModule AK55GB series are designed for various rectifier circuits and
power controls. For your circuit application. following internal connections and wide
voltage ratings up to 1,600V are available, and electrically isolated mounting base make
your mechanical design easy.
AC/DC motor drives
Heater controls
Light dimmers
Static switches
markThyristor and Diode part. No markThyristor part
Tj25 unless otherwise specified
SanRex
®
Gate Characteristics
Gate CurrentmA
Gate Voltage
V
Peak Forward Gate Voltag10V
Maximum Gate Voltage that will not trigger any unit0.25V
On-State Voltage max
On-State VoltageV
On-State Current
A
Average On-State Current Vs Power Dissipation
Single phase half wave
Average On-State CurrentA
Power Dissipation
W
Average On-State Current Vs Maximum Allowable
Case TemperatureSingle phase half wave
Average On-State CurrentA
Allowable Case Temperature
Surge On-State Current Rating
Non-Repetitive
Timecycles
Surge On-State Current
A
Time
t
sec
Transient Thermal Impedance
Transient Thermal Impedance
j-c
/
W
Output Current
WBidirectional connection
Ambient Temperature
Output CurrentA
Total Power Dissipation
W
Allowable Case Temperature
Rth:0.8C/W
Rth:0.4C/W
Rth:0.3C/W
Rth:0.2C/W
Rth:0.1C/W
RMS On-State CurrentA
Ambient Temperature
Three phase
bidiretional connection
RMS On-State Current Vs
Allowable Case Temperature
Allowable Case Temperature
Rth:0.8C/W
Rth:0.6C/W
Rth:0.4C/W
Rth:0.2C/W
Rth:0.1C/W