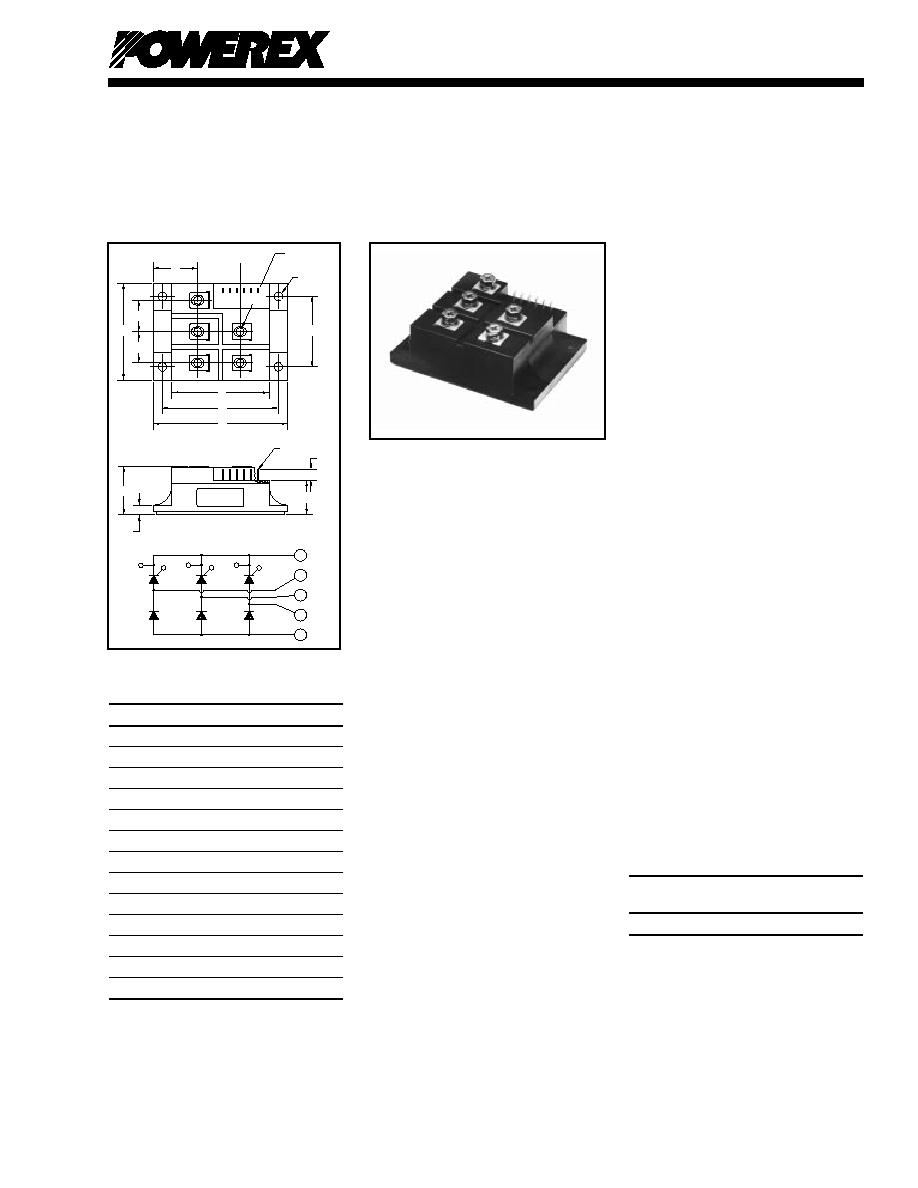 Dimension
Inches
Millimeters
0.217±0.008 Dia. 5.5±0.2 Dia.
Description:
Powerex Three-Phase SCR/Diode
Bridge Modules are designed for
use in applications requiring vari-
able DC Voltage control from AC
mains. The modules are isolated
for easy mounting with other com-
ponents on common heatsinks.
Features:
Quick Connect Signal Terminals
Applications:
Ordering Information:
Select the complete eight digit
module part number you desire
from the table below.
Example: CE420830 is a
800 Volt, 30 Ampere Three-Phase
SCR/Diode Bridge Module.
Voltage
Current Rating
Type
Volts (x100)
Amperes (30)
Powerex, Inc., 200 Hillis Street, Youngwood, Pennsylvania 15697-1800 (724) 925-7272
Three-Phase SCR/Diode
Bridge Modules
30 Amperes/800 Volts
CE420830
Outline Drawing
CE420830
Three-Phase SCR/Diode
Bridge Modules
30 Amperes/800 Volts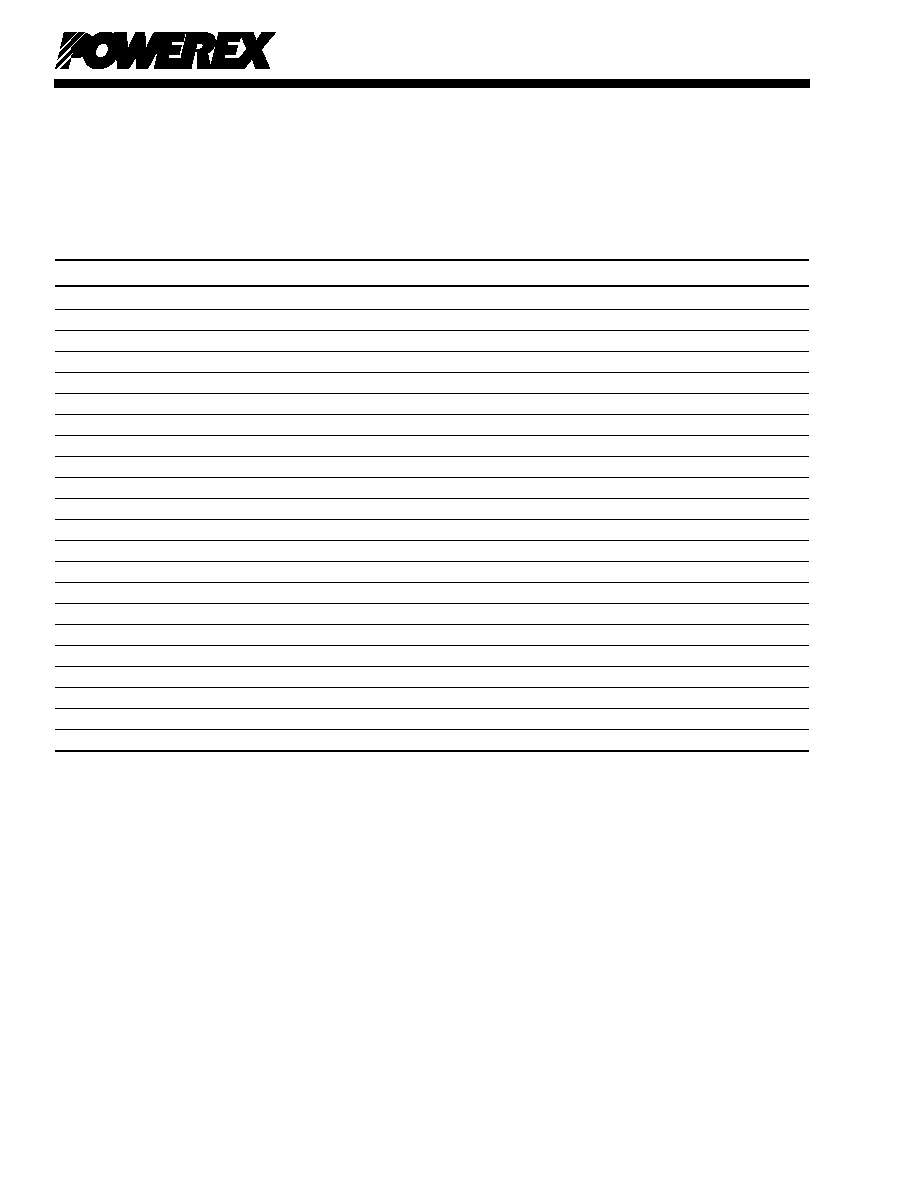 Powerex, Inc., 200 Hillis Street, Youngwood, Pennsylvania 15697-1800 (724) 925-7272
CE420830
Three-Phase SCR/Diode Bridge Modules
30 Amperes/800 Volts
Absolute Maximum Ratings
Characteristics
Symbol
CE420830
Units
Peak Forward Blocking Voltage
Transient Peak Forward Blocking Voltage (Non-Repetitive), t < 5ms
DC Forward Blocking Voltage
Peak Reverse Blocking Voltage
Transient Peak Reverse Blocking Voltage (Non-Repetitive), t < 5ms
DC Reverse Blocking Voltage
DC Output Current, TC = 80°C
Peak One-Cycle Surge (Non-Repetitive) On-State Current (60Hz)
Peak One-Cycle Surge (Non-Repetitive) On-State Current (50Hz)
I2t (for Fusing), 8.3 milliseconds
Critical Rate-of-Rise of On-State Current*
Peak Gate Power Dissipation
Average Gate Power Dissipation
Peak Forward Gate Voltage
Peak Reverse Gate Voltage
Peak Forward Gate Current
Maximum Mounting Torque M5 Mounting Screw
Maximum Mounting Torque M5 Terminal Screw
*Tj = 125°C, IG = 0.5A, VD = 1/2 VDRM
Powerex, Inc., 200 Hillis Street, Youngwood, Pennsylvania 15697-1800 (724) 925-7272
CE420830
Three-Phase SCR/Diode Bridge Modules
30 Amperes/800 Volts
Electrical and Thermal Characteristics,
Tj = 25°C unless otherwise specified
Characteristics
Symbol
Test Conditions
CE420830
Units
Blocking State Maximums
Forward Leakage Current, Peak
Reverse Leakage Current, Peak
Conducting State Maximums
Switching Minimums
Critical Rate-of-Rise of Off-State Voltage
Tj = 125°C, VD = 2/3 VDRM
Thermal Maximums
Thermal Resistance, Junction-to-Case
Thermal Resistance, Case-to-Sink (Lubricated)
Gate Parameters Maximums
Non-Triggering Gate Voltage
Tj = 125°C, VD = 1/2 VDRM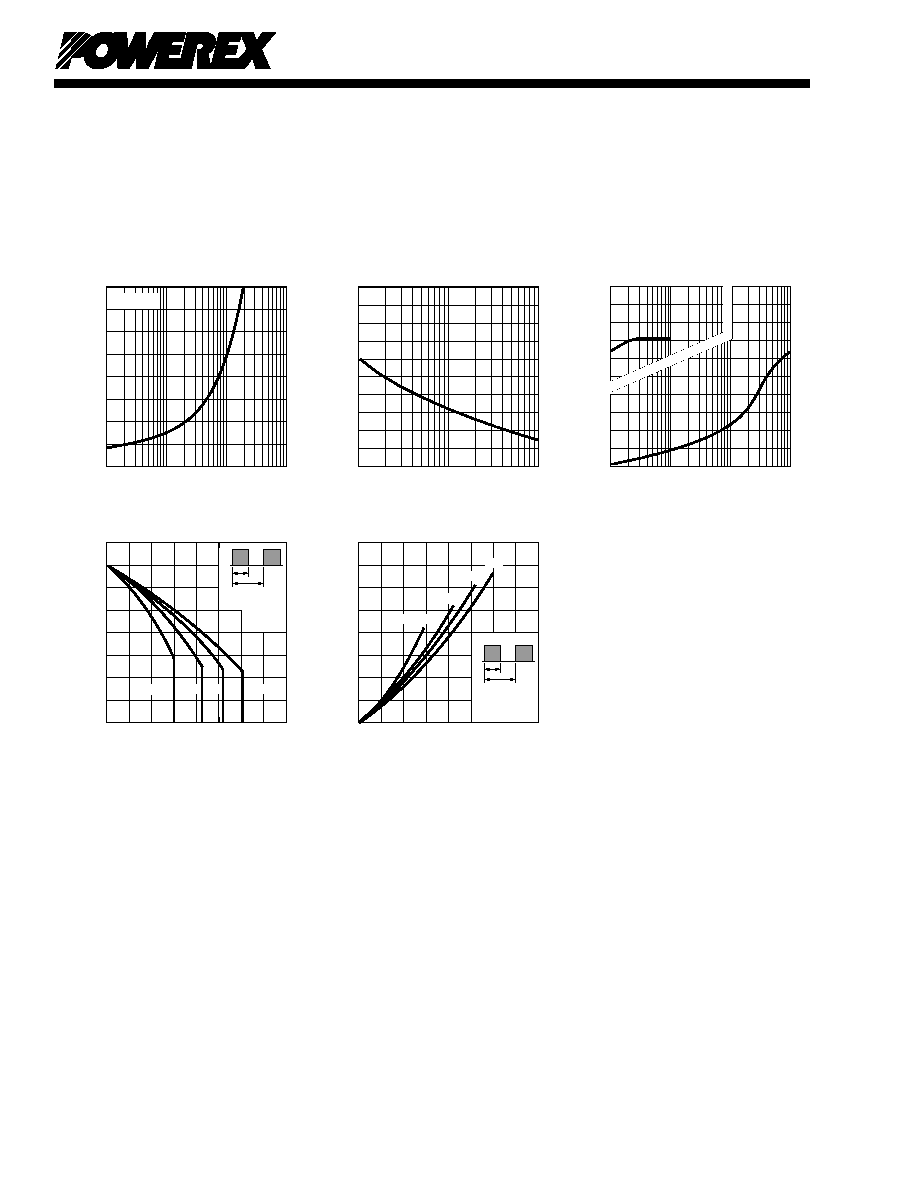 Powerex, Inc., 200 Hillis Street, Youngwood, Pennsylvania 15697-1800 (724) 925-7272
CE420830
Three-Phase SCR/Diode Bridge Modules
30 Amperes/800 Volts
INSTANTANEOUS ON-STATE CURRENT, I
MAXIMUM
ON-STATE CHARACTERISTICS
INSTANTANEOUS ON-STATE VOLTAGE, V
MAXIMUM PEAK SURGE (NON-REPETITIVE)
MAXIMUM ALLOWABLE PEAK SURGE
(NON-REPETITIVE) CURRENT
TRANSIENT THERMAL IMPEDANCE
CHARACTERISTICS (JUNCTION-TO-CASE)
TRANSIENT THERMAL IMPEDANCE, Z
MAXIMUM ALLOWABLE CASE TEMPERATURE
(THREE PHASE BRIDGE CONNECTION)
MAXIMUM ALLOWABLE CASE TEMPERATURE, T
MAXIMUM ON-STATE POWER DISSIPATION
(THREE PHASE BRIDGE CONNECTION)
MAXIMUM POWER DISSIPATION, P