P - M8 THD
(4 TYP.)
Dimension
Inches
Millimeters
0.256±0.008 Dia. Dia. 6.5±0.2
*AI-K2 connection made by external shorting bar.
Description:
Powerex Dual Diode
POW-R-BLOKTM Modules are
designed for use in applications
requiring AC to DC rectification in
isolated packaging. The modules
are isolated for easy mounting
with other components on com-
mon heatsinks. POW-R-BLOKTM
has been tested and recognized
by Underwriters Laboratories
(QQQX2 Power Switching
Semiconductors).
Features:
Applications:
AC and DC Motor Power
Supplies
Ordering Information:
Select the complete eight digit
module part number you desire
from the table below.
Example: CD511625 is a
1600 Volt, 250 Ampere Dual Diode
POW-R-BLOKTM Module.
Voltage
Current Rating
Type
Volts (x100)
Amperes (x10)
Powerex, Inc., 200 Hillis Street, Youngwood, Pennsylvania 15697-1800 (724) 925-7272
Dual Diode
POW-R-BLOKTM Modules
250 Amperes/1200-1600 Volts
CD511225
CD511625
Outline Drawing
CD511225, CD511625
Dual Diode
POW-R-BLOKTM Modules
250 Amperes/1200-1600 Volts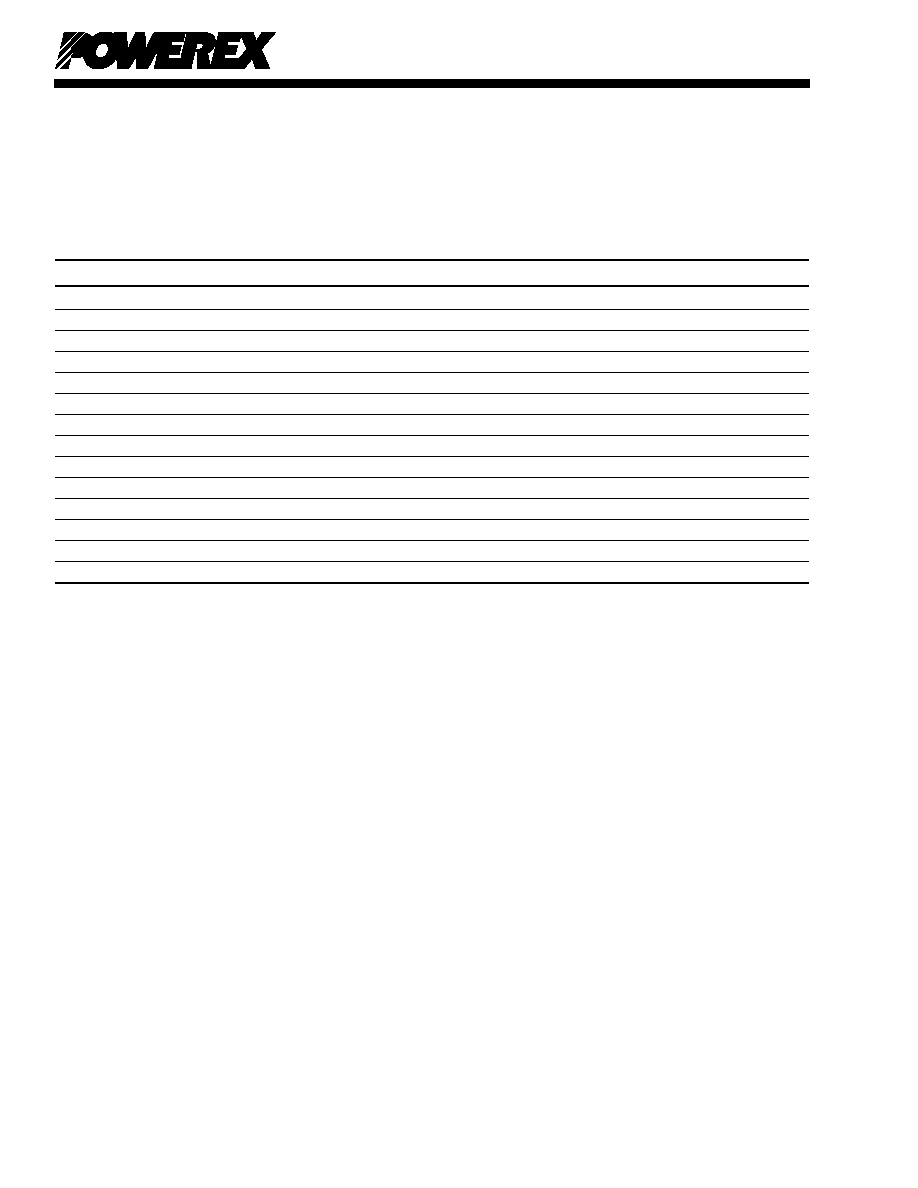 Powerex, Inc., 200 Hillis Street, Youngwood, Pennsylvania 15697-1800 (724) 925-7272
CD511225, CD511625
Dual Diode POW-R-BLOKTM Modules
250 Amperes/1200-1600 Volts
Absolute Maximum Ratings
Characteristics
Symbol
CD511225
CD511625
Units
Peak Reverse Blocking Voltage
Transient Peak Reverse Blocking Voltage (Non-Repetitive), t < 5ms
DC Reverse Blocking Voltage
Average On-State Current, TC = 64°C
Peak One-Cycle Surge (Non-Repetitive) On-State Current (60Hz)
Peak One-Cycle Surge (Non-Repetitive) On-State Current (50Hz)
I2t (for Fusing), 8.3 milliseconds
Maximum Mounting Torque M6 Mounting Screw
Maximum Mounting Torque M8 Terminal Screw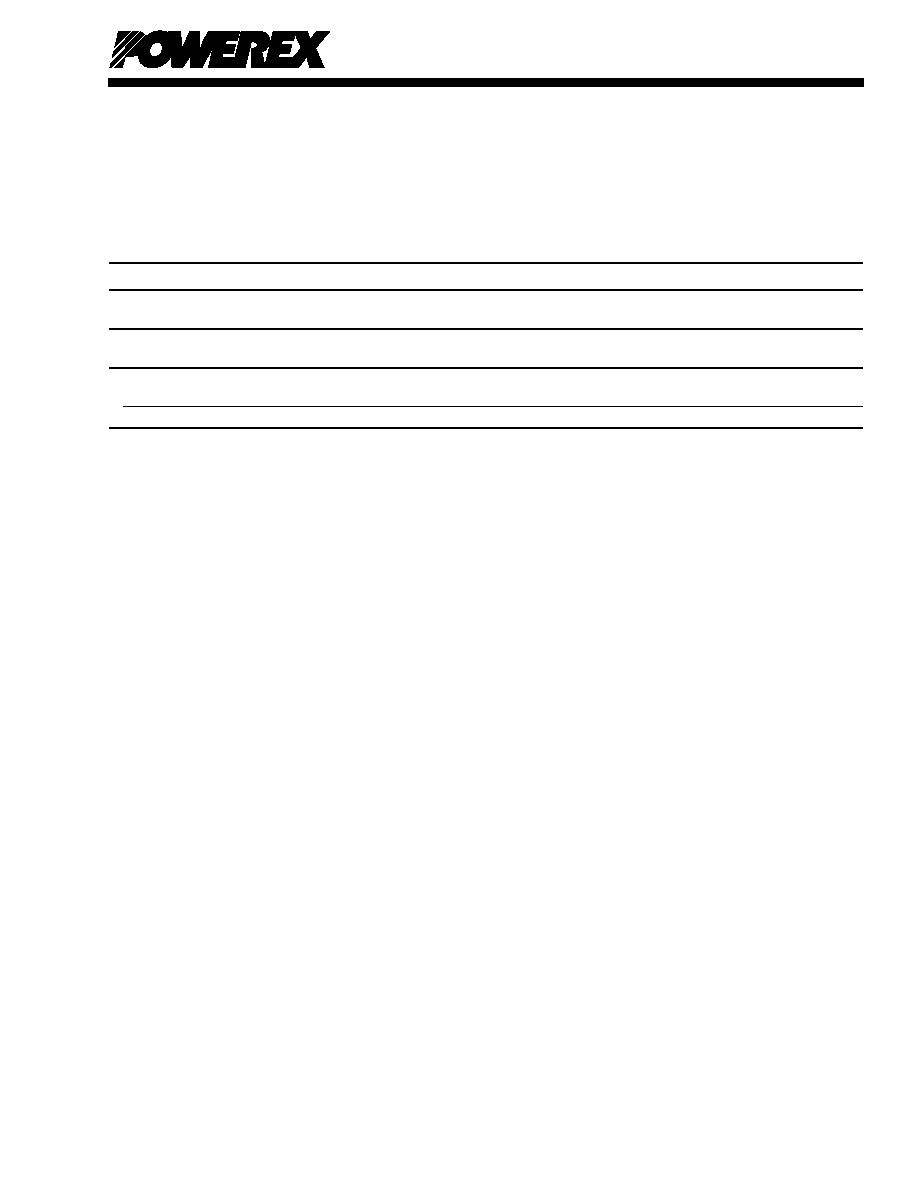 Powerex, Inc., 200 Hillis Street, Youngwood, Pennsylvania 15697-1800 (724) 925-7272
CD511225, CD511625
Dual Diode POW-R-BLOKTM Modules
250 Amperes/1200-1600 Volts
Electrical and Thermal Characteristics,
Tj = 25°C unless otherwise specified
Characteristics
Symbol
Test Conditions
CD511225/CD511625
Units
Blocking State Maximums
Reverse Leakage Current, Peak
Conducting State Maximums
Thermal Maximums
Thermal Resistance, Junction-to-Case
Thermal Resistance, Case-to-Sink (Lubricated)
Powerex, Inc., 200 Hillis Street, Youngwood, Pennsylvania 15697-1800 (724) 925-7272
CD511225, CD511625
Dual Diode POW-R-BLOKTM Modules
250 Amperes/1200-1600 Volts
INSTANTANEOUS ON-STATE CURRENT, I
MAXIMUM
ON-STATE CHARACTERISTICS
INSTANTANEOUS ON-STATE VOLTAGE, V
MAXIMUM
ALLOWABLE CASE TEMPERATURE
AVERAGE ON-STATE CURRENT, I
MAXIMUM ALLOWABLE CASE TEMPERATURE, T
RESISTIVE
INDUCTIVE
LOAD
DC
SINGLE-PHASE
THREE-PHASE
MAXIMUM
ON-STATE POWER DISSIPATION
AVERAGE ON-STATE CURRENT, I
MAXIMUM POWER DISSIPATION, P
RESISTIVE
INDUCTIVE
LOAD
DC
SINGLE-PHASE
THREE-PHASE
TRANSIENT THERMAL IMPEDANCE
CHARACTERISTICS (JUNCTION-TO-CASE)
TRANSIENT THERMAL IMPEDANCE, Z