Pixim D1000 Video Imaging System
for CCTV Cameras

The Pixim D1000 is a highly integrated two chip set utilizing Pixim's innovative new
Digital Pixel System
(DPS) technology that provides the image sensor and the
necessary intelligence to develop high quality, cost-effective color CCTV cameras. The
D1000 is designed to deliver superior quality video, providing up to 95 dB dynamic
range in normal operation while providing excellent resolution, sensitivity and color
fidelity. The D1000 includes configurable software which allows camera manufacturers
to get to market quickly and offer a number of camera products from the same base
hardware design, including an option to select PAL / NTSC operation via a jumper or
switch. Composite and S-Video outputs are available.

The chip set is manufactured in a high volume commercial 0.18 micron CMOS process,
utilizing 1.8V operation for low power dissipation.
Highlights
High resolution color for crisp,
clear video
Horizontal resolution: >480 TV
Vertical resolution: >400 TV Lines

High sensitivity for low-light images

Wide dynamic range provides excellent
quality in high-contrast environments
95 dB (14-bit) typical
120 dB max.

Single design supports NTSC and
PAL
Analog: Composite, S-Video
Automatic Exposure Mode for best
pictures

Numerous Control Options
Automatic White Balance
Backlight compensation
AC line lock, internal or external sync
Automatic Gain Control
Auto-Iris control (DC, video)
D1010
Digital Image Sensor
D1020
Digital Image Processor
Auto-iris
Lens
D1010
Digital Image Sensor
D1020
Digital Image
Processor
Iris Control, DC or Video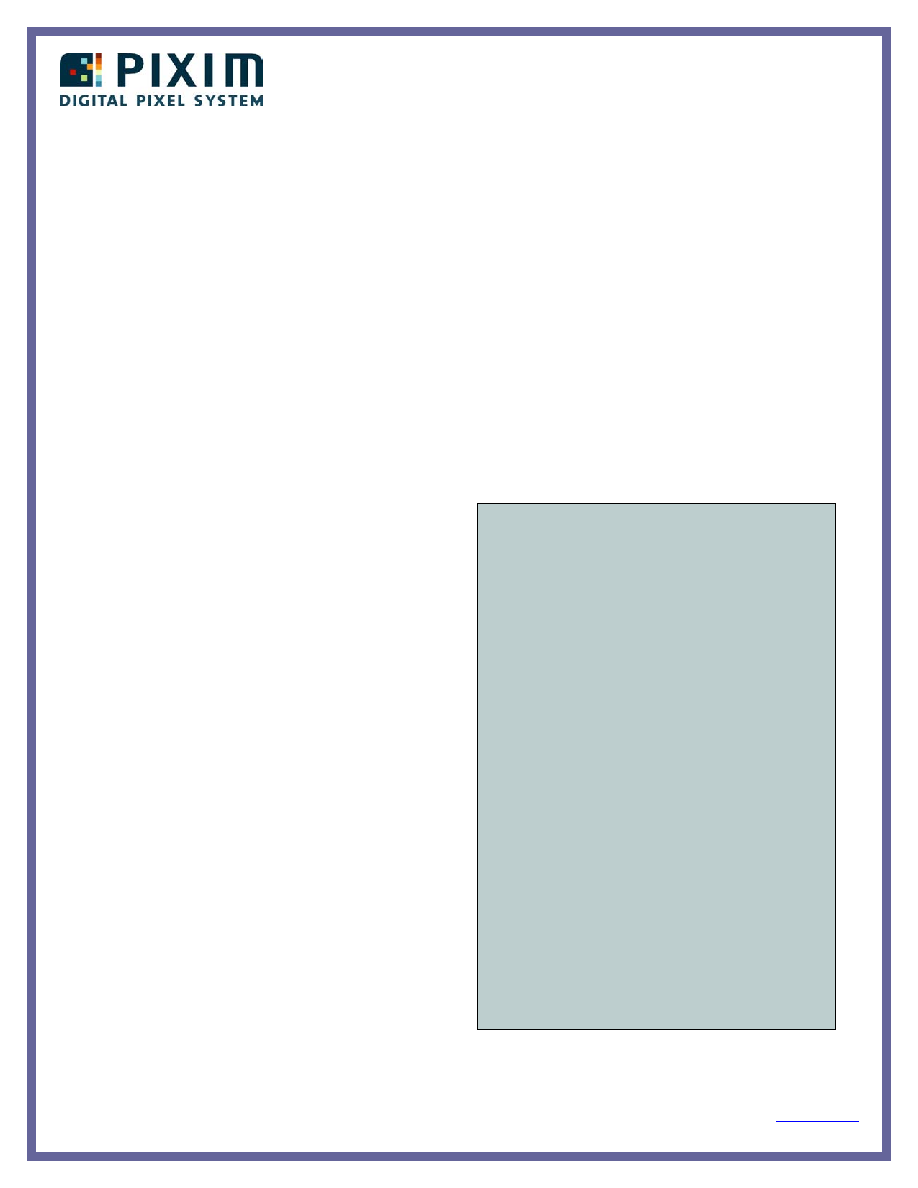 Power
· Standard 1.8V (core) and 3.3V (I/O) supply
· Typical power: 1.5 W for D1000 chip set
· Max. power: <2 W for D1000 chip set


Package
· D1010: 17mm x 17mm; 181 PBGA, 1mm ball pitch
· D1020: 15mm x 15mm; 144 PBGA, 1mm ball pitch


Temperature Range
· Operation: -10 to 60 degrees C ambient


System Tools
· Camera Development Kit (CDK)
Specifications
D1010 Digital Image Sensor
· Pixel type: DPSTM technology
· Silicon process: 0.18
· Image size: diagonal 6.3 mm (Type 1/3")
· Sensor array size: 5.04mm (H) x 3.78 mm (V)
· Pixel size: 7
· Picture elements: total: 742 (H) x 554 (V); effective: 720 (H) x 540 (V)
· Color filter array: complementary (CMY)
· Dynamic range: 95 dB typical, 120 dB max
· Resolution: >480 horizontal TV lines
· Minimal blooming
· Zero smear



D1020 Digital Image Processor
· ARMTM processor core
· Custom image pipeline
· Built-in NTSC/PAL video encoder
· Extensive programmability
· DIP switch / push-button menu support
· Camera ID
· White balance: auto tracking, manual, and presets
· Gamma correction options
· Electronic shutter
· Wide dynamic range
· Automatic gain control mode
· Backlight compensation control
· B/W mode
· Image flip: horizontal
· Iris selection: DC type, video type, fixed Iris type
· Exposure control: electronic Iris; DC/Video auto iris lens support
· Auto iris output: Video or DC drive using internal PWM DAC



System Interfaces
· Boot EPROM: serial SPI
· Iris Control: control Video Iris lenses or DC Iris output
· CVBS: Composite video signal (75 output)
· Y/C: standard S-video output (75 output)
· GPIO: 8 general input/output pins for camera modes via DIP switches
About DPS

Pixim's patented Digital Pixel System
technology marks a fundamental breakthrough in
imaging technology. Building upon technology
developed at Stanford University in the 1990s,
Pixim has created an image capture and
processing system that provides high-quality
pictures with enhanced dynamic range. Greater
dynamic range significantly improves image
quality in scenes consisting of both bright and
dark areas.

The core invention in DPS is the inclusion of an
analog-to-digital converter (ADC) within each pixel
of the image sensor. The ADC translates the light
signal into a digital value at the immediate point of
capture, thus minimizing signal degradation and
cross-talk in the array and allowing for greater
noise reduction methods. Once the data is
captured in a digital format, a variety of digital
signal processing techniques are used for optimal
image reproduction.

As imaging technology continues to migrate
toward totally digital systems, Pixim's Digital Pixel
System technology will provide the foundation for
image capture and image processing for the
highest quality video and still cameras.
Pixim, Inc.
915 Linda Vista Ave.
Mountain View, CA 94043
USA
650-934-0550