100328
Low Power Octal ECL/TTL Bi-Directional Translator with
Latch
General Description
The 100328 is an octal latched bi-directional translator de-
signed to convert TTL logic levels to 100K ECL logic levels
and vice versa. The direction of this translation is determined
by the DIR input. A LOW on the output enable input (OE)
holds the ECL outputs in a cut-off state and the TTL outputs
at a high impedance level. A HIGH on the latch enable input
(LE) latches the data at both inputs even though only one
output is enabled at the time. A LOW on LE makes the
100328 transparent.
The cut-off state is designed to be more negative than a nor-
mal ECL LOW level. This allows the output emitter-followers
to turn off when the termination supply is -2.0V, presenting a
high impedance to the data bus. This high impedance re-
duces termination power and prevents loss of low state
noise margin when several loads share the bus.
The 100328 is designed with FAST
turing optimal DC drive and capable of quickly charging and
discharging highly capacitive loads. All inputs have 50 k
Features
Identical performance to the 100128 at 50% of the
supply current
Bi-directional translation
Voltage compensated operating range =
Logic Symbol
Pin Names
Description
All pins function at 100K ECL levels except for T
is a registered trademark of National Semiconductor Corporation.
is a registered trademark of Fairchild Semiconductor.
100328
Low
Power
Octal
ECL/TTL
Bi-Directional
T
ranslator
with
Latch
© 1998 National Semiconductor Corporation
Connection Diagrams
24-Pin DIP
24-Pin Quad Cerpak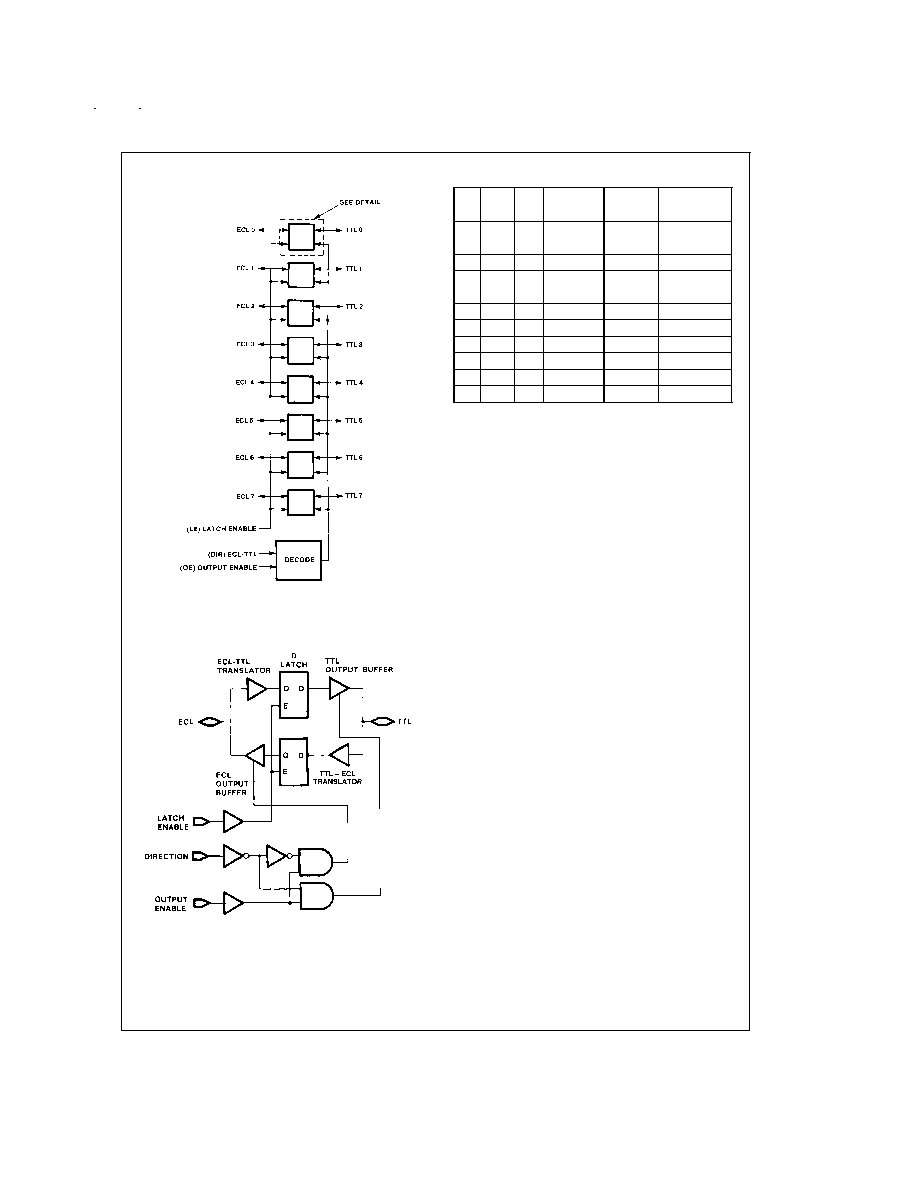 Functional Diagram
Detail
Truth Table
OE
DIR
LE
ECL
TTL
Notes
Port
Port
H = HIGH Voltage Level
L = LOW Voltage Level
X = Don't Care
Z = High Impedance
Note 1: ECL input to TTL output mode.
Note 2: TTL input to ECL output mode.
Note 3: Retains data present before LE set HIGH.
Note 4: Latch is transparent.
Note: LE, DIR, and OE use ECL logic levels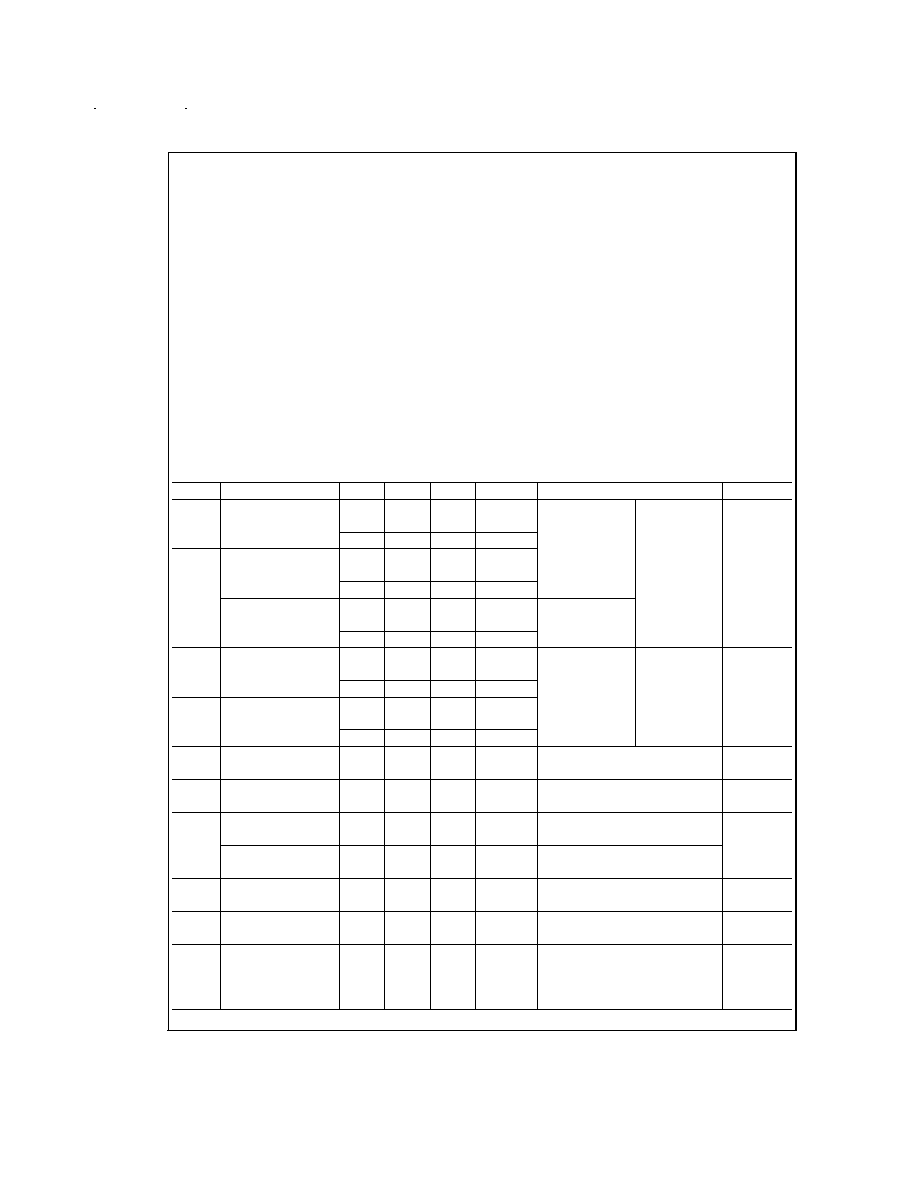 Absolute Maximum Ratings
If Military/Aerospace specified devices are required,
please contact the National Semiconductor Sales Office/
Distributors for availability and specifications.
Maximum Junction Temperature (T
TTL Input Voltage (Note 7)
TTL Input Current (Note 7)
Voltage Applied to Output in HIGH State
Output in LOW State (Max)
Recommended Operating
Conditions
Note 5: Absolute maximum ratings are those values beyond which the de-
vice may be damaged or have its useful life impaired. Functional operation
under these conditions is not implied.
Note 6: ESD testing conforms to MIL-STD-883, Method 3015.
Note 7: Either voltage limit or current limit is sufficient to protect inputs.
Military Version
TTL-to-ECL DC Electrical Characteristics
Symbol
Parameter
Min
Max
Units
T
C
Conditions
Notes
Military Version
ECL-to-TTL DC Electrical Characteristics
Symbol
Parameter
Min
Max Units
T
C
Conditions
Notes
Note 8: F100K 300 Series cold temperature testing is performed by temperature soaking (to guarantee junction temperature equals -55°C), then testing immediately
without allowing for the junction temperature to stabilize due to heat dissipation after power-up. This provides "cold start" specs which can be considered a worst case
condition at cold temperatures.
Note 9: Screen tested 100% on each device at -55°C, +25°C, and +125°C, Subgroups, 1, 2 3, 7, and 8.
Note 10: Sample tested (Method 5005, Table I) on each manufactured lot at -55°C, +25°C, and +125°C, Subgroups A1, 2, 3, 7, and 8.
Note 11: Guaranteed by applying specified input condition and testing V
Military Version
TTL-to-ECL AC Electrical Characteristics
Symbol
Parameter
T
C
= -55°C
T
C
= 25°C
T
C
=
+125°C
Units
Conditions
Notes
Min
Max
Min
Max
Min
Max