The information in this document is subject to change without notice. Before using this document, please
confirm that this is the latest version.
Not all devices/types available in every country. Please check with local NEC representative for
availability and additional information.
MOS FIELD EFFECT TRANSISTOR
2SJ625
P-CHANNEL MOS FIELD EFFECT TRANSISTOR
FOR SWITCHING
DATA SHEET
D15961EJ1V0DS00 (1st edition)
2002
DESCRIPTION
The 2SJ625 is a switching device which can be driven directly
by a 1.8 V power source.
This device features a low on-state resistance and excellent
switching characteristics, and is suitable for applications such
as power switch of portable machine and so on.
FEATURES
Low on-state resistance
R
ORDERING INFORMATION
SC-96 (Mini Mold Thin Type)
Marking: XM
ABSOLUTE MAXIMUM RATINGS (T
A
= 25°C)
Drain to Source Voltage (V
Gate to Source Voltage (V
Note1
Note2
Notes 1. PW
2. Mounted on FR-4 board, t
Remark The diode connected between the gate and source of the transistor serves as a protector against ESD. When
this device actually used, an additional protection circuit is externally required if a voltage exceeding the rated
voltage may be applied to this device.
PACKAGE DRAWING (Unit: mm)
1 : Gate
2 : Source
3 : Drain
EQUIVALENT CIRCUIT
Body
Diode
Gate
Protection
Diode
2
2SJ625
ELECTRICAL CHARACTERISTICS (T
A
= 25°C)
Zero Gate Voltage Drain Current
Forward Transfer Admittance
Drain to Source On-state Resistance
Reverse Transfer Capacitance
Body Diode Forward Voltage
TEST CIRCUIT 2 GATE CHARGE
TEST CIRCUIT 1 SWITCHING TIME
3
2SJ625
TYPICAL CHARACTERISTICS (T
A
= 25°C)
DERATING FACTOR OF FORWARD BIAS
SAFE OPERATING AREA
TOTAL POWER DISSIPATION vs.
AMBIENT TEMPERATURE
e
rc
o
w
e
r - %
a
l
P
o
w
e
r Di
s
s
i
pat
i
on - W
Mounted on FR-4 board,
t
FORWARD BIAS SAFE OPERATING AREA
Single Pulse
Mounted on FR-4 board of
5000 mm
- Drain to Source Voltage - V
TRANSIENT THERMAL RESISTANCE vs. PULSE WIDTH
(
c
h
-
A
i
ent
a
l
Res
i
s
t
anc
Mounted on FR-4 board of
5000 mm
4
2SJ625
DRAIN CURRENT vs.
DRAIN TO SOURCE VOLTAGE
FORWARD TRANSFER CHARACTERISTICS
- Drain to Source Voltage - V
75°C
25°C
- Gate to Source Voltage - V
GATE CUT-OFF VOLTAGE vs.
CHANNEL TEMPERATURE
FORWARD TRANSFER ADMITTANCE vs.
DRAIN CURRENT
(
o
ff)
e
Cut
-
of
f
V
o
l
t
age - V
f
e
r A
d
m
i
t
t
anc
25°C
25°C
75°C
DRAIN TO SOURCE ON-STATE RESISTANCE vs.
CHANNEL TEMPERATURE
DRAIN TO SOURCE ON-STATE RESISTANCE vs.
GATE TO SOURCE VOLTAGE
(
on)
o
S
e
On-s
t
a
t
e
Res
i
s
t
anc
- Channel Temperature - °C
(
on)
o
S
e
On-s
t
a
t
e
Res
i
s
t
anc
- Gate to Source Voltage - V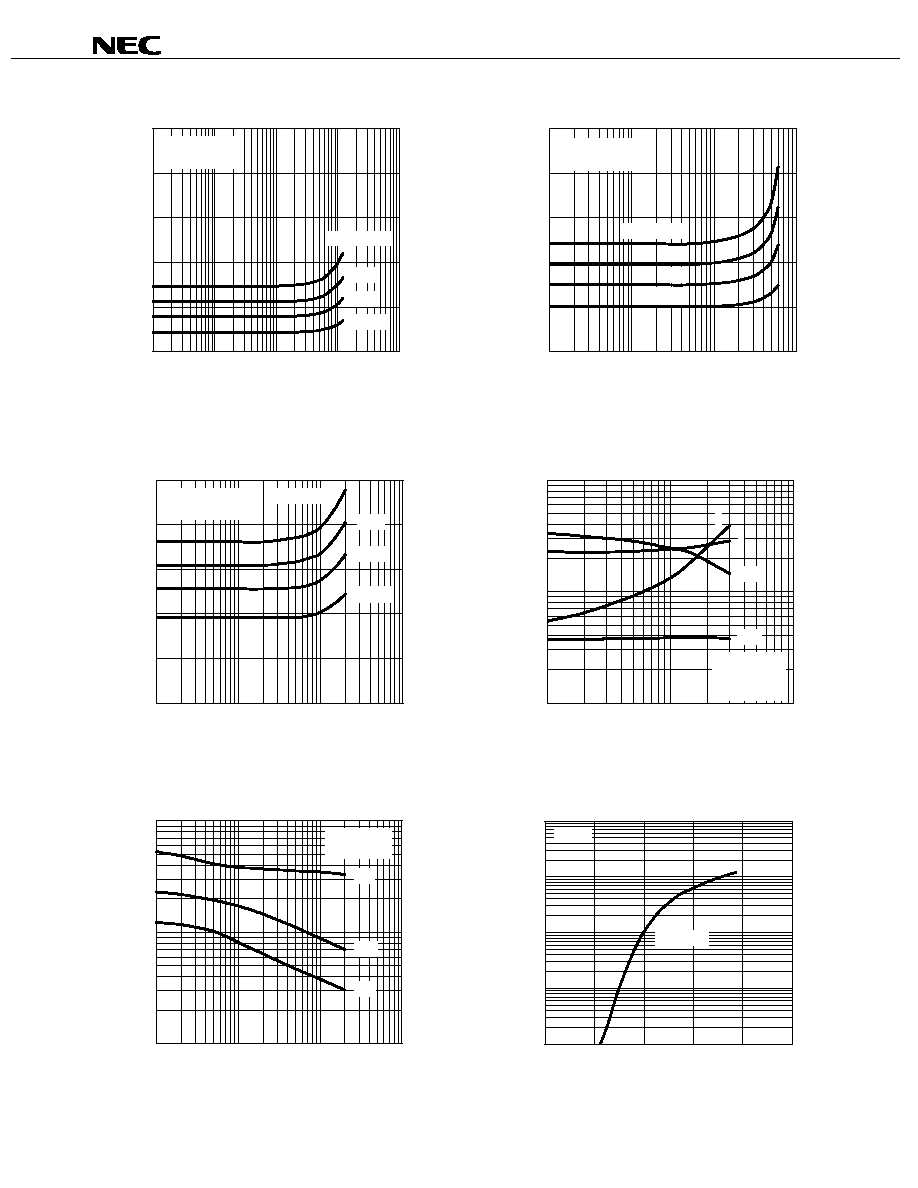 5
2SJ625
DRAIN TO SOURCE ON-STATE RESISTANCE vs.
DRAIN CURRENT
DRAIN TO SOURCE ON-STATE RESISTANCE vs.
DRAIN CURRENT
(
on)
o
S
e
On-s
t
a
t
e
Res
i
s
t
anc
(
on)
o
S
e
On-s
t
a
t
e
Res
i
s
t
anc
DRAIN TO SOURCE ON-STATE RESISTANCE vs.
DRAIN CURRENT
SWITCHING CHARACTERISTICS
(
on)
o
S
e
On-s
t
a
t
e
Res
i
s
t
anc
f
)
i
t
c
h
i
ng Ti
e
- ns
CAPACITANCE vs. DRAIN TO SOURCE VOLTAGE
SOURCE TO DRAIN DIODE FORWARD VOLTAGE
i
t
anc
- Drain to Source Voltage - V
- Source to Drain Voltage - V