MOS FIELD EFFECT TRANSISTOR
2SJ621
P-CHANNEL MOS FIELD EFFECT TRANSISTOR
FOR SWITCHING
DATA SHEET
D15634EJ1V0DS00 (1st edition)
The information in this document is subject to change without notice. Before using this document, please
confirm that this is the latest version.
Not all devices/types available in every country. Please check with local NEC representative for
availability and additional information.
DESCRIPTION
The 2SJ621 is a switching device which can be driven directly
by a 1.8 V power source.
This device features a low on-state resistance and excellent
switching characteristics, and is suitable for applications such
as power switch of portable machine and so on.
FEATURES
Low on-state resistance
R
ORDERING INFORMATION
SC-96 (Mini Mold Thin Type)
Marking: XG
ABSOLUTE MAXIMUM RATINGS (T
A
= 25°C)
Drain to Source Voltage (V
Gate to Source Voltage (V
Note1
Total Power Dissipation (T
Total Power Dissipation (T
Note2
Notes 1. PW
2. Mounted on FR-4 board, t
Remark
The diode connected between the gate and source of the transistor serves as a protector against ESD. When
this device actually used, an additional protection circuit is externally required if a voltage exceeding the rated
voltage may be applied to this device.
PACKAGE DRAWING (Unit: mm)
1 : Gate
2 : Source
3 : Drain
EQUIVALENT CIRCUIT
Body
Diode
Gate
Protection
Diode
2
2SJ621
ELECTRICAL CHARACTERISTICS (T
A
= 25°C)
Zero Gate Voltage Drain Current
Forward Transfer Admittance
Drain to Source On-state Resistance
Reverse Transfer Capacitance
Body Diode Forward Voltage
TEST CIRCUIT 2 GATE CHARGE
TEST CIRCUIT 1 SWITCHING TIME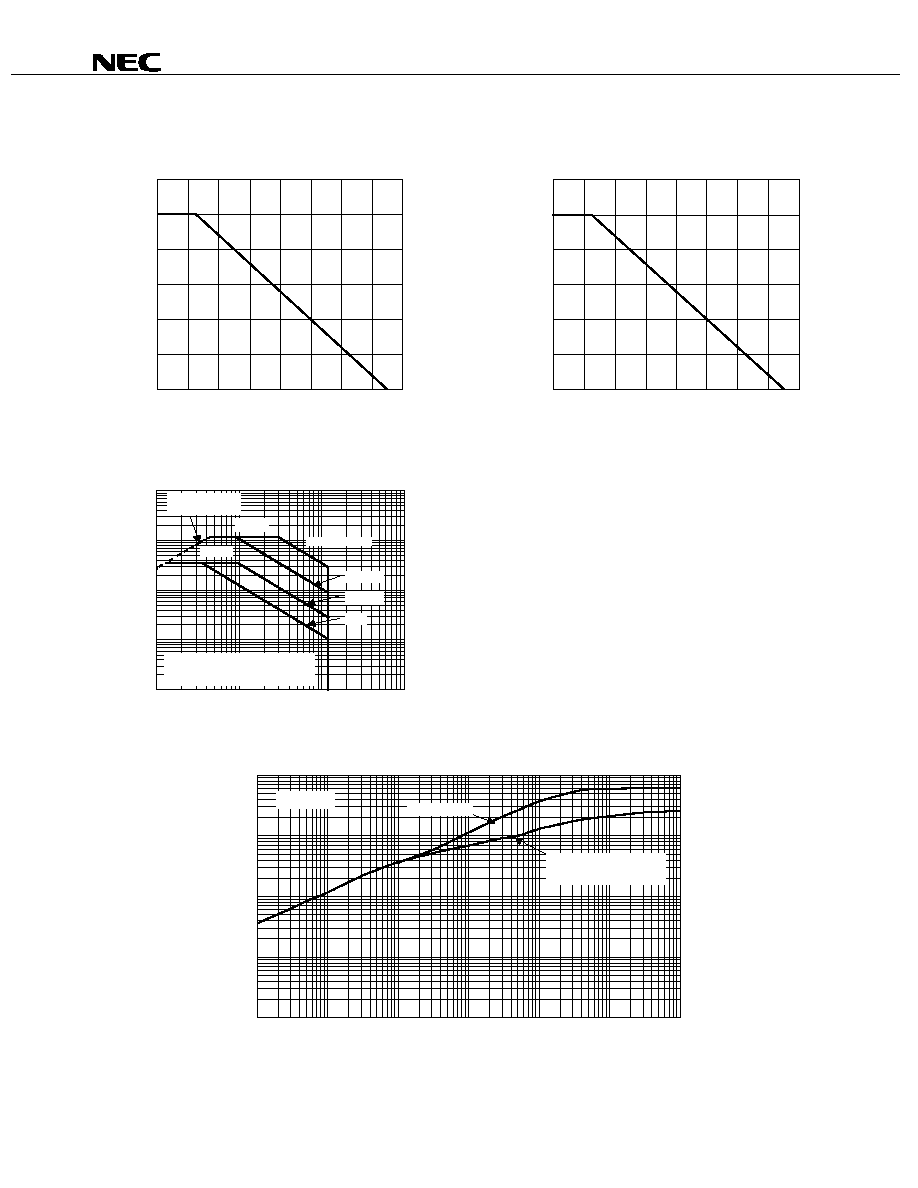 3
2SJ621
TYPICAL CHARACTERISTICS (T
A
= 25°C)
DERATING FACTOR FORWARD BIAS
SAFE OPERATING AREA
TOTAL POWER DISSIPATION vs.
AMBIENT TEMPERATURE
e
rc
o
w
e
r - %
o
t
a
l
P
o
w
e
r Di
s
s
i
p
at
i
on - W
FORWARD BIAS SAFE OPERATING AREA
S ing le P u ls e
M o un te d o n F R -4 b o ard o f
5 0 x 50 x 1.6 m m
- Drain to Source Voltage - V
TRANSIENT THERMAL RESISTANCE vs. PULSE WIDTH
(
c
h
-
A
i
ent
a
l
Res
i
s
t
anc
Mounted on FR-4 board of
50 × 50 × 1.6 mm
4
2SJ621
DRAIN CURRENT vs.
DRAIN TO SOURCE VOLTAGE
FORWARD TRANSFER CHARACTERISTICS
2 5°C
7 5°C
- Drain to Source Voltage - V
- Gate to Source Voltage - V
GATE CUT-OFF VOLTAGE vs.
CHANNEL TEMPERATURE
FORWARD TRANSFER ADMITTANCE vs.
DRAIN CURRENT
(
o
ff)
e
Cut
-
of
f
V
o
l
t
age - V
f
e
r A
d
m
i
t
t
anc
DRAIN TO SOURCE ON-STATE
RESISTANCE vs. CHANNEL TEMPERATURE
DRAIN TO SOURCE ON-STATE RESISTANCE vs.
GATE TO SOURCE VOLTAGE
(
on)
o
S
e
On-s
t
a
t
e
Res
i
s
t
anc
(
on)
o
S
e
On-s
t
a
t
e
Res
i
s
t
anc
- Gate to Source Voltage - V
5
2SJ621
DRAIN TO SOURCE ON-STATE
RESISTANCE vs. DRAIN CURRENT
DRAIN TO SOURCE ON-STATE
RESISTANCE vs. DRAIN CURRENT
(
on)
o
S
e
On-s
t
a
t
e
Res
i
s
t
anc
(
on)
o
S
e
On-s
t
a
t
e
Res
i
s
t
anc
DRAIN TO SOURCE ON-STATE
RESISTANCE vs. DRAIN CURRENT
DRAIN TO SOURCE ON-STATE
RESISTANCE vs. DRAIN CURRENT
(
on)
o
S
e
On-s
t
a
t
e
Res
i
s
t
anc
(
on)
o
S
e
On-s
t
a
t
e
Res
i
s
t
anc
CAPACITANCE vs.
DRAIN TO SOURCE VOLTAGE
SWITCHING CHARACTERISTICS
i
t
anc
- Drain to Source Voltage - V
f
)
i
t
c
h
i
ng Ti
e
- ns