Document Outline
COVER
FEATURES
QUALITY GRADE
Package Drawings
Equivalent Circuit
ABSOLUTE MAXIMUM RATINGS (Ta = +25 degree)
ELECTRICAL SPECIFICATIONS (Ta = +25 degree)
CHARACTERISTICS CURVES (Ta = +25 degree)
RELATED DOCUMENTS
MOS FIELD EFFECT TRANSISTOR
The 2SJ358 is a P-channel vertical MOS FET that can
be used as a switching element. The 2SJ358 can be
directly driven by an IC operating at 5 V.
The 2SJ358 features a low on-resistance and excellent
switching characteristics, and is suitable for applications
such as actuator driver and DC/DC converter.
FEATURES
Has advantages of packages for small signals and for
power transistors, and compensates those disadvan-
Can be directly driven by an IC operating at 5 V.
QUALITY GRADE
ABSOLUTE MAXIMUM RATINGS (T
a
= +25 °C)
Mounted on ceramic board of 7.5 cm
The diode connected between the gate and source of the transistor serves as a protector against ESD. When
this device is actually used, an additional protection circuit is externally required if a voltage exceeding the
rated voltage may be applied to this device.
Document No. TC-2491
(O.D. No. TC-8011)
Date Published October 1994 P
2SJ358
P-CHANNEL MOS FET FOR HIGH-SPEED SWITCH
The information in this document is subject to change without notice.
DATA SHEET
Package Drawings (unit: mm)
Equivalent Circuit
Internal
Diode
Gate Protect
Diode
Electrode Connection
1. Source
2. Drain
3. Gate
Please refer to "Quality grade on NEC Semiconductor Devices" (Document number IEI-1209) published by
NEC Corporation to know the specification of quality grade on the devices and its recommended applications.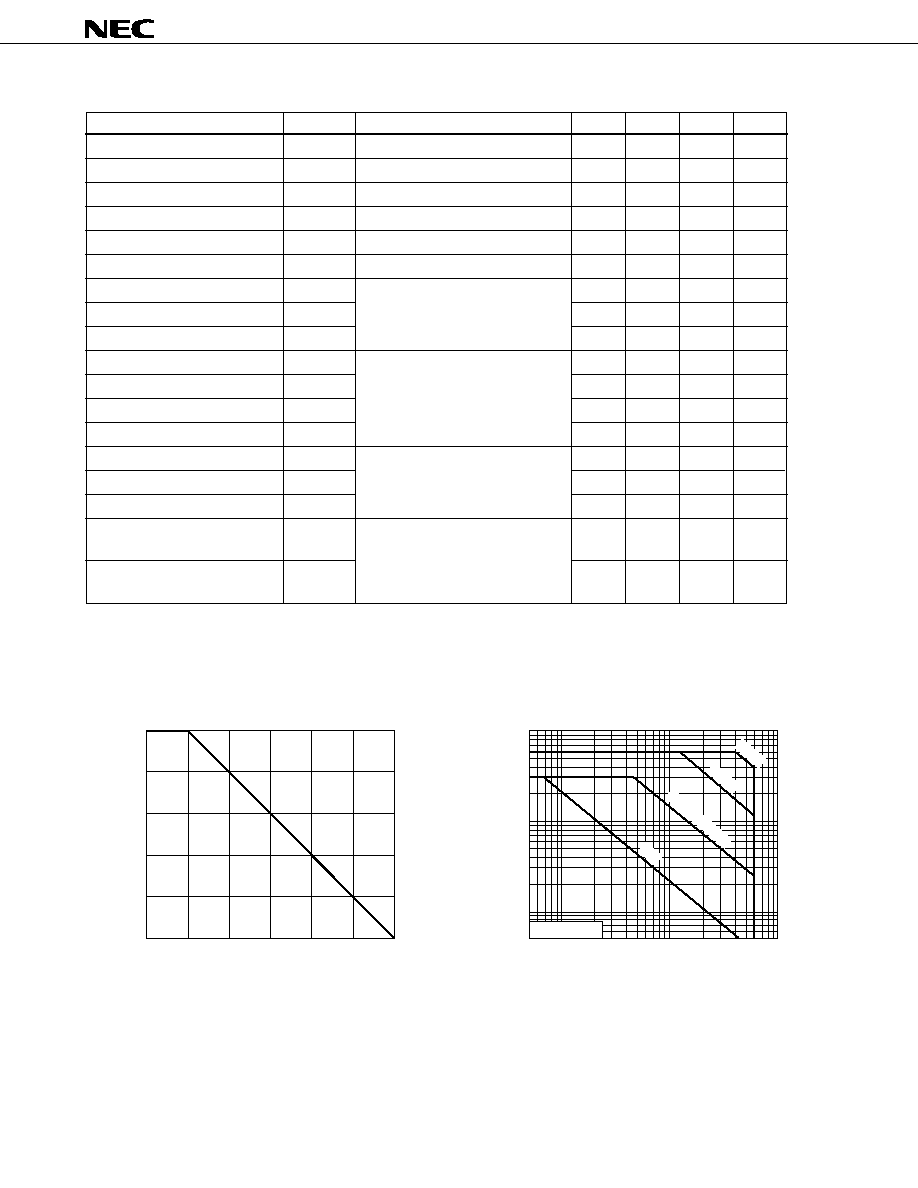 2SJ358
2
ELECTRICAL SPECIFICATIONS (T
a
= +25 °C)
Forward Transfer Admittance
Drain-Source On-Resistance
Drain-Source On-Resistance
CHARACTERISTICS CURVES (T
a
= +25 °C)
­ Ambient Temperature ­ °C
DERATING FACTOR OF FORWARD BIAS
SAFE OPERATING AREA
­ Drain to Source Voltage ­ V
FORWARD BIAS SAFE OPERATING AREA
2SJ358
3
­ Drain to Source Voltage ­ V
DRAIN CURRENT vs.
DRAIN TO SOURCE VOLTAGE
­ Gate to Source Voltage ­ V
| ­ Forward Transfer Admittence ­ S
FORWARD TRANSFER ADMITTANCE vs.
DRAIN CURRENT
­ Drain to Source On-State Resistance ­
DRAIN TO SOURCE ON-STATE RESISTANCE vs.
DRAIN CURRINT
­ Drain to Source On-State Resistance ­
DRAIN TO SOURCE ON-STATE RESISTANCE vs.
DRAIN CURRENT
­ Gate to Source Voltage ­ V
­ Drain to Source On-State Resistance ­
DRAIN TO SOURCE ON-STATE RESISTANCE vs.
GATE TO SOURCE VOLTAGE
­8 ­10 ­12 ­14 ­16 ­18 ­20
2SJ358
4
­ Source to Drain Voltage ­ V
­ Diode Forward Current ­ A
SOURCE TO DRAIN DIODE
FORWARD VOLTAGE
­ Drain to Source Voltage ­ V
CAPACITANCE vs.
DRAIN TO SOURCE VOLTAGE
SWITCHING CHARACTERISTICS
­ Reverse Recovery Time ­ ns
­ Diode Forward Current ­ A
REVERSE RECOVERY TIME vs.
DIODE FORWARD CURRENT
­ Transient Thermal Resistance ­ °C/
Single Pulse
Using ceramic board
of 7.5 cm
TRANSIENT THERMAL RESISTANCE vs. PULSE WIDTH
2SJ358
5
RELATED DOCUMENTS
Semiconductor Device Mounting Technology Manual
NEC Semiconductor Device Reliability/Quality Control System
Guide to Quality Assurance for Semiconductor Device