Document Outline
COVER
FEATURES
PACKAGE DIMENSIONS
EQUIVALENT CIRCUIT
ABSOLUTE MAXIMUM RATINGS (TA = 25 degree)
ELECTRICAL CHARACTERISTICS (TA = 25 degree)
TYPICAL CHARACTERISTICS (TA = 25 degree)
REFERENCE
DATA SHEET
MOS FIELD EFFECT TRANSISTOR
2SJ355
P-CHANNEL MOS FET
FOR HIGH SWITCHING
Document No. D11217EJ1V0DS00 (1st edition)
Date Published June 1996 P
Printed in Japan
PACKAGE DIMENSIONS (in mm)
0.47
±0.06
EQUIVALENT CIRCUIT
Internal
diode
Gate
protection
diode
PIN CONNECTIONS
S:
D:
G:
Source
Drain
Gate
The 2SJ355 is a P-channel MOS FET of a vertical type and is
a switching element that can be directly driven by the output of an
This product has a low ON resistance and superb switching
characteristics and is ideal for driving the actuators and DC/DC
FEATURES
Can be directly driven by 5-V IC
ABSOLUTE MAXIMUM RATINGS (T
A
= 25 °C)
0.7 mm, ceramic substrate used
The internal diode connected between the gate and source of this product is to protect the product from static
electricity. If the product is used in a circuit where the rated voltage of the product may be exceeded, connect
a protection circuit.
Take adequate preventive measures against static electricity when handling this product.
The information in this document is subject to change without notice.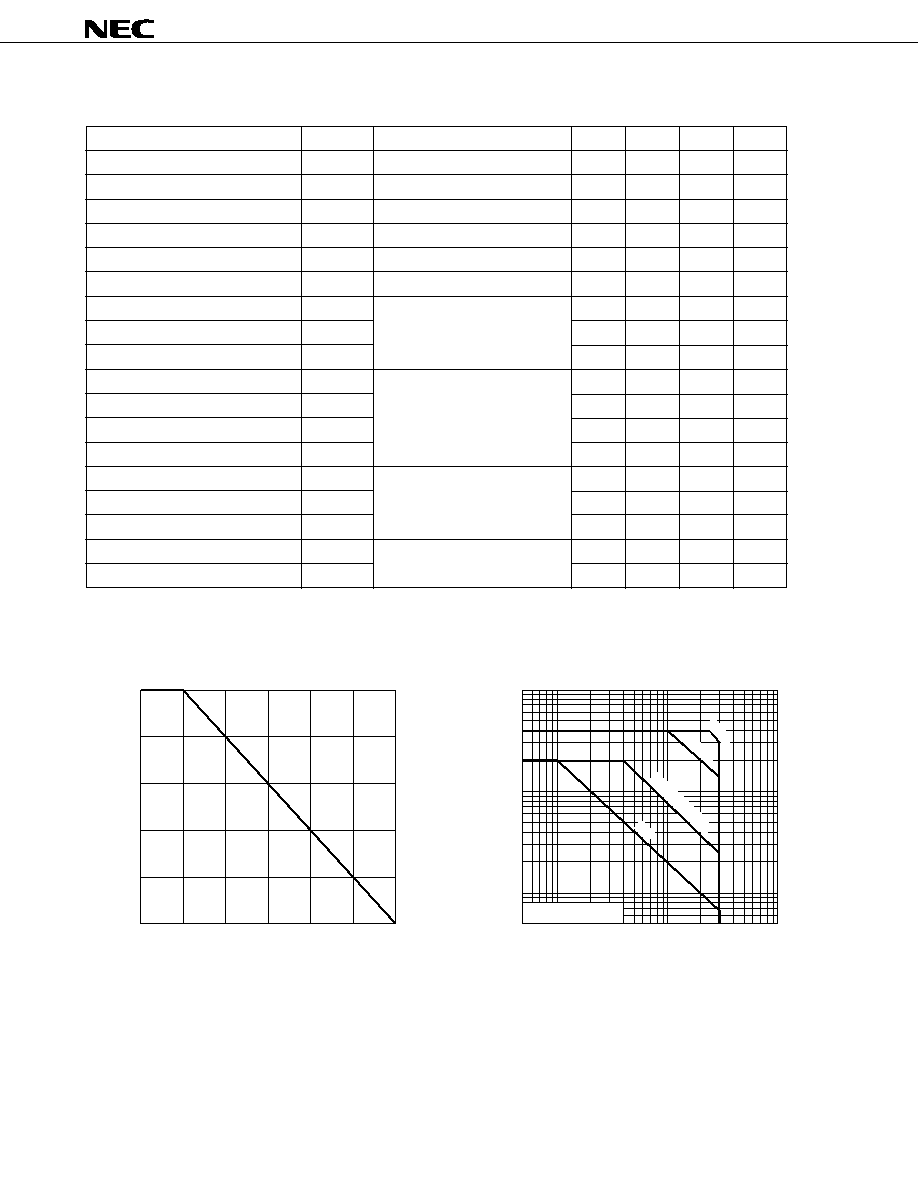 2SJ355
2
ELECTRICAL CHARACTERISTICS (T
A
= 25 °C)
Forward Transfer Admittance
Drain to Source On-State Resistance
Drain to Source On-State Resistance
Reverse Transfer Capacitance
Internal Diode Reverse Recovery Time
Internal Diode Reverse Recovery Charge
TYPICAL CHARACTERISTICS (T
A
= 25 °C)
DERATING FACTOR OF FORWARD BIAS
SAFE OPERATING AREA
- Ambient Temperature - °C
FORWARD BIAS SAFE OPERATING AREA
- Drain to Source Voltage - V
2SJ355
3
DRAIN TO SOURCE ON-STATE RESISTANCE vs.
DRAIN CURRENT
- Drain to Source On-State Resistance -
DRAIN TO SOURCE ON-STATE RESISTANCE vs.
GATE TO SOURCE VOLTAGE
- Drain to Source On-State Resistance -
- Gate to Source Voltage - V
DRAIN CURRENT vs.
DRAIN TO SOURCE VOLTAGE
- Drain to Source Voltage - V
- Gate to Source Voltage - V
FORWARD TRANSFER ADMITTANCE vs.
DRAIN CURRENT
| - Forward Transfer Admittance - S
DRAIN TO SOURCE ON-STATE RESISTANCE vs.
DRAIN CURRENT
- Drain to Source On-State Resistance -
2SJ355
4
TRANSIENT THERMAL RESISTANCE vs. PULSE WIDTH
- Transient Thermal Resistance - °C/
Single Pulse
Using ceramic board
of 7.5 cm
SOURCE TO DRAIN DIODE
FORWARD VOLTAGE
- Diode Forward Current - A
- Source to Drain Voltage - V
CAPACITANCE vs.
DRAIN TO SOURCE VOLTAGE
- Drain to Source Voltage- V
SWITCHING CHARACTERISTICS
REVERSE RECOVERY TIME vs.
DIODE FORWARD CURRENT
- Reverse Recovery Time - ns
- Diode Forward Current - A
2SJ355
5
REFERENCE
NEC semiconductor device reliability/quality control system
Quality grade on NEC semiconductor devices
Semiconductor device mounting technology manual
Guide to quality assurance for semiconductor devices
Semiconductor selection guide