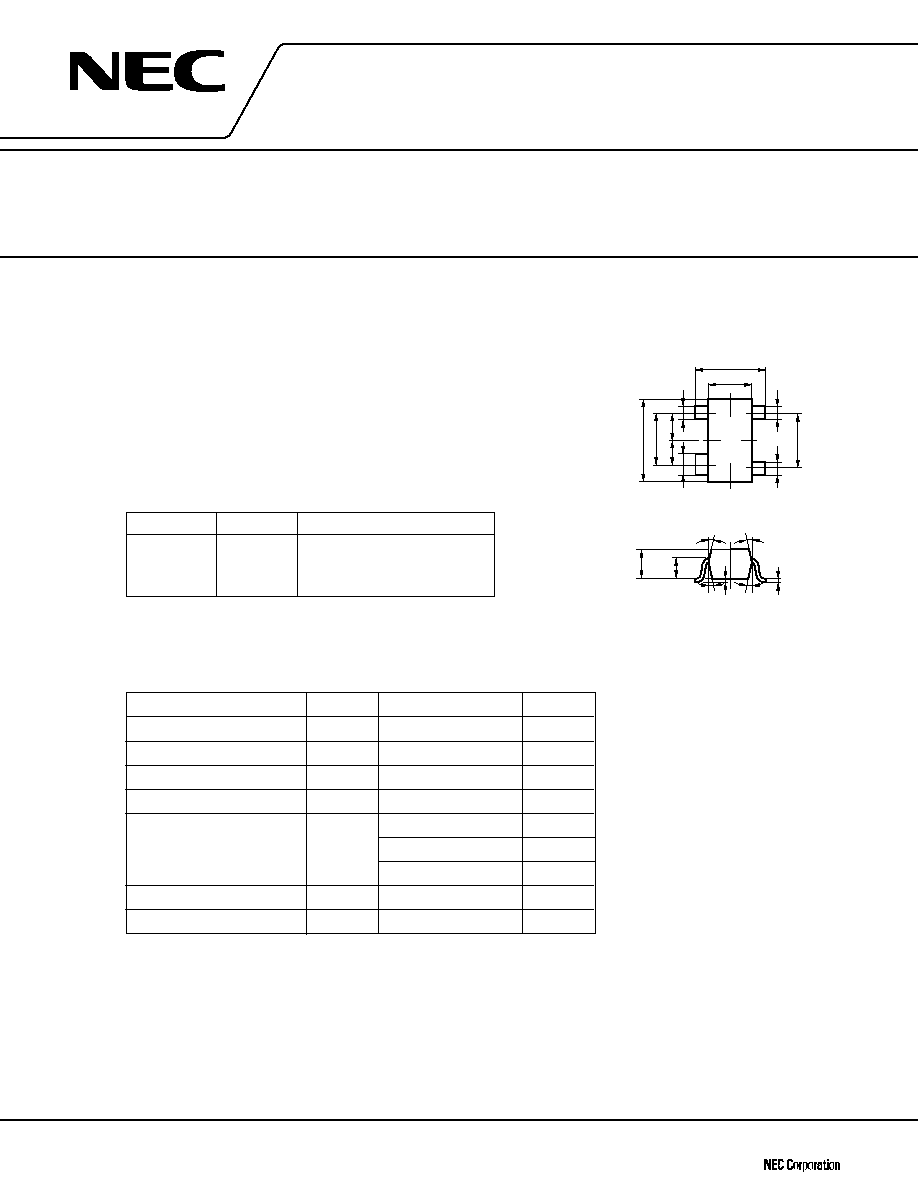 DATA SHEET
SILICON TRANSISTOR
The 2SC5289 is ideal for the final stage amplifier in 1.9G Hz-band digital
cordless phones (DECT, PHS, etc.).
FEATURES
= 1 mA (Class AB), Duty = 1/8
ORDERING INFORMATION
Pin 3 (Base), Pin 4 (Emitter) face
to perforation side of the tape.
Remark
If you require an evaluation sample, please contact an NEC Sales
Representative. (Unit sample quantity is 50 pcs.)
ABSOLUTE MAXIMUM RATINGS (T
A
= 25
C)
Collector to Base Voltage
Collector to Emitter Voltage
Note
Note
Note Pulse period is 10 msec or less.
2SC5289
NPN SILICON EPITAXIAL TRANSISTOR
FOR L-BAND LOW-POWER AMPLIFIER
PACKAGE DRAWING
Document No. P10250EJ2V0DS00 (2nd edition)
Date Published December 1995 P
Printed in Japan
+0.2
­0.3
+0.2
­0.1
PIN CONNECTIONS
1. Collector
2. Emitter
3. Base
4. Emitter
2SC5289
2
ELECTRICAL CHARACTERISTICS (T
A
= 25
C)
= 1 mA (class AB operation)
h
FE
Classification
APPLICATION EXAMPLES
(1) Power amplifier for DECT
(2) Power amplifier for PHS
2SC5289
3
TYPICAL CHARACTERISTICS (T
A
= 25 °C)
- Base to Emitter Voltage - V
COLLECTOR CURRENT vs. BASE TO EMITTER VOLTAGE
- Collector to Emitter Voltage - V
COLLECTOR CURRENT vs. COLLECTOR TO EMITTER VOLTAGE
2SC5289
4
S-Parameters
(V
CE
= 3.0 V, I
C
= 60 mA)
(V
CE
= 3.0 V, I
C
= 80 mA)
(V
CE
= 3.0 V, I
C
= 100 mA)
2SC5289
5
(V
CE
= 3.0 V, I
C
= 120 mA)
(V
CE
= 3.6 V, I
C
= 60 mA)
(V
CE
= 3.6 V, I
C
= 80 mA)