DATA SHEET
SILICON TRANSISTOR
2SC5004
PACKAGE DIMENSIONS
PIN CONNECTIONS
NPN SILICON EPITAXIAL TRANSISTOR
3 PINS ULTRA SUPER MINI MOLD
Document No. P10383EJ2V0DS00 (2nd edition)
(Previous No. TD-2428)
Date Published July 1995 P
Printed in Japan
1.6 ± 0.1
0.8 ± 0.1
­
0.05
DESCRIPTION
The 2SC5004 is a low supply voltage transistor designed for UHF
It is suitable for a high density surface mount assembly since the
transistor has been applied ultra super mini mold package.
FEATURES
Ultra Super Mini Mold Package. (1.6 mm
ORDERING INFORMATION
Embossed tape 8 mm wide.
Pin 3 (Collector) face to
perforation side of the tape.
* Please contact with responsible NEC person, if you require evaluation
sample. Unit sample quantity shall be 50 pcs.
ABSOLUTE MAXIMUM RATINGS (T
A
= 25
C)
Collector to Base Voltage
Collector to Emitter Voltage
2SC5004
2
Collector Saturation Voltage
= 5 mA
*1
*2
ELECTRICAL CHARACTERISTICS (T
A
= 25
C)
*1
*2
The emitter terminal and the case shall be connected to the guard terminal of the three-terminal capacitance bridge.
h
FE
Classification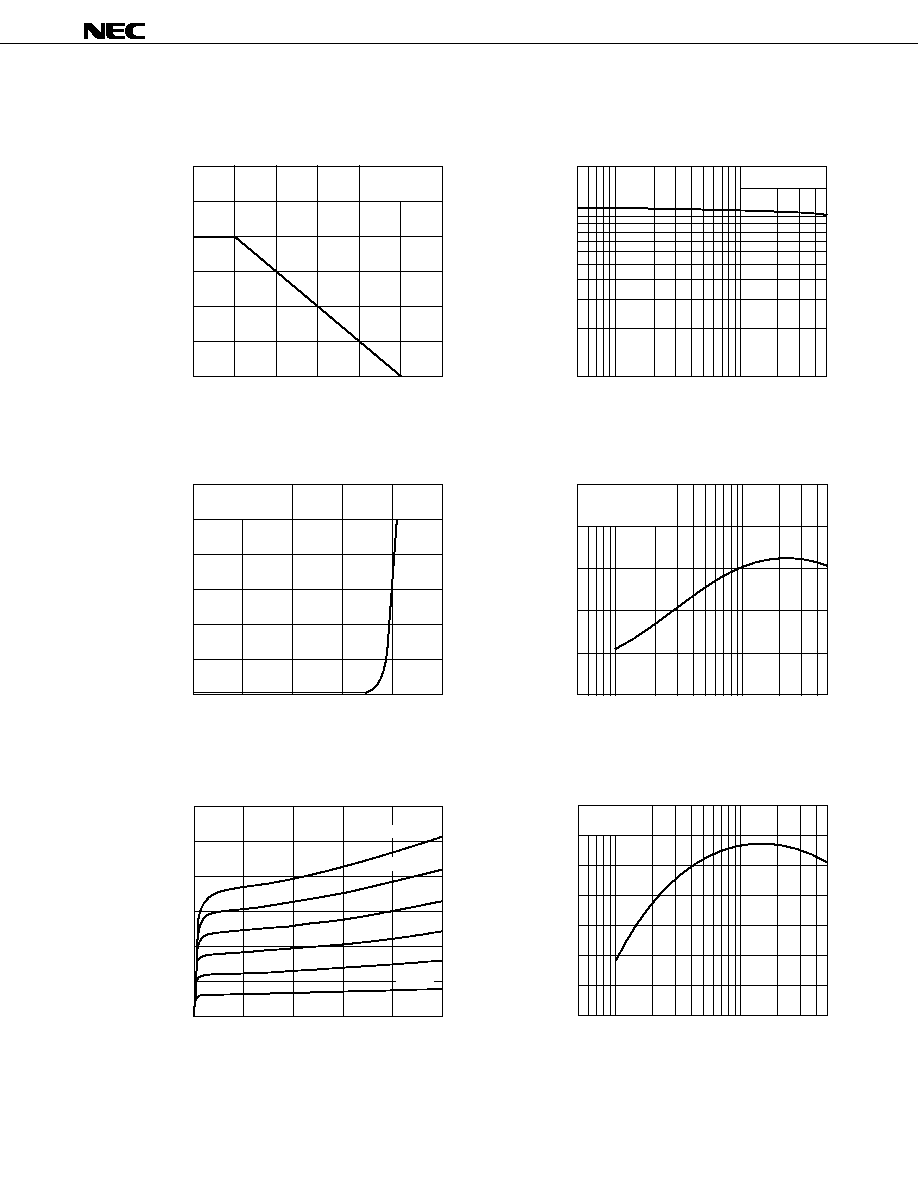 2SC5004
3
TYPICAL CHARACTERISTICS (T
A
= 25
C)
­ Total Power Dissipation ­ mW
TOTAL POWER DISSIPATION vs.
AMBIENT TEMPERATURE
­ Gain Bandwidth Produce ­ GHz
­ Insertion Power Gain ­ dB
­ Ambient Temperature ­ °C
COLLECTOR CURRENT vs.
BASE TO EMITTER
­ Base to Emitter Voltage ­ V
COLLECTOR CURRENT vs.
COLLECTOR TO EMITTER VOLTAGE
­ Collector to Emitter Voltage ­ V
INSERTION POWER GAIN vs.
COLLECTOR CURRENT
GAIN BANDWIDTH PRODUCT vs.
COLLECTOR CURRENT
2SC5004
4
MAG ­ Maximum Available Gain ­ dB
­ Insertion Power Gain ­ dB
­ Collector to Base Voltage ­ V
­ Feed-Back Capacitance ­ pF
FEED-BACK CAPACITANCE vs.
COLLECTOR TO BASE VOLTAGE
MAXIMUM AVAILABLE GAIN
INSERTION POWER GAIN vs. FREQUENCY
MAXIMUM AVAILABLE GAIN,
INSERTION POWER GAIN vs. FREQUENCY
2SC5004
5
S­PARAMETER
100.00
200.00
300.00
400.00
500.00
600.00
700.00
800.00
900.00
1000.00
1100.00
1200.00
1300.00
1400.00
1500.00
1600.00
1700.00
1800.00
1900.00
2000.00
2100.00
2200.00
2300.00
2400.00
2500.00
2600.00
2700.00
2800.00
2900.00
3000.00
100.00
200.00
300.00
400.00
500.00
600.00
700.00
800.00
900.00
1000.00
1100.00
1200.00
1300.00
1400.00
1500.00
1600.00
1700.00
1800.00
1900.00
2000.00
2100.00
2200.00
2300.00
2400.00
2500.00
2600.00
2700.00
2800.00
2900.00
3000.00
.907
.825
.747
.673
.615
.569
.535
.511
.497
.487
.483
.482
.481
.485
.486
.494
.497
.502
.510
.517
.525
.532
.543
.548
.558
.566
.573
.585
.590
.603
­23.5
­45.3
­67.1
­86.6
­104.4
­118.5
­131.4
­142.6
­152.1
­160.2
­167.4
­174.5
179.7
174.3
168.9
164.3
159.7
155.7
151.5
147.5
143.9
140.9
137.4
134.2
131.7
128.2
126.1
123.1
120.7
118.2
5.717
5.461
5.224
4.779
4.452
3.938
3.630
3.298
3.039
2.798
2.590
2.420
2.250
2.133
2.001
1.906
1.805
1.728
1.654
1.578
1.525
1.460
1.418
1.360
1.320
1.276
1.236
1.199
1.158
1.132
154.7
135.7
119.6
105.9
93.4
82.6
72.9
63.7
55.6
47.7
40.7
33.4
26.8
20.2
13.8
7.5
1.0
­11.0
­16.7
­22.6
­28.3
­34.0
­39.7
­44.9
­50.7
­55.7
­61.4
­66.4
­71.7
.033
.056
.074
.083
.092
.097
.102
.106
.112
.116
.121
.126
.132
.137
.143
.150
.157
.163
.171
.178
.188
.196
.206
.214
.224
.235
.244
.256
.263
.278
70.9
56.2
45.2
36.9
31.0
26.2
22.8
19.5
17.1
14.9
12.5
10.6
8.0
6.0
3.9
1.6
­1.0
­3.1
­5.8
­8.2
­10.9
­13.8
­16.9
­20.5
­23.4
­27.0
­29.9
­33.7
­37.0
­40.9
.953
.855
.752
.676
.616
.570
.538
.509
.491
.471
.456
.444
.433
.424
.412
.405
.396
.389
.381
.374
.368
.360
.355
.347
.341
.338
.332
.328
.325
.325
­13.3
­23.5
­30.1
­33.8
­36.9
­38.7
­40.2
­41.9
­43.3
­45.1
­46.5
­48.7
­50.6
­53.4
­55.9
­58.4
­61.1
­63.9
­67.3
­70.6
­74.0
­78.0
­81.7
­86.4
­90.5
­95.6
­100.4
­105.6
­110.9
­116.4
.840
.719
.624
.549
.503
.472
.454
.443
.440
.436
.437
.441
.443
.449
.453
.462
.465
.473
.481
.491
.499
.506
.518
.523
.535
.541
.549
.563
.568
.582
­29.2
­57.1
­83.3
­104.8
­122.6
­135.8
­147.1
­156.5
­164.4
­171.5
­177.2
176.7
171.7
167.0
162.5
158.5
154.3
150.9
147.1
143.7
140.4
137.6
134.5
131.7
129.3
126.4
124.3
121.6
119.6
117.1
8.993
8.284
7.527
6.560
5.797
4.992
4.460
3.972
3.601
3.284
3.029
2.815
2.608
2.452
2.303
2.184
2.075
1.974
1.883
1.795
1.730
1.661
1.608
1.543
1.497
1.446
1.402
1.360
1.312
1.282
151.3
129.5
112.2
98.3
86.3
76.6
68.0
59.8
52.4
45.2
38.6
31.8
25.5
19.3
13.1
7.2
1.0
­10.5
­16.0
­21.9
­27.3
­33.2
­38.7
­43.8
­49.5
­54.6
­60.1
­65.1
­70.4
.031
.050
.062
.070
.077
.084
.091
.097
.104
.111
.119
.127
.135
.142
.149
.158
.166
.175
.184
.193
.202
.211
.220
.229
.239
.250
.259
.269
.279
.290
68.1
52.7
44.8
39.1
35.1
32.4
30.3
27.5
25.5
23.0
20.8
18.0
15.8
12.9
9.9
7.1
4.0
1.1
­2.3
­5.4
­9.0
­12.3
­15.9
­19.3
­22.8
­27.0
­30.5
­34.3
­38.2
­42.2
.915
.771
.648
.565
.508
.467
.440
.415
.399
.381
.370
.359
.348
.340
.328
.321
.312
.304
.297
.290
.283
.274
.269
.260
.254
.250
.244
.242
.236
.237
­17.9
­29.5
­35.5
­38.1
­40.2
­41.0
­42.1
­43.3
­44.2
­46.1
­46.9
­49.4
­50.9
­53.6
­56.0
­58.2
­61.3
­63.8
­67.5
­70.4
­74.4
­78.3
­82.1
­87.0
­91.1
­97.0
­102.0
­107.8
­113.8
­119.5