Document No. D16122EJ1V0DS00 (1st edition)
Date Published April 2002 N CP(K)
Printed in Japan
SILICON POWER TRANSISTOR
2SA1650
PNP SILICON EPITAXIAL TRANSISTOR
FOR HIGH-SPEED SWITCHING
DATA SHEET
The information in this document is subject to change without notice. Before using this document, please
confirm that this is the latest version.
Not all devices/types available in every country. Please check with local NEC representative for
availability and additional information.
The 2SA1650 is a mold power transistor developed for high-
speed switching and features a very low collector-to-emitter
saturation. This transistor is ideal for use in switching power
supplies, DC/DC converters, motor drivers, solenoid drivers, and
other low-voltage power supply devices, as well as for high-current
FEATURES
· Mold package that does not require an insulating board or
· Low collector-to-emitter saturation voltage:
QUALITY GRADES
Please refer to "Quality Grades on NEC Semiconductor Devices"
(Document No. C11531E) published by NEC Corporation to
know the specification of quality grade on the devices and its
recommended applications.
PACKAGE DRAWING (UNIT: mm)
ABSOLUTE MAXIMUM RATINGS (Ta = 25
°
°
°
°C)
Collector to base voltage
Collector to emitter voltage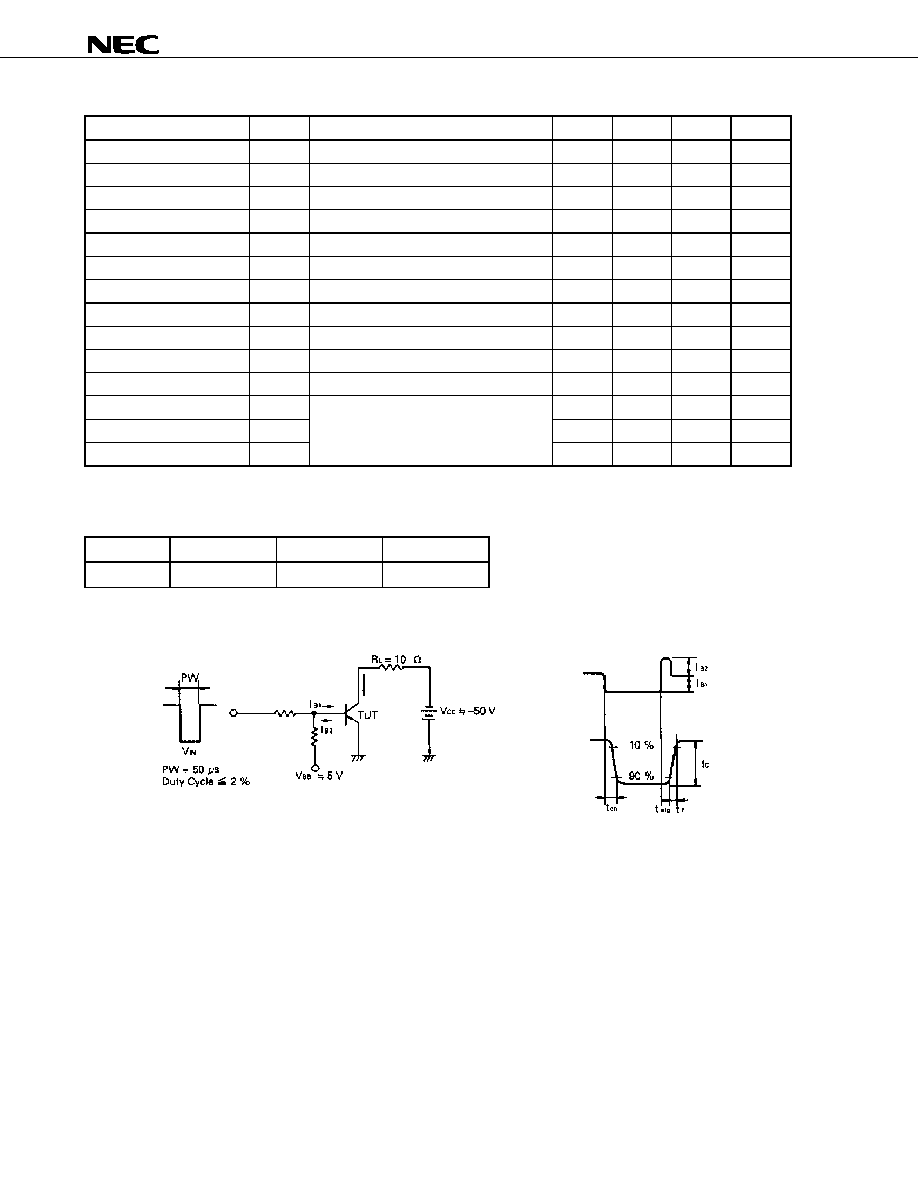 2
2SA1650
ELECTRICAL CHARACTERISTICS (Ta = 25
°
°
°
°C)
Collector saturation voltage
Collector saturation voltage
Refer to the test circuit.
h
FE
CLASSIFICATION
SWITCHING TIME TEST CIRCUIT
Base current
waveform
Collector current
waveform
3
2SA1650
TYPICAL CHARACTERISTICS (Ta = 25
°
°
°
°C)
T
o
t
a
l
P
o
w
e
r Di
i
pat
i
o
n

P

Derat
i
ng
i
ent
a
l
Res
i
s
t
an
c
e

r
(
j
-
)
(
°
C/W
Collector to Emitter Voltage V
Collector to Emitter Voltage V
l
e
c
t
or Current

I
l
e
c
t
or Current

I
n

h
4
2SA1650
l
l
ec
t
o
r
S
t
u
r
a
t
i
o
l
t
ag
(
s
t
)
i
n
i
dt
r
od
t

-
O
t
or
l
T
i
m

t
Collector to Base Voltage V
l
l
ec
t
o
r
C
i
t
a

C
t
u
r
a

Vo
t
)

5
2SA1650
[MEMO]