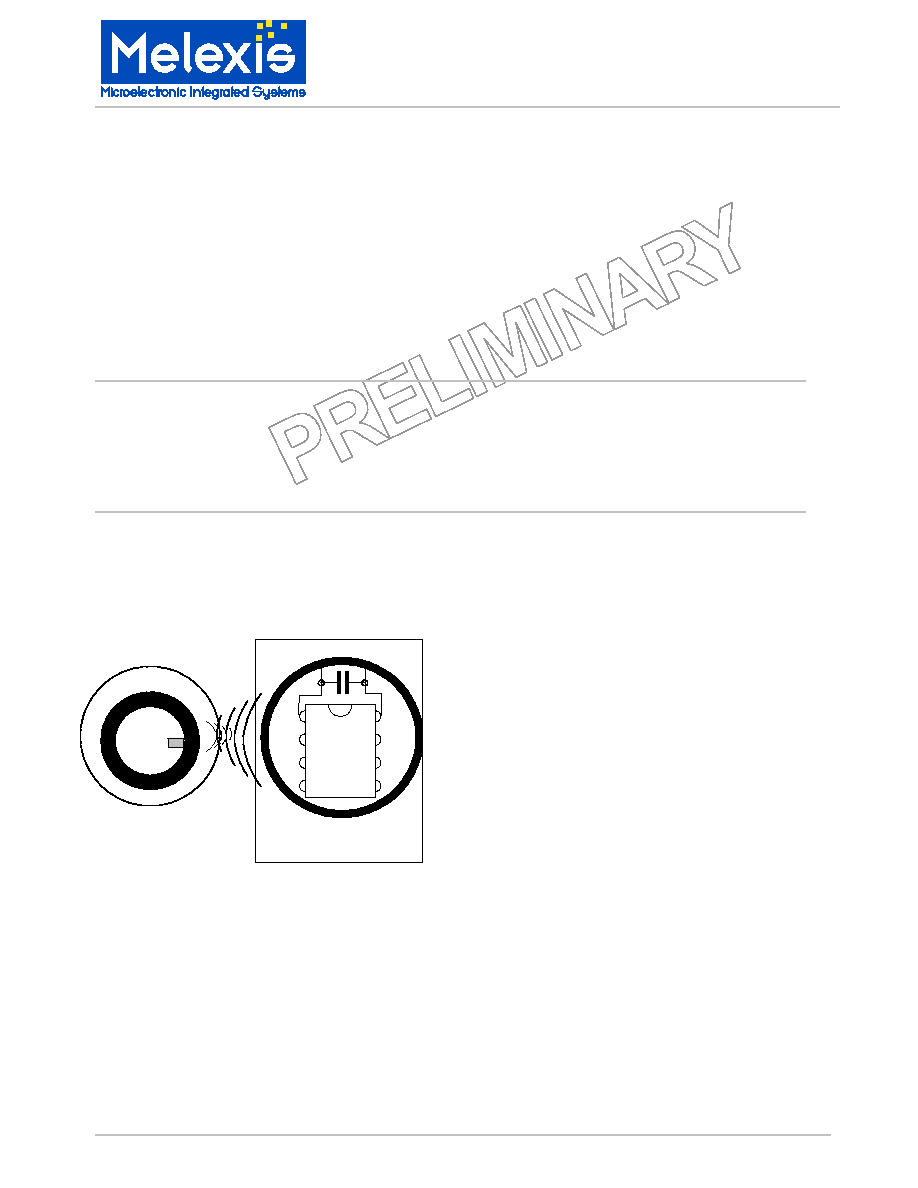 Features
20mm outside label diameter
Fully characterized for combined use with the MLX90109 as fast design-in chipset.
Sticky label glues on any flat surface or rigid thin transparent disk
Applications
Reduce liability risks in health care applications
Self-reconfiguring equipment or self calibrating products
Product Authentication and asset protection
Ordering Information
AA (*): MLX90108 on Sticky label
AB (*): MLX90108 on Polyester (P.E.T.) disk
MLX90124 on Polyester (P.E.T.) disk
(*) for high volume requests only.
1 Functional Diagram
MLX90127
READER
TRANSPONDER
2 Description
The MLX90127 is conceived to go with the MLX90109 as
an attempt to minimize the design-in time of RFID into any
application to less then 1 week, regardless of the users
previous experience with RFID.
Given its small size it can easily be incorporated into any
existing system or into small items. Even though it does
not attempt to replace bar codes, it may well offer the next
best alternative up to date using mature, robust and easy
to use technology for people wanting to leverage the
advantages that RFID offers over bar code.
It can be used with any standard reader equipment;
however it is ideally suited for use in combination with the
MLX90109 in proximity read only or read-write
applications. A full fledged case study is available as part
of the EVB90109 evaluation board documentation.
The sticky label can be applied to any flat surface using
standard label dispensing machines, whilst the PET disk
can easily be inserted or even overmoulded.
Application markets are mainly item management
applications needing a low power and low cost (handheld)
reader, with minimum operating distance requirements.
For these applications the 125kHz range is better suited
than higher frequency bands like 13.56MHz, 900MHz or
2.45GHz.
* Product innovators may want to protect their heigh R&D
products from cheap copies that might destroy the market.
* Health care companies may want to overcome potential
human errors by the consumer in an attempt to minimize
liability complaints.
*
Rental services or any industry relying on valuable office or
heavy duty equipment may want to use the labels as a simple
method to reduce theft.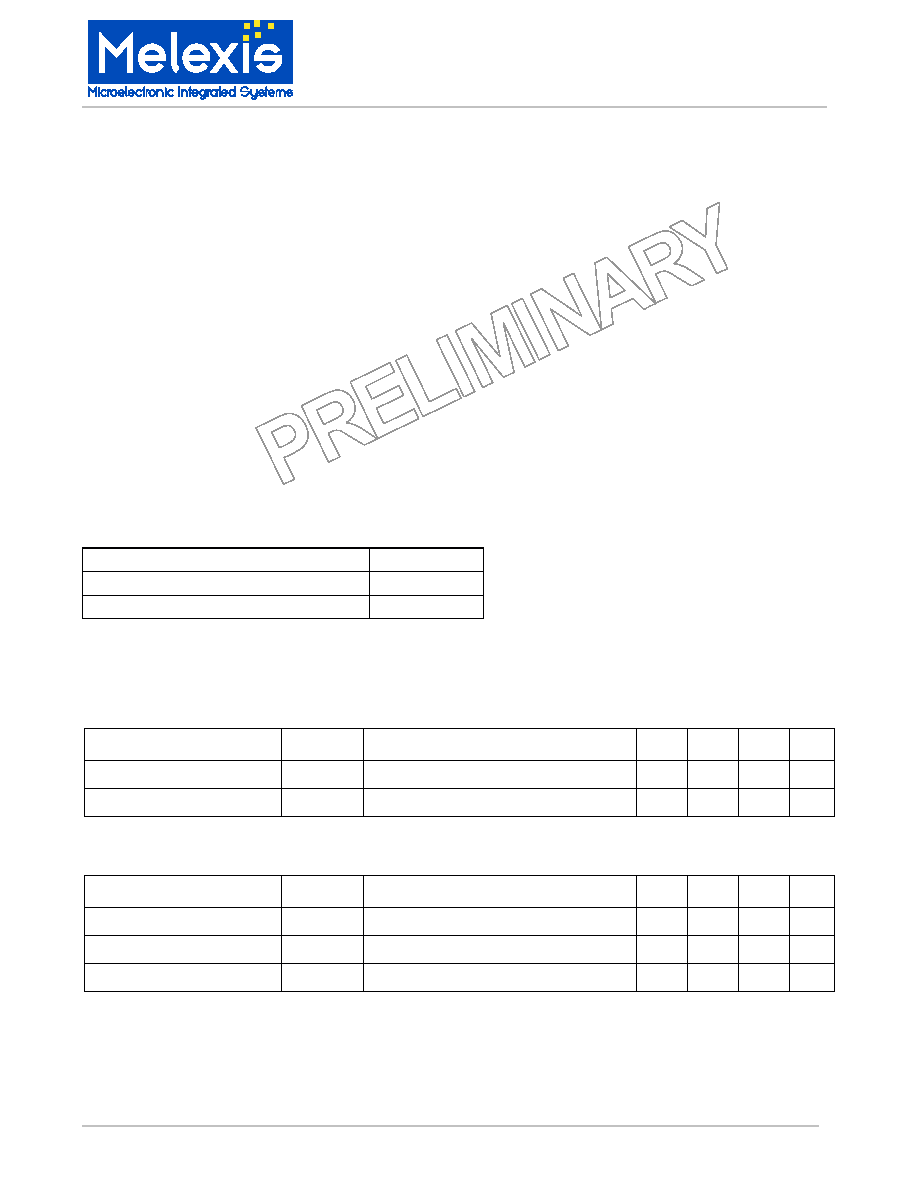 3 Glossary of Terms
RFID:
Radio Frequency Identification
Proximity:
Short distance. Typically cm range
Reader (E.g. MLX90109, EVB90109):
Transceiver that controls the antenna and that allows a microcontroller to communicate with the transponder.
Programmer:
Complete set up of reader with microcontroller and PC interface software for production programming of the
labels. This allows reconfiguring the transponder according to the applications needs, and store the data in its
E2PROM.
SRF:
Serial Resonance Frequency. This is the operating frequency.
Qtag:
Quality factor of the transponder. This is a measure for the frequency dependency of the transponder, and for
the operating distance. Increasing the Qtag improves the operating distance, but requires much better
production control of the SRF of the transponder, and is therefore more expensive. MLX90127 has been
developed for high volume lowest cost applications. The parameters have been choosen accordingly.
Header:
A unique string of bits in the transmitted code that allows the microcontroller to retrieve the first bit position in the
continuously revolving code.
4 Absolute Maximum Ratings
Consumer (-Cxx) Operating Temperature (ToperC)
Maximum Storage Temperature (Tstore)
Maximum Relative Humidity
Exceeding the absolute maximum ratings may cause permanent damage. Exposure to absolute-maximum-rated
conditions for extended periods may affect device reliability.

5 MLX90127CZA Electrical Specifications
Operating frequency = 125kHz
(unless otherwise specified)
Parameter
Symbol
Test Conditions
Min
Typ
Max Units
119
125
131
9
6
MLX90127CZA Physical dimensions
Parameter
Symbol
Test Conditions
Min
Typ
Max Units
19.4
20
20.6
0.9
13
7 General Description
7.1 Related documents
MLX90108: Transponder IC datasheet
MLX90124: Transponder IC datasheet
MLX90109: Reader IC datasheet
EVB90109: Reader IC evaluation board data sheet
and case study for MLX90127 and MLX90109 chipset.
PRFID-01: MLX90127 production programmer
7.2 Antenna
7.2.1
Serial Resonance Frequency
The resonance frequency of the MLX90127 is targeted
to 125kHz. Spread on the frequency is +/-6kHz.
Given the relatively low quality factor (Qant ~ 9) the
performance variation over the full frequency range is
limited.
7.2.2
Antenna dimensions
Outside diameter: 14.7mm
Coil thickness : 0.35mm
7.3 E2PROM
7.3.1
MLX90127CZA-Ax
The MLX90127CZA-Ax is based on the MLX90108. It
has 64bit E2PROM on board, offering to store a 48bit
unique number.
The MLX90108 contains 64 bits divided in five groups
of information.
9 bits are used for the header,
10 row parity bits (P0-P9),
4 column parity bits (PC0-PC3),
and a stop bit set to logic 0.
8 version bits or
customer ID

r
o

p
r
i
t
y

b
i
t
s

DEFAULT:
Customer ID: (for high volumes a
custom nr can be appointed)
Databits: unique 32bit nr.
2kbaud, Manchester
7.3.2
MLX90127CZA-Bx
The MLX90127CZA-Bx is based on the MLX90124. It
has 128bit E2PROM on board, offering to store up to
88bits of data.

Header (same as ISO11784):
stuff bit (1) after each Byte of data.

Data integrity is guaranteed via two 8bit CRC checks
on the stored data.
The first CRC is calculated over DATA_0 to
DATA_5. Remark that this covers the first
64bit of the E2PROM.
The second CRC is calculated over the
remaining DATA_6 to DATA_10.
The CRC results are stored in the two last data spaces
of the E2PROM.

The CRC polynomial is 0x1DB:


Data stream is always LSB first
CRC shift register is initialized to all 16bits zero
BITPOSITION (LSB first)
0 1 2 3 4 5 6 7 8 9 A B C D E F
0
1
2
3
4
5
6
7

DEFAULT:
protected, see ds90124.pdf).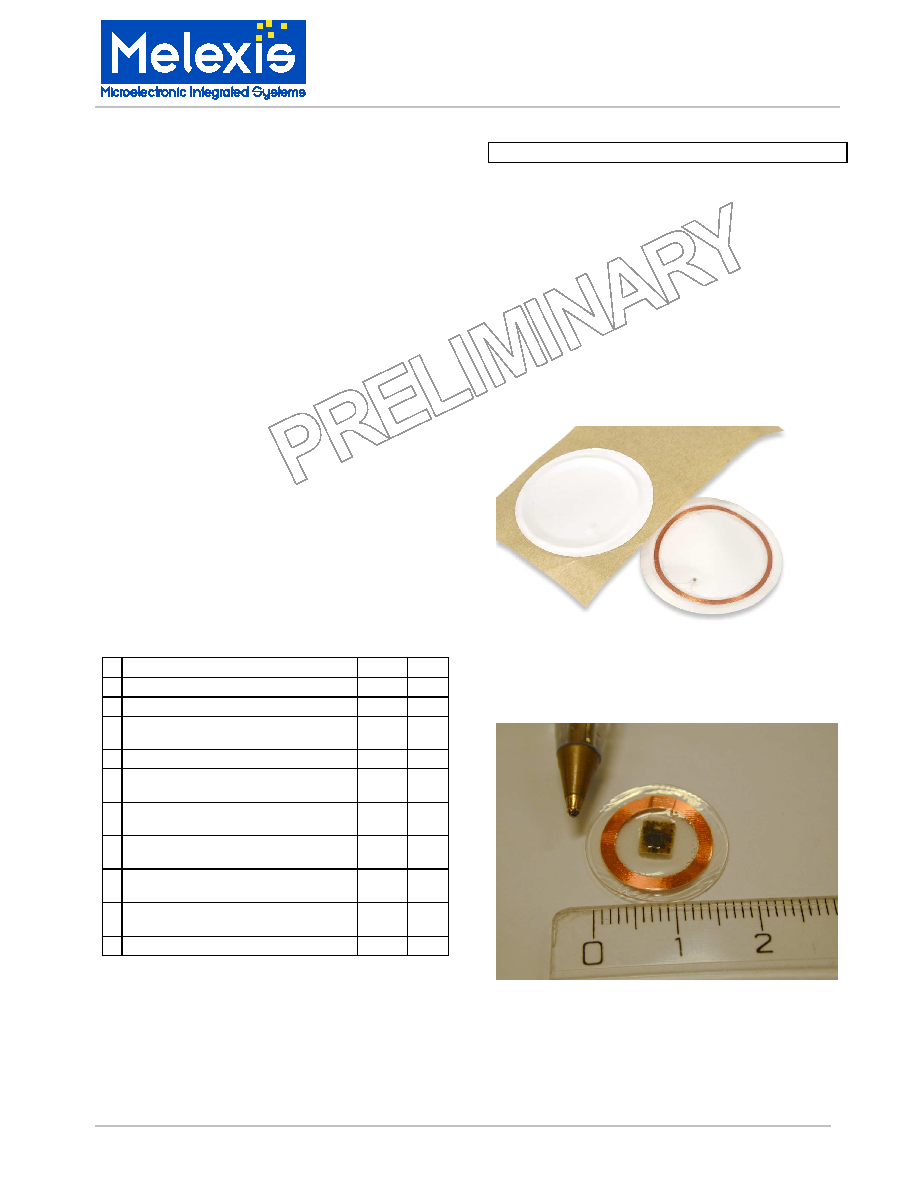 8 OPERATING MODES
8.1 Read Only
As soon as the MLX90124 is picking up energy from a
suitable reader antenna, it will start to transmit its data.
See above paragraph on the E2PROM for information
on the data format.
8.2 Read Write
The MLX90127CZA-Bx can be reprogrammed either in
production or in the application.
See PRFID-01 for more information on desktop
programming
programming.
Programming in the application is currently being
qualified and is expected to become available in Q1-
2003.
For programming with other readers, see the
datasheet for the MLX90124.
9 Production Programming
The MLX90127CZA-Bx can be programmed in
production using the MLXPRFID-01 (see application
note).

Per default the MLX90127CZA-Bx is delivered in
4kbaud PP mode. As a best-case assumption the
microcontroller calculation time is neglected in the
following overview table:


16bit word: receive+erase+write
~ 49bit
2 Read 128bit + find the first 64bits
5 Write new contents + set PP-bit


For high volume applications requiring a fixed or
unique ID, a cost improvement can be achieved using
the MLX90127CZA-Ax. Since these devices are
programmed during wafer test longer lead times have
to be taken into account, and minimum shipment
quantities have to be respected.


10 FAQ
Q1. Can I apply the label on rounded surface?

A1. The MLX90127 coil is made using thin copper
wire. Special care should be taken NOT to bend the
label. Therefore it can only be glued onto flat
surfaces.
The P.E.T. disks are relatively rigid, nevertheless the
stress applied on the disks should be minimum.
11 Package Information
Outside diameter = 20mm
Thickness < 1mm
11.1 MLX90127CZA-xA: sticky label
Delivery form: ammo pack (folded on glossy paper)

11.2 MLX90127CZA-xB: PET disks
Delivery form: bulk plastic bags


At the release of this revision, only photo material of
prototype material was available. Final products will
therefore be slightly different. Please visit our website
for the latest update.
12 Reliability Information
Melexis devices are classified and qualified regarding
suitability for infrared, vapor phase and wave soldering
with usual (63/37 SnPb-) solder (melting point at
183degC).
The following test methods are applied:

IPC/JEDEC J-STD-020A (issue April 1999)
Moisture/Reflow Sensitivity Classification For
Nonhermetic Solid State Surface Mount Devices
CECC00802 (issue 1994)
Standard Method For The Specification of Surface
Mounting Components (SMDs) of Assessed Quality
MIL 883 Method 2003 / JEDEC-STD-22 Test Method
B102
Solderability

For all soldering technologies deviating from above
mentioned standard conditions (regarding peak
temperature, temperature gradient, temperature profile
etc) additional classification and qualification tests
have to be agreed upon with Melexis.

The application of Wave Soldering for SMD's is
allowed only after consulting Melexis regarding
assurance of adhesive strength between device and
board.

For more information on manufacturability/solderability
see quality page at our website:
13 Disclaimer

Devices sold by Melexis are covered by the warranty
and patent indemnification provisions appearing in its
Term of Sale. Melexis makes no warranty, express,
statutory, implied, or by description regarding the
information set forth herein or regarding the freedom of
the described devices from patent infringement.
Melexis reserves the right to change specifications and
prices at any time and without notice. Therefore, prior
to designing this product into a system, it is necessary
to check with Melexis for current information. This
product is intended for use in normal commercial
applications. Applications requiring extended
temperature range, unusual environmental
requirements, or high reliability applications, such as
military, medical life-support or life-sustaining
equipment are specifically not recommended without
additional processing by Melexis for each application.
The information furnished by Melexis is believed to be
correct and accurate. However, Melexis shall not be
liable to recipient or any third party for any damages,
including but not limited to personal injury, property
damage, loss of profits, loss of use, interrupt of
business or indirect, special incidental or
consequential damages, of any kind, in connection
with or arising out of the furnishing, performance or
use of the technical data herein. No obligation or
liability to recipient or any third party shall arise or flow
out of Melexis' rendering of technical or other services.
© 2002 Melexis NV. All rights reserved.
For the latest version of this document,
www.melexis.com
Or for additional information contact Melexis Direct:
E-mail: sales_europe@melexis.com
E-mail: sales_usa@melexis.com
QS9000, VDA6.1 and ISO14001 Certified