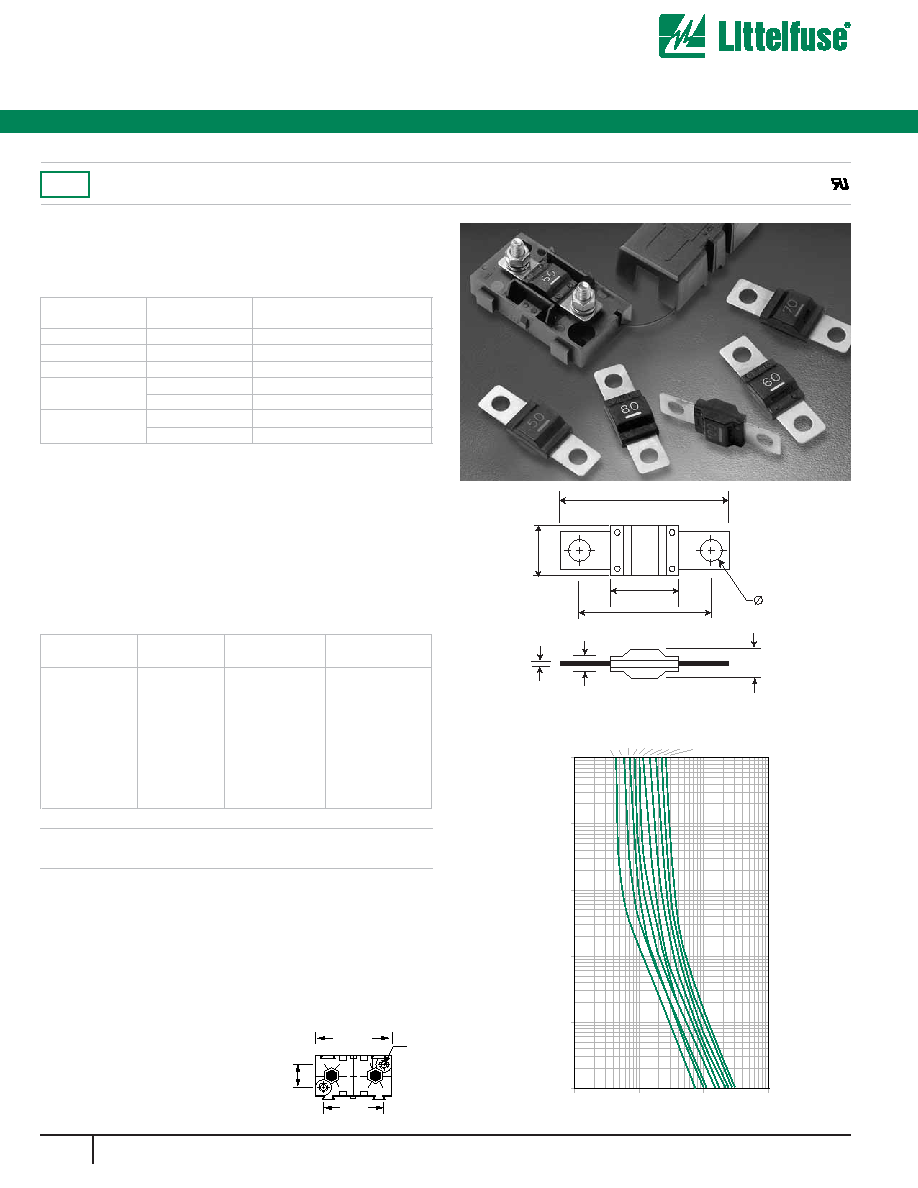 Blade Terminal & Special Purpose Fuses
w w w . l i t t e l f u s e . c o m
Low Voltage
MIDI
®
FUSE
ELECTRICAL CHARACTERISTICS:
% of Ampere
Ampere
Rating
Rating
Opening Time
100 hours, Minimum
4 hours, Minimum
90 sec., Min.; 3600 sec., Max.
5 sec., Min.; 100 sec., Max.
1 sec., Min.; 15 sec., Max.
.5 sec., Min.; 15 sec., Max.
.3 sec., Min.; 3 sec., Max.
AGENCY APPROVALS:
Recognized under the components program
of Underwriters Laboratories.
AGENCY FILE NUMBERS:
INTERRUPTING RATINGS:
VOLTAGE RATINGS:
AMBIENT TEMP.:
PATENTED
INTERRUPTING RATING:
ORDERING INFORMATION:
Fuse offers a bolt-on space saving fuse for high current wiring
protection and provides time delay characteristics with "Diffusion Pill
Technology". The MIDI Fuse was designed and patented by Littelfuse.
MIDI
®
FUSE
Fuseholders
Catalog
Ampere
Voltage
Nominal Cold
Number
Rating
Rating (VDC)
Resistance (m
)
0498 030
0498 040
0498 050
0498 060
0498 070
0498 080
0498 100
0498 125
0498 150
0498 200
15.2
(.60)
30A
40A
50A
60A
70A
80A
100A
125A
150A
200A
1000
100
10
1
0.1
0.01
10000
1000
100
10
TIME IN SECONDS
CURRENT IN AMPERES
ORDERING INFORMATION:
SPECIFICATIONS:
Electrical:
Fuses from 30 to 200 amps. (32V)
Body:
Glass Filled Thermoplastic
Body Color:
Cover With Tether:
Glass Filled Thermoplastic
Cover Color:
Ambient Temp.: ­
Fuse Mounting:
M5 Threaded Stud and Hex Nuts
Cable Positions:
Side Stackable Feature
Average Time Current Curves
RoHS