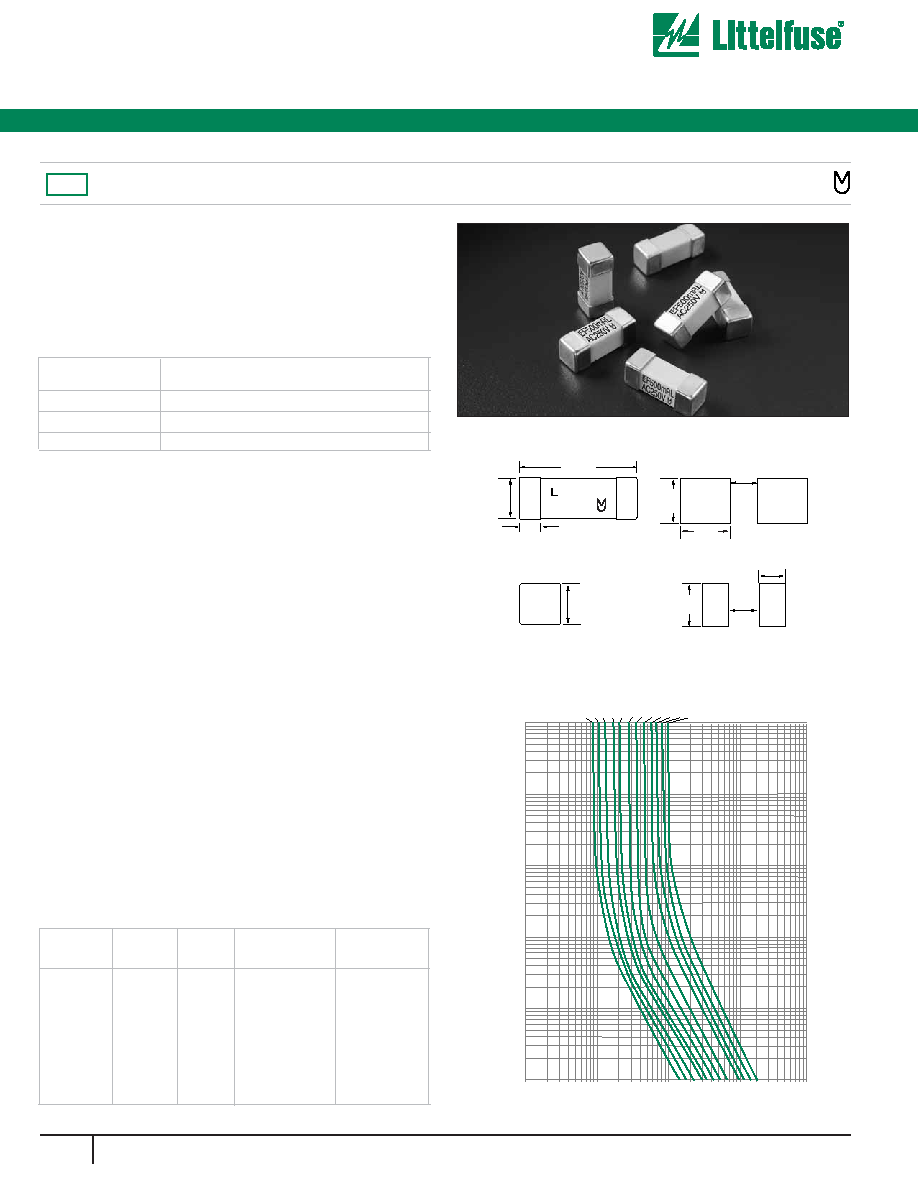 Surface Mount Fuses
w w w . l i t t e l f u s e . c o m
Nominal
Nominal
Catalog Ampere
Voltage Cold
Resistance
Melting
I
2
t
Number
Rating
Rating
(Ohms)
(A
2
sec)
0464.500
0464 001.
0464 1.25
0464 01.6
0464 002.
0464 02.5
0464 3.15
0464 004.
0464 005.
0464 06.3
*For information and availability of additional ratings please contact Littelfuse
250V UMF product family complies with IEC
Publication IEC 60127-4-Universal Modular Fuse-Links [UMF]. This
IEC standard has been accepted by UL/CSA making it the first global
fuse standard.
250V UMF fuse family is based on the proven NANO
RoHS Compliant
and compatible with lead-free solders and
higher temperature profiles.
ELECTRICAL CHARACTERISTICS:
% of Ampere
Opening
Rating
Time
1 hour, Minimum
2 minutes, Maximum
Min; 0.01 sec Max
AGENCY APPROVALS:
Listed to IEC 60127-4, Universal Modular Fuse-
Links (UMF), 250V. UL Listed. Approved by METI and CCC. K and VDE
AGENCY FILE NUMBERS:
UL E184655. METI NBK30502-E184655a,b.
INTERRUPTING RATINGS:
ENVIRONMENTAL SPECIFICATIONS:
Operating Temperature:
Shock:
MIL-STD-202, Method 213, Test Condition A.
Vibration
: MIL-STD-202, Method 201 (10­55 Hz).
Insulation Resistance (After Opening):
Resistance to Soldering Heat:
Thermal Shock:
Test Condition B (­65 to 125°C, 5 cycles).
Moisture Resistance:
PHYSICAL SPECIFICATIONS:
Materials:
Body: High Performance Ceramic
Terminations: Silver plated brass.
Soldering Parameters:
Wave Solder -- 260°C, 10 seconds maximum
Reflow Solder -- 260°C, 30 seconds maximum
Solderability
: IEC60127-4.
PACKAGING SPECIFICATIONS:
EIA-RS481-1 (IEC 286, part 3); 1,500 per reel, add packaging suffix, DR.
PATENTED
ORDERING INFORMATION:
Reference Dimensions:
Subminiature Surface Mount
NANO
2®
250V UMF FUSE
Fast-Acting 464 Series
100
100
10
1
0.1
0.01
0.001
1
10
1000
0.1
1 A
1.25 A
1.6 A
2 A
2.5 A
3.15 A
TIME IN SECONDS
CURRENT IN AMPERES
4 A 5 A 6.3 A
.8 A
.63 A
.5 A
Average Time Current Curves
RoHS