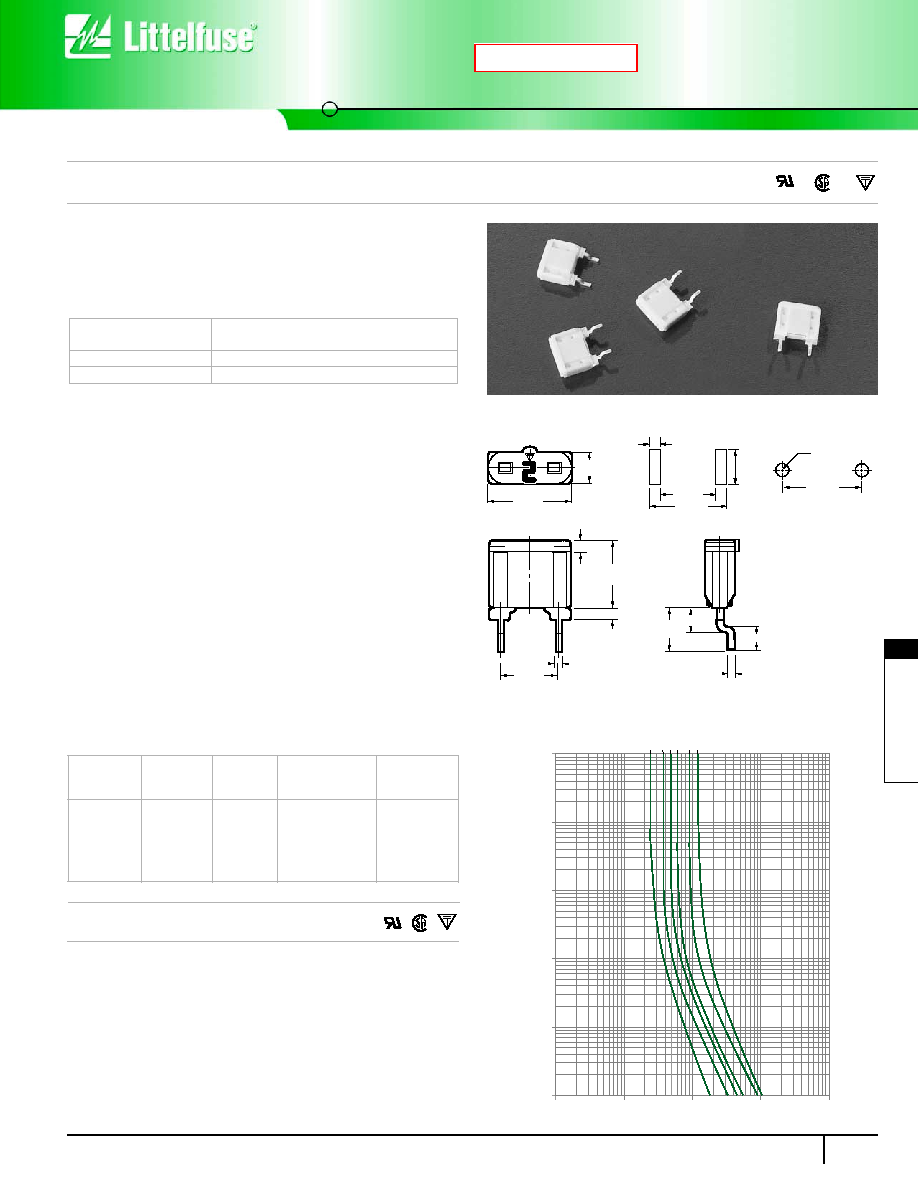 SURF
A
CE MOUNT
FUSES
Surface Mount Fuses
w w w . l i t t e l f u s e . c o m
350 Volt Surface Mount Fuse
EBF Fuse
Fast-Acting Type 446/447 Series
Ideal for use in electronic lighting ballast, power supply and power
inverter applications.
Rated for use in 125, 250, 277 and 350 VAC circuits.
Based on the proven reliability of the automotive MINI
able from 2 through 10 amperes.
ELECTRICAL CHARACTERISTICS:
% of Ampere
Opening
Rating
Time
4 hours, Minimum
0.15 sec. Min., 5 Sec. Max
AGENCY APPROVALS:
Recognized under the Components
Program of Underwriters Laboratories and CSA Certified. Approved by
METI to 5 amperes.
AGENCY FILE NUMBERS:
UL: E71611, CSA LR 29862.
INTERRUPTING RATINGS:
100 amperes at 350 VAC, 50 amperes
at 125 VDC and 450 amperes at 60VDC
ENVIRONMENTAL SPECIFICATIONS:
Operating Temperature:
PHYSICAL SPECIFICATIONS:
Materials:
Body: Plastic Body
Terminations: Tin-Lead (95/5) plated Zn, Ni barrier
Soldering Parameters:
Reflow Solder -- 235°C, 5 seconds maximum.
No-clean process recommended.
Wave Solder -- Not recommended.
Non-plated terminal surfaces may not meet
MIL-STD-202, Method 208.
PACKAGING SPECIFICATIONS:
24mm Tape and Reel per EIA-RS481
(Equivalent to IEC 286, part 3); 800 fuses per reel,
add packaging suffix, ZR.
Shelf Life: Up to 1 year in Factory sealed packaging.
ORDERING INFORMATION:
· Through-hole version of the 446 series.
ELECTRICAL CHARACTERISTICS:
Dimensions:
Contact Littelfuse for specifications.
Soldering Parameters:
Contact Littelfuse for soldering parameters.
Inside terminal face of each lead is non-plated zinc. Non-plated zinc
terminal faces may not meet MIL-STD-202, method 208. To ensure that
the fuse is acceptable for the application, appropriate application testing
should be performed.
Packaging Specifications:
Bulk Pack (4,000 pieces per pack)
Reference Dimensions
(Inches):
Recommended
Pad Layout:
447 Mounting
Holes:
1000
100
10
1
0.1
0.01
1000
100
10
1
0.1
2A
3A 4A 5A
7 1/2A 10A
TIME IN SECONDS
CURRENT IN AMPERES
Average Time Current Curves
Ampere
Voltage
Nominal
Nominal
Catalog
Rating
Rating
Cold
Melting I
2
t
Number
(A)
(VAC)
Resistance(
)
(A
2
sec)
0446 002.
0446 003.
0446 004.
0446 005.
0446 07.5
0446 010.
EBF Fuse
Fast-Acting Type 447 Series