FEATURES
Direct Replacement For SILICONIX J/SST174 SERIES
LOW ON RESISTANCE
LOW GATE OPERATING CURRENT
ABSOLUTE MAXIMUM RATINGS
1
@ 25 °C (unless otherwise stated)
Maximum Temperatures
Storage Temperature
Junction Operating Temperature
Maximum Power Dissipation
Continuous Power Dissipation
Maximum Currents
Gate Current
Maximum Voltages
Gate to Drain Voltage
COMMON ELECTRICAL CHARACTERISTICS @ 25 °C (unless otherwise stated)
SYMBOL
CHARACTERISTIC
MIN TYP MAX UNITS
CONDITIONS
Gate to Source Breakdown Voltage
SPECIFIC ELECTRICAL CHARACTERISTICS @ 25 °C (unless otherwise stated)
J/SST174
J/SST175
J/SST176
J/SST177
SYMBOL CHARACTERISTIC
MIN MAX MIN MAX
MIN MAX
MIN MAX
UNITS CONDITIONS
Gate to Source
Cutoff Voltage
Drain to Source
Saturation Current
-20 -135 -7 -70 -2 -35 -1.5 -20 mA V
Drain to Source
On Resistance
SST SERIES
J SERIES
Linear Integrated Systems
J/SST174 SERIES
SINGLE P-CHANNEL
JFET SWITCH
Linear Integrated Systems
· 4042 Clipper Court · Fremont, CA 94538 · Tel: 510 490-9160 · Fax: 510 353-0261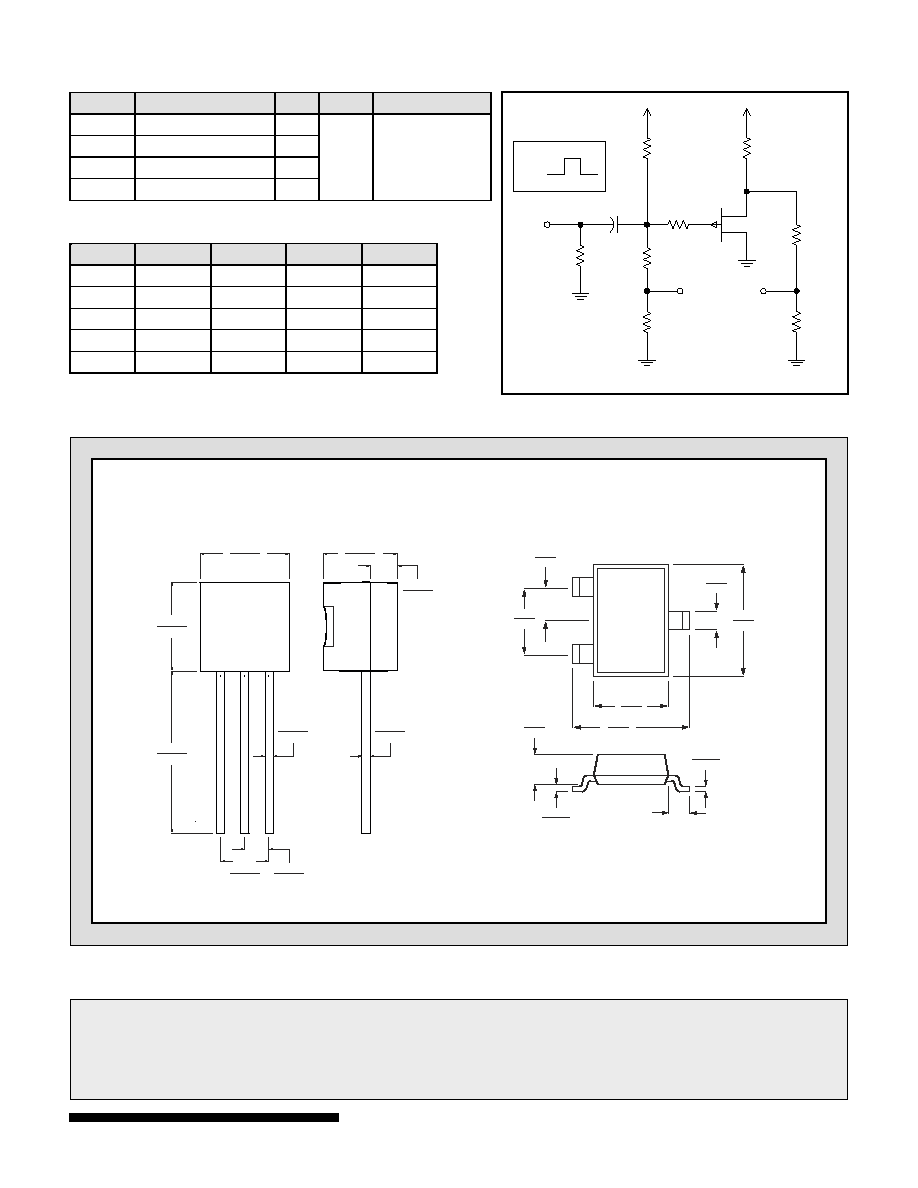 Linear Integrated Systems
· 4042 Clipper Court · Fremont, CA 94538 · Tel: 510 490-9160 · Fax: 510 353-0261
SWITCHING CHARACTERISTICS
SYMBOL CHARACTERISTIC TYP UNITS CONDITIONS
See Switching
Circuit
SWITCHING CIRCUIT
SWITCHING CIRCUIT PARAMETERS

J/SST174 J/SST175 J/SST176 J/SST177
SOT-23
DIMENSIONS IN
MILLIMETERS
0.89
1.03
1.78
2.05
1.20
1.40
2.10
2.64
0.37
0.51
2.80
3.04
0.89
1.12
0.013
0.100
0.085
0.180
LS XXX
YYWW
0.170
0.195
0.500
0.610
0.016
0.022
0.095
0.105
0.045
0.055
0.175
0.195
0.130
0.155
0.045
0.060
0.014
0.020
TO-92
DIMENSIONS
IN INCHES.
Absolute maximum ratings are limiting values above which serviceability may be impaired.
Information furnished by Linear Integrated Systems is believed to be accurate and reliable. However, no responsibility is assumed for its
use; nor for any infringement of patents or other rights of third parties which may result from its use. No license is granted by implicatio
otherwise under any patent or patent rights of Linear Integrated Systems.