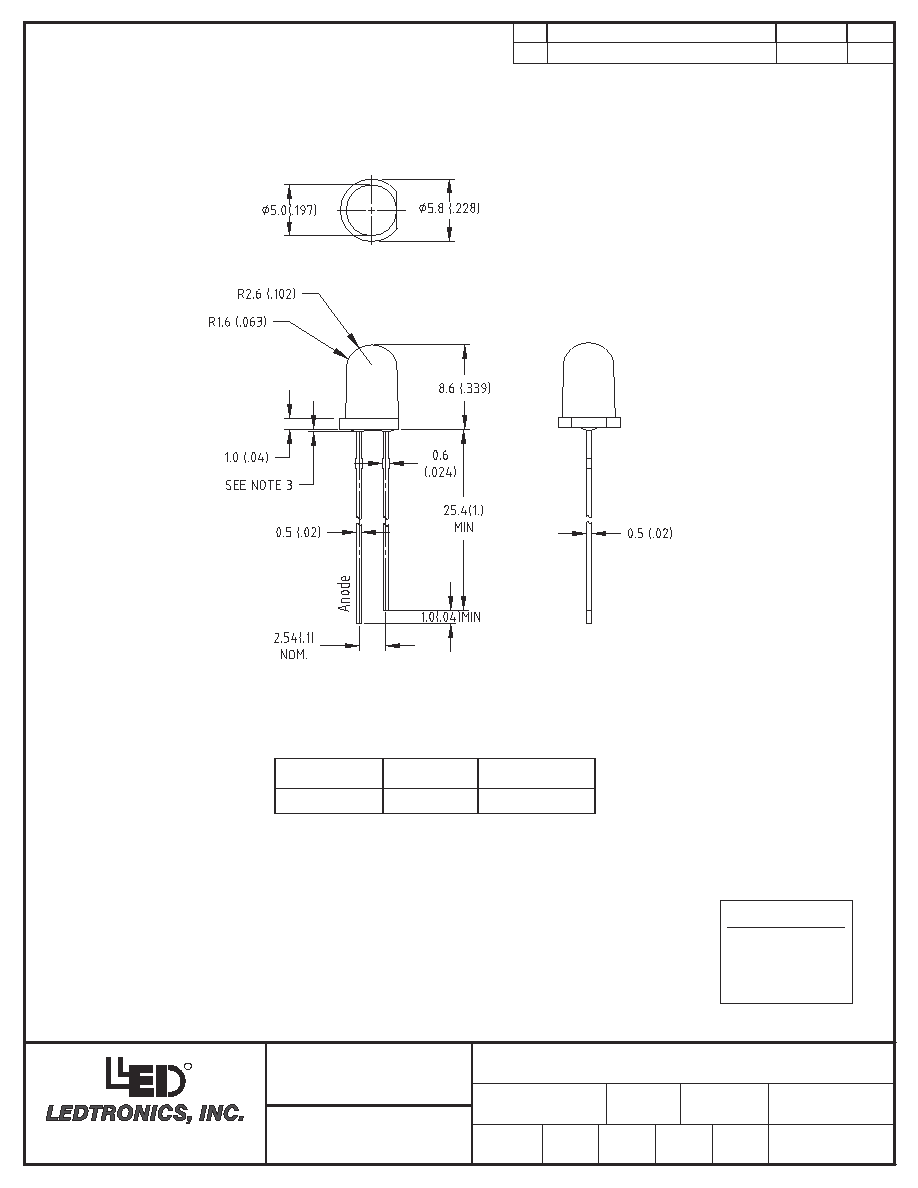 Notes:
4. LEAD SPACING IS MEASURED WHERE LEADS EMERGE FROM THE PACKAGE.
REQUIREMENTS OF MIL-STD-202, METHOD 208.
LEADS TO BE SOLDERABLE AND CAPABLE OF MEETING THE SOLDERABILITY
MANUFACTURE DATE SHALL NOT BE OLDER THAN 26 WEEKS (6 MONTHS).
PROTRUDED RESIN UNDER FLANGE IS 1.0mm (.04") MAX.
ALL DIMS ARE IN MILLIMETERS (INCHES).
TOLERANCE IS ±0.25mm (±.010") UNLESS OTHERWISE SPECIFIED.
It may not be copied, used or disclosed
This document contains Proprietary
(UNLESS OTHERWISE STATED)
for any purpose without the prior express
ANGLES ± 0°,30'
FRACT. ± 1/32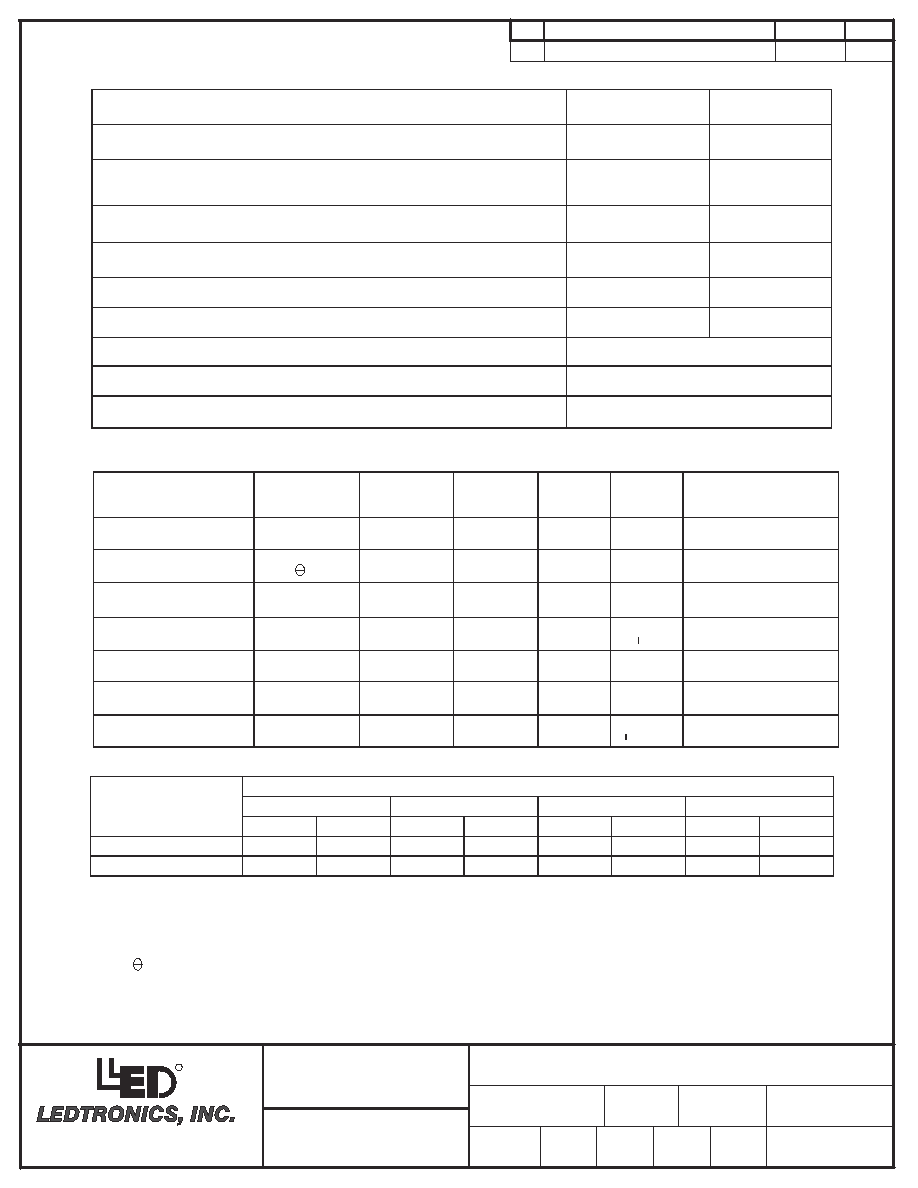 Continuous Forward Current
Electrostatic Discharge (ESD)
(1/10 Duty Cycle, 0.1ms Pulse
Absolute Maximum Ratings at Ta 25°C
Luminous intensity is measured with a light sensor and filter combination that approximates
is the off-axis at which the luminous intensity is half the axial luminous intensity.
3. Forward voltage measurement allowance is ±0.1V
Luminous intensity measurement allowance is ±10%
Notes:
the CIE eye-response curve.
T
BIN C
BIN D
0.27
0.29
0.29
0.32
0.29
0.32
rical Optical Characteristics at
Elect
0.26
0.30
0.26
0.29
0.23
0.26
0.25
0.27
0.25
0.29
=25°C
a
for any purpose without the prior express
TOLERANCE PER ANSI-Y14.5
(UNLESS OTHERWISE STATED)
.XX ± .025
ANGLES ± 0°,30'
This document contains Proprietary
It may not be copied, used or disclosed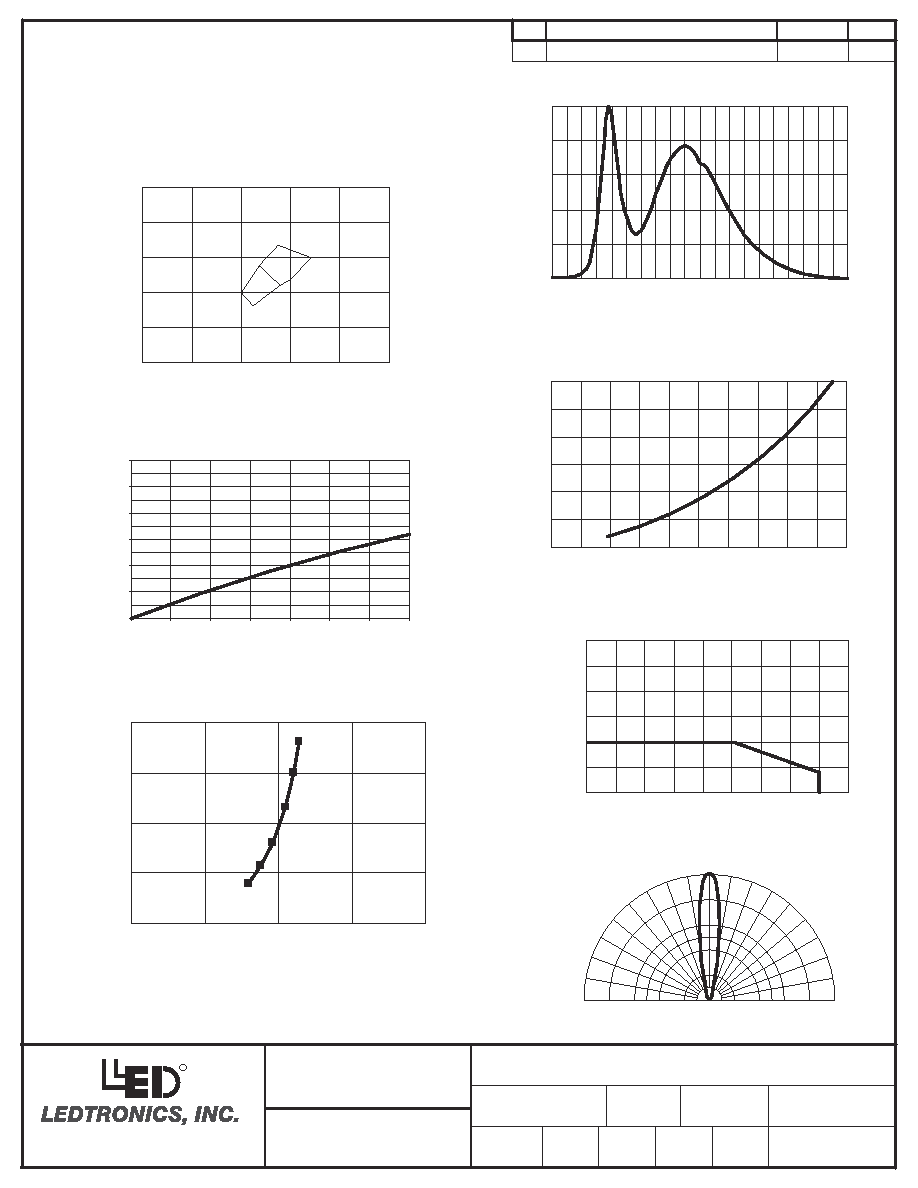 (UNLESS OTHERWISE STATED)
for any purpose without the prior express
information of
It may not be copied, used or disclosed
This document contains Proprietary
Typical Electrical / Optical Characteristics Curves
(25°C Ambient Temperature Unless Otherwise Noted)
Forward Current
vs. Derating curve
Forward Current vs.
Chromaticity Coordinates
Spectral Radiance
Wavelength (nm)
Forward Current
vs. Forward voltage
Relative Luminous Intensity
vs. Forward Current
Forward Current If (mA)
Relative Intensity (LOP@20mA=1)
CIE 1931 Chromaticity Diagram
Forward Current
If (mA)
Forward Voltage Vf (V)
Forward Current
If (mA)
Derating Curve Ta (°C)
Normalized
Response