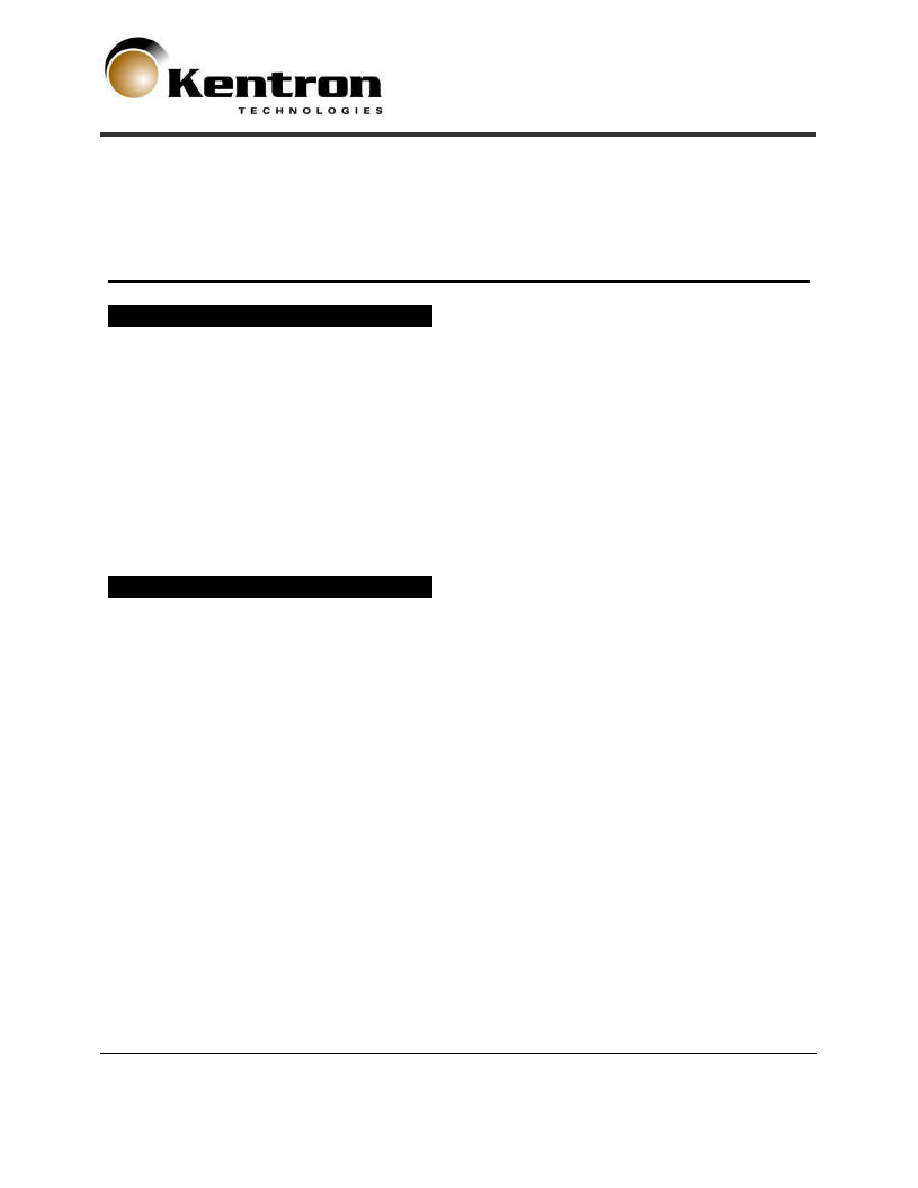 Kentron Technologies, Inc.
64M X 72 REGISTERED DDR DIMM
DDR SDRAM FEMMA MODULE
512 Mega Byte (64M x 72) DDR SDRAM Low Profile
Registered 184 Pin DIMM Preliminary
General Description:
This memory module is a high performance 512 Megabyte Registered synchronous dynamic
RAM module organized as 64M x 72 in a 184-pin Dual In-Line Memory Module (DIMM)
package. The module utilizes thirty-six (36) 32M x4X4 DDR SDRAM (64ms Refresh) devices in
a TSOP II 400 mil package. A 256 Byte Serial EEPROM contains the module configuration
information. The EEPROM is configured to JEDEC specifications.

These modules offer substantial advances in DRAM operating performance, including the ability
to synchronously burst data at a high rate with automatic column-address generation, interleave
between internal banks in order to hide precharge time, and the capability to randomly change
column address on each clock cycle during burst.
Features:
High density: 512MB (64M x 72)
Cycle time: 7.5ns (133 MHz)
Data Rate: 266Mbit/sec/pin (133 MHz)
200Mbit/sec/pin (100 MHz)
JEDEC Standard 184 Pin Registered SDRAM DDR DIMM
PC1600 (DDR200) / PC2100 (DDR266)
Single power supply of 2.5V ± 10%
SSTL2 Compatible I/O and Clock
SSTL2 Registered Control & Address Lines
On-board Differential PLL Clock Driver
Auto Precharge and Auto Refresh Modes handled by SDRAM Devices
Programmable Burst Type, Burst Length and CAS Latency of SDRAM devices
Internal Pipeline Operation
Fully Synchronous ­ all signals registered on positive edge of system clock
Data provided during Reads and Writes at twice the clock frequency
Package Height: 1.20 inches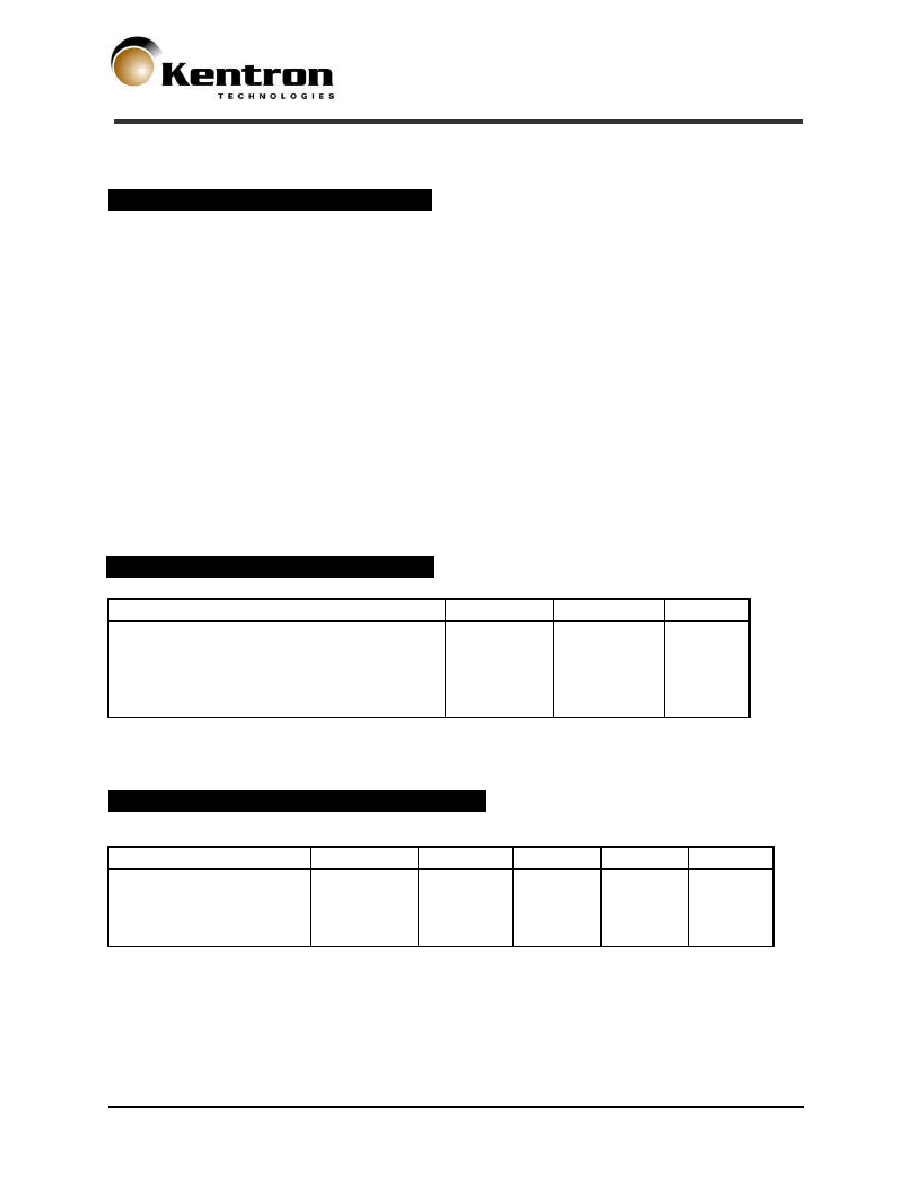 Kentron Technologies, Inc. (978) 988-9100 Page 2
Rev. (3/02)
64M X 72 REGISTERED DDR DIMM
Operating Features:
The SDRAM DDR DIMM utilizes a differential clock input for the synchronization. Each
operation of the SDRAM is determined by commands and all operations are referenced to a
positive clock edge. CAS Latency defines the delay from when a Read Command is registered
on a rising clock edge to when the data from the Read Command becomes available at the
outputs. The CAS latency is expressed in terms of clock cycles. This specific DIMM supports 3
and 2 clock cycles.

The burst mode is a very high-speed access mode utilizing an internal column address
generator. Once a column address for the first access is set, following addresses are
automatically generated by the internal column address counter.

All control and address signals are registered on-board and hence delayed by one cycle in
arriving at the SDRAMs. The clock signal is distributed to all SDRAMs via a zero delay PLL
driver. Note that the PLL must be given enough clock cycles to stabilize before any operation
can be given (minimum stabilization time equal to 1 ms).


Absolute Maximum Ratings*:
Item
Symbol
Rating
Unit
Short circuit output current
* Permanent device damage may occur if absolute maximum ratings are exceeded. Functional operation
should be restricted to the conditions as detailed in the sections of this data sheet. Exposure to absolute
maximum rating conditions for extended periods may affect device reliability.
Recommended Operating Conditions:
Item
Symbol
Min.
Typ.
Max.
Unit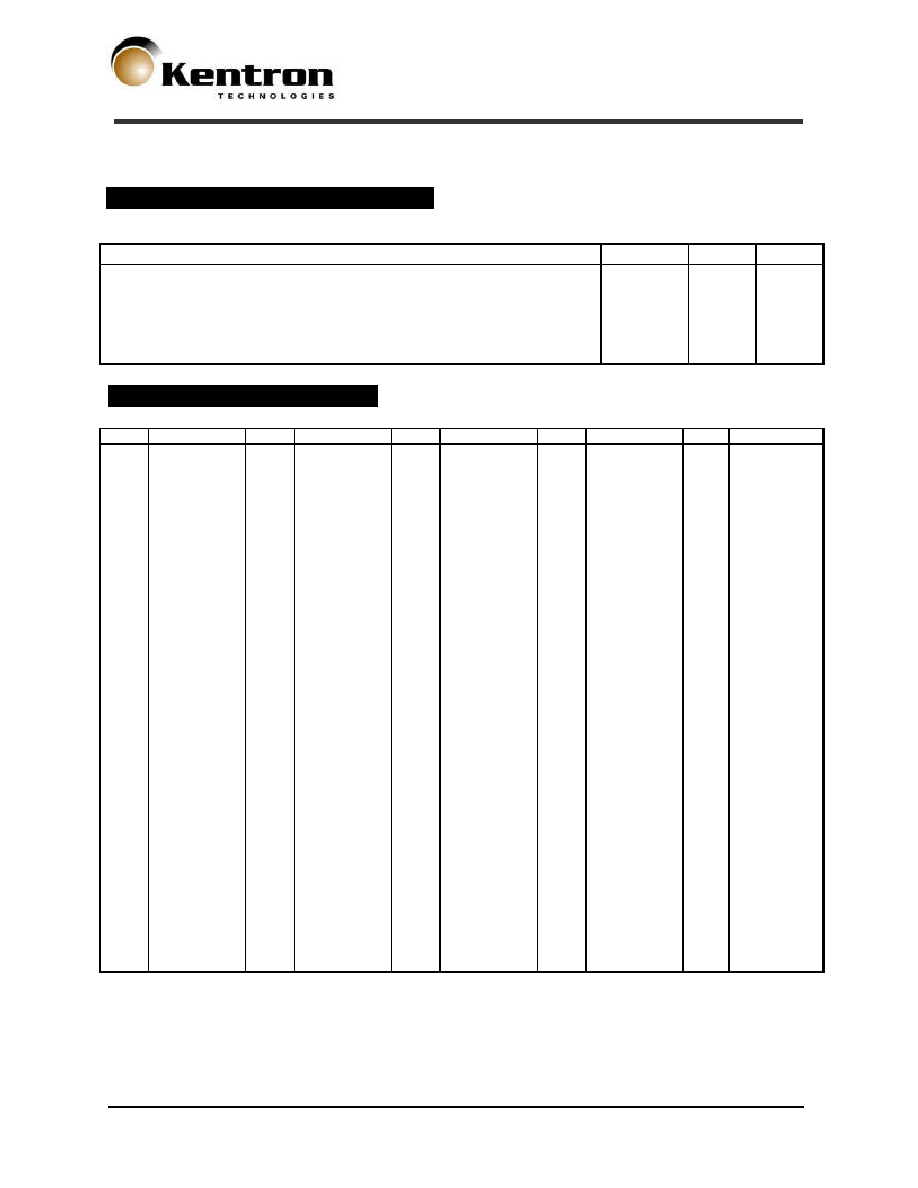 Kentron Technologies, Inc. (978) 988-9100 Page 3
Rev. (3/02)
64M X 72 REGISTERED DDR DIMM
Capacitance:
(TA=25°C, Vdd=2.5V±0.2V)

Parameter
Symbol
Max.
Unit
Input capacitance (Address/ WE, CKE0, /CAS, RAS, /CS0~/CS3)
Input capacitance (/DQMBs)
Input capacitance (DQS0~DQS7)
Input/Output capacitance (DQ0~DQ63, CB0~CB7)

DIMM Pinout:
No.
Designation
No.
Designation
No.
Designation
No.
Designation
No.
Designation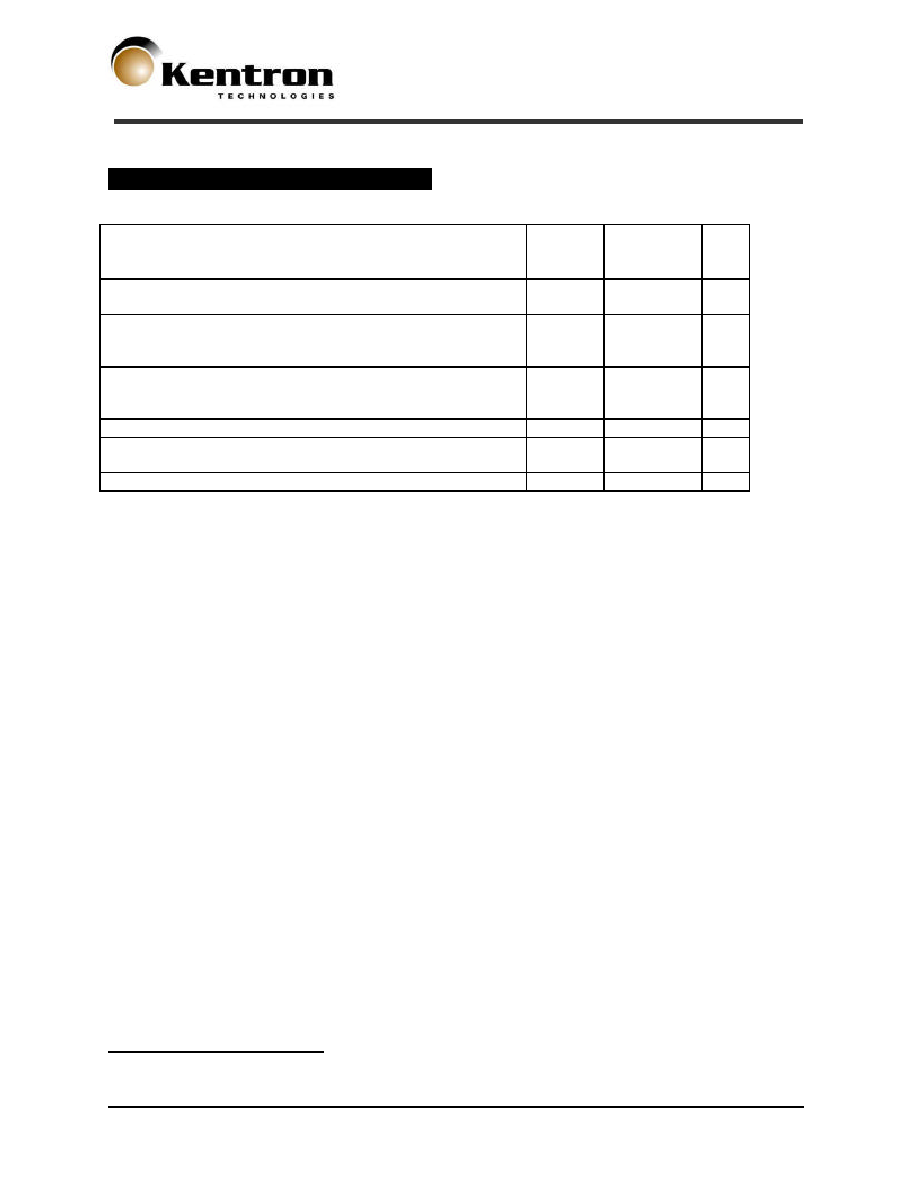 Kentron Technologies, Inc. (978) 988-9100 Page 4
Rev. (3/02)
64M X 72 REGISTERED DDR DIMM
DC Characteristics:
Parameter
1
Symbol
Typical
Operating
Frequency
Unit
Operating current
(No Burst, T
Precharge Standby Current
(CKE=V
1750
2026
Active Standby Current
(CKE=V
1756
2386
Refresh Current (both banks)
(t
Self Refresh Current (CKE=V
Module Idd calculated based upon component Idd.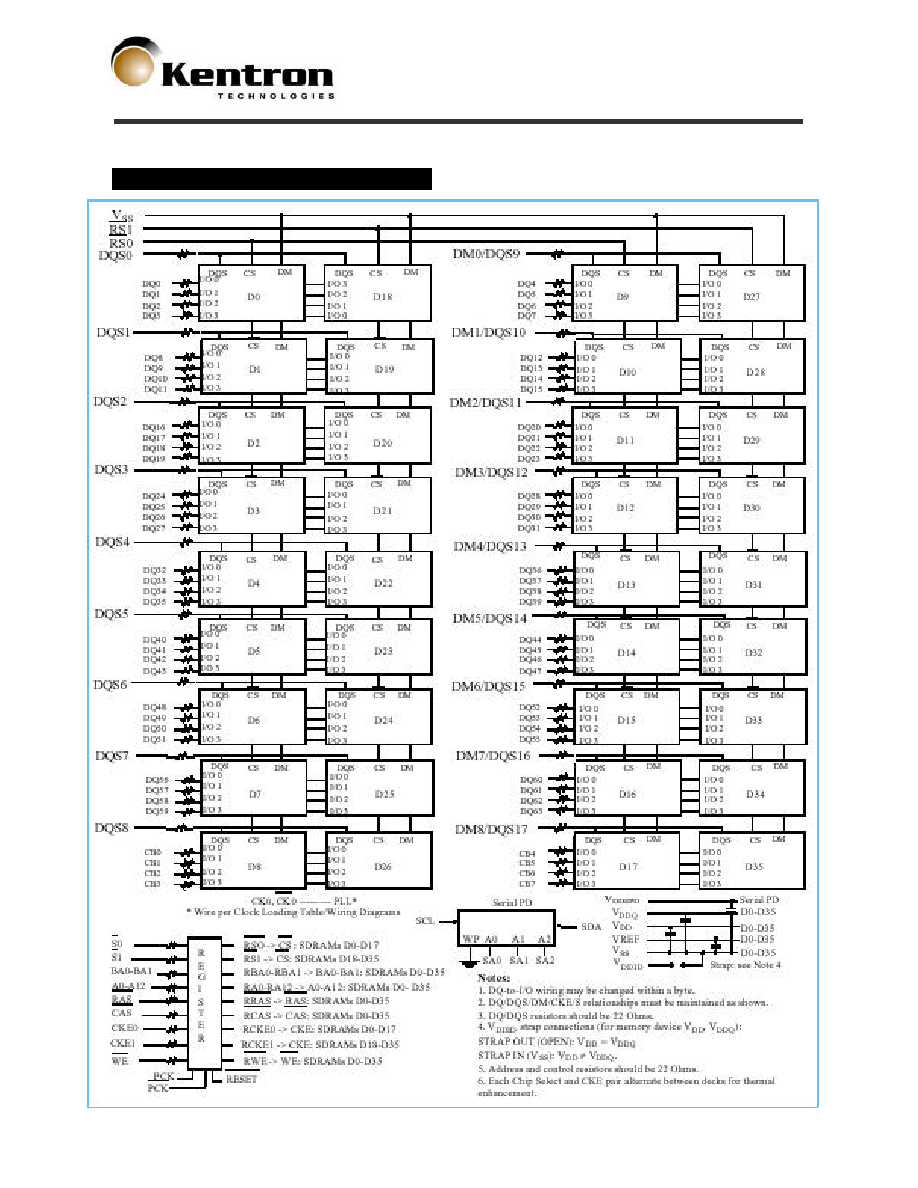 Kentron Technologies, Inc. (978) 988-9100 Page 5
Rev. (3/02)
64M X 72 REGISTERED DDR DIMM
Block Diagram: