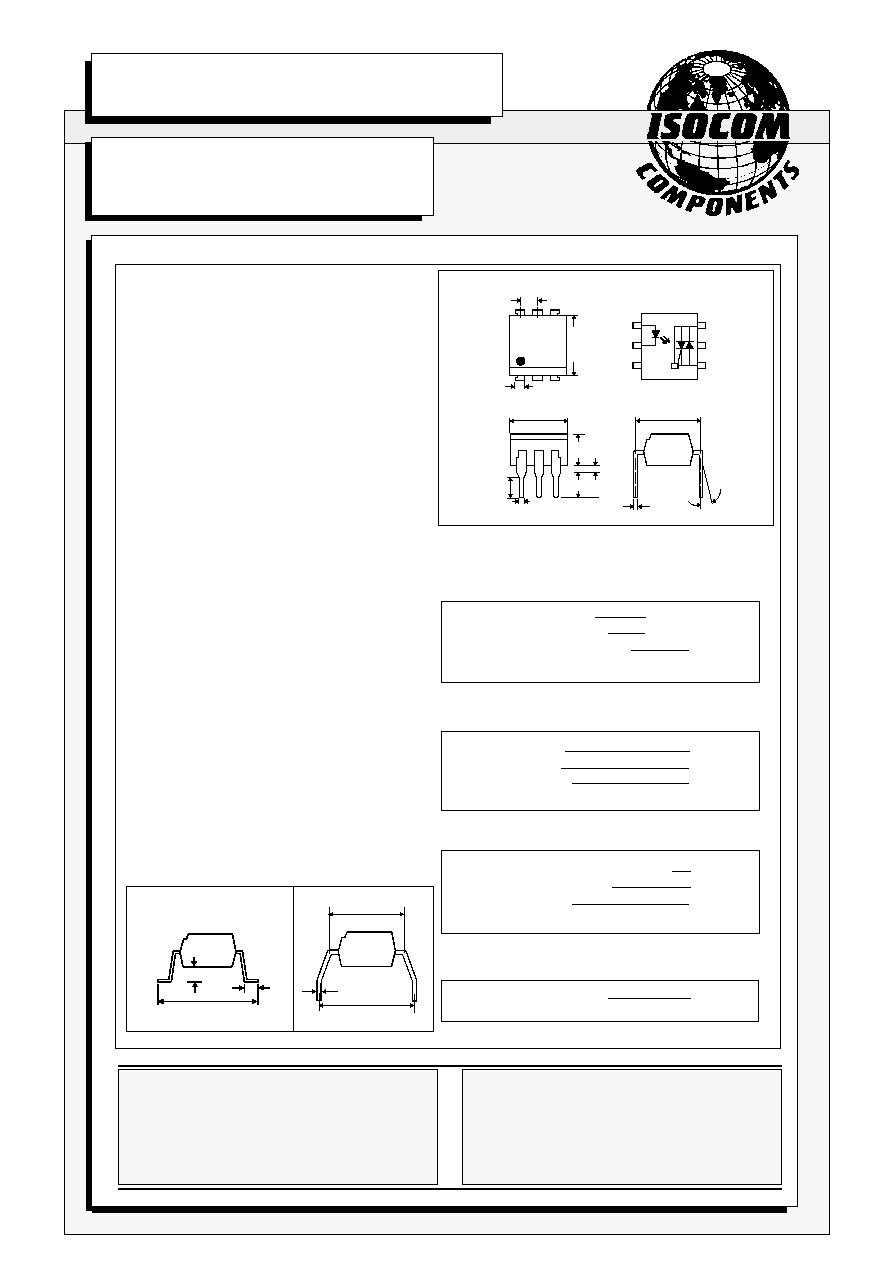 OPTION G
SURFACE MOUNT
OPTION SM
OPTICALLY COUPLED BILATERAL
SWITCH LIGHT ACTIVATED ZERO
VOLTAGE CROSSING TRIAC
'X' SPECIFICATION APPROVALS
VDE 0884 in 3 available lead form : -
- STD
- G form
- SMD approved to CECC 00802
DESCRIPTION
The MOC306_ Series are optically coupled
isolators consisting of a Gallium Arsenide
infrared emitting diode coupled with a mono-
lithic silicon detector performing the functions
of a zero crossing bilateral triac mounted in a
standard 6 pin dual-in-line package.
FEATURES
Options :-
10mm lead spread - add G after part no.
Surface mount - add SM after part no.
Tape&reel - add SMT&R after part no.
High Isolation Voltage, 5.3kV
600V Peak Blocking Voltage
All electrical parameters 100% tested
Custom electrical selections available
APPLICATIONS
ABSOLUTE MAXIMUM RATINGS
(25 °C unless otherwise noted)
Lead Soldering Temperature
(1.6mm from case for 10 seconds)
INPUT DIODE
OUTPUT PHOTO TRIAC
Off-State Output Terminal Voltage
POWER DISSIPATION
ISOCOM INC
1024 S. Greenville Ave, Suite 240,
Tel: (214) 495-0755 Fax: (214) 495-0901
ISOCOM COMPONENTS LTD
Unit 25B, Park View Road West,
Park View Industrial Estate, Brenda Road
Hartlepool, TS25 1YD England Tel: (01429)863609
Fax : (01429) 863581 e-mail sales@isocom.co.uk
10.46
9.86
0.6
0.1
7.0
6.0
13°
Max
4.0
3.0
7.62
6.62
Dimensions in mm
MOC3060, MOC3061, MOC3062, MOC3063
MOC3060X, MOC3061X, MOC3062X, MOC3063X

PARAMETER
MIN TYP MAX UNITS TEST CONDITION
ELECTRICAL CHARACTERISTICS ( T
A
= 25°C Unless otherwise noted )
Peak Off-state Current ( I
Critical rate of rise of
off-state Voltage ( dv/dt )
Input Current to Trigger ( I
Holding Current , either direction ( I
Input to Output Isolation Voltage V
Leakage in Inhibited State ( I
Note 1. Test voltage must be applied within dv/dt rating.
Note 2. Guaranteed to trigger at an I
value less than or equal to max. I
Note 3. Measured with input leads shorted together and output leads shorted together.
CHARACTERISTIC CURVES
Fig.1 Forward Current vs.
Fig.2 On-state Current vs. Ambient
Fig.4 Forward Current vs. Forward
40 C
20 C
Fig.6 Holding Current vs.
Fig.5 On-state Voltage vs. Ambient
Fig.3 Minimum Trigger Current
Ambient temperature Ta ( C)
Ambient Temperature Ta ( C)
Ambient temperature Ta ( C)
Ambient temperature Ta ( C)
CHARACTERISTIC CURVES
Fig.7 Turn-on Time vs. Forward
Fig.8 Repetitive Peak Off-state Current
Fig.9 On-state Current vs.
Repetitive Peak Off-state Current
Ambient tem p e rature Ta ( C)
Static dv/dt Test Circuit