ISOCOM COMPONENTS LTD
Unit 25B, Park View Road West,
Park View Industrial Estate, Brenda Road
Hartlepool, Cleveland, TS25 1YD
Tel: (01429) 863609 Fax :(01429) 863581
APPROVALS
UL recognised, File No. E91231
DESCRIPTION
The H11L1, 2, 3, 4 series are optically coupled
isolators consisting of a Gallium Arsenide infrared
emitting diode and a Microprocessor Compatible
Schmitt trigger output mounted in a standard 6 pin
FEATURES
10mm lead spread - add G after part no.
Surface mount - add SM after part no.
Tape&reel - add SMT&R after part no.
High data rate, 1MHz typical (NRZ)
Microprocessor compatible drive
Logic compatible output sinks 16
milliamperes at 0.4 volts maximum
High Isolation Voltage (5.3kV
High common mode rejection ratio
Fast switching : t rise, t fall = 100nS typical
Wide supply voltage capability, compatible
with all popular logic systems
Guaranteed On / Off threshold hysteresis
APPLICATIONS
Line receiver-eliminates noise and
Programmable current level sensor
AC to TTL conversion - square wave shaping
Digital programming of power supplies
Interfaces computers with peripherals
MICROPROCESSOR COMPATIBLE
SCHMITT TRIGGER OPTICALLY
COUPLED ISOLATOR
ISOCOM INC
1024 S. Greenville Ave, Suite 240,
Tel: (214) 495-0755 Fax: (214) 495-0901
ABSOLUTE MAXIMUM RATINGS
(25°C unless otherwise specified)
Lead Soldering Temperature
(1/16 inch (1.6mm) from case for 10 secs) 260°C
INPUT DIODE
100uS, Duty ratio=0.001) 1A
(derate linearly 1.41mW / °C above 25°C)
OUTPUT DETECTOR
(derate linearly 2mW / °C above 25°C)
POWER DISSIPATION
(derate linearly 2.94mW/ °C above 25°C)
Dimensions in mm
H11L1, H11L2, H11L3, H11L4
OPTION G
SURFACE MOUNT
OPTION SM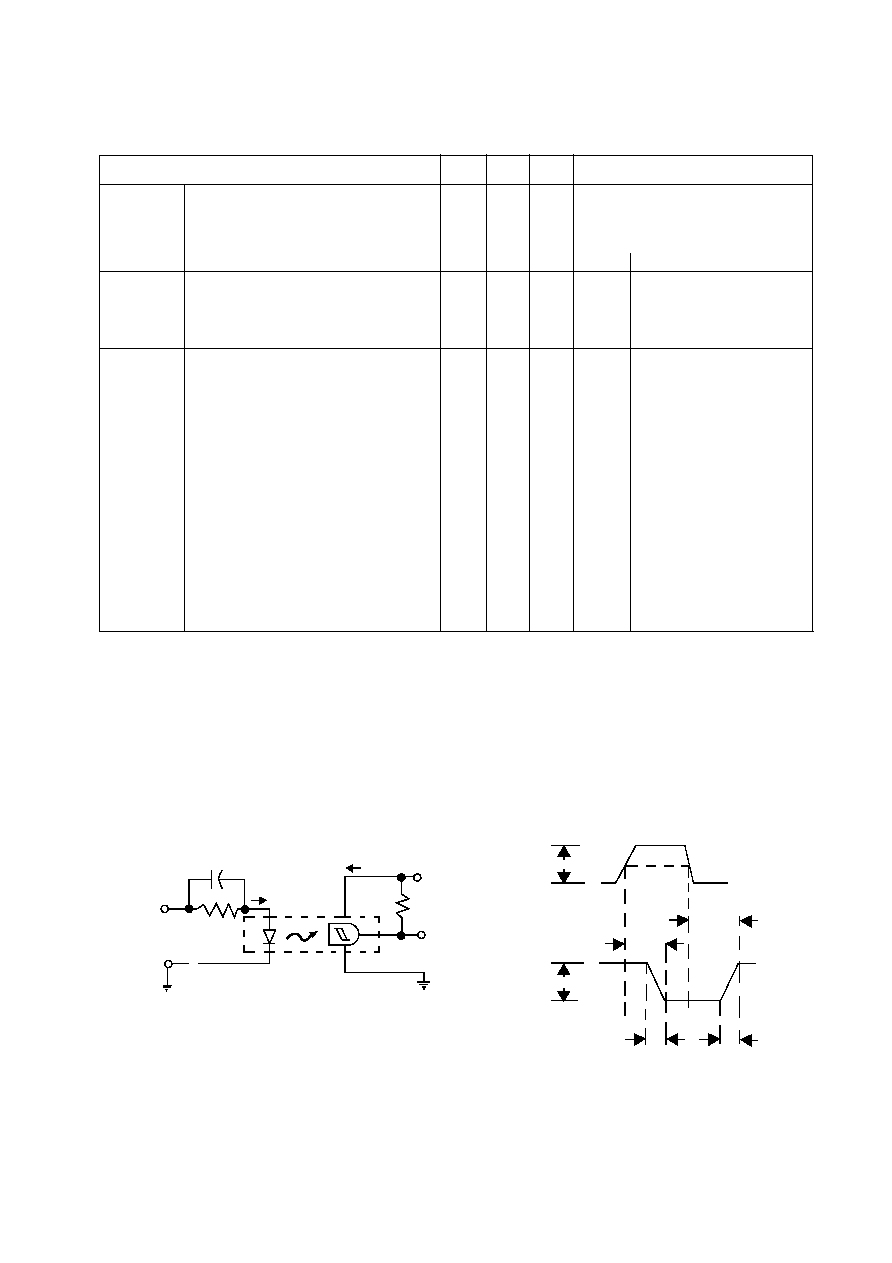 SWITCHING CHARACTERISTICS
SWITCHING TEST CIRCUIT
PARAMETER
MIN TYP MAX UNITS TEST CONDITION
Operating Voltage Range (V
Turn-on Threshold Current I
Turn-off Threshold Current I
Input to Output Isolation Voltage V
Measured with input leads shorted together and output leads shorted together.
Special Selections are available on request. Please consult the factory.
ELECTRICAL CHARACTERISTICS ( T
A
= 25°C Unless otherwise noted )
V
IN
Transfer Characteristics
Threshold Current vs. Supply Voltage
Threshold Current vs. Ambient Temperature
On Voltage vs. Load Current
Supply Current vs. Supply Voltage
Forward Voltage vs. Forward Current