APPROVALS
UL recognised, File No. E91231
'X' SPECIFICATION APPROVALS
l
l
VDE 0884 in 3 available lead forms : -
- STD
-
-
SMD approved to CECC 00802
Certified to EN60950 by the following
Nemko - Certificate No. P01102464
Fimko - Certificate No. FI18166
Semko - Reference No. 0202037/01-22
Demko - Certificate No. 311158-01
BSI approved - Certificate No. 8001
DESCRIPTION
The CNY17-1, CNY17-2, CNY17-3, CNY17-4,
CNY17-5 series of optically coupled isolators
consist of an infrared light emitting diode and a
NPN silicon photo transistor in a standard 6 pin
dual in line plastic package.
FEATURES
10mm lead spread - add G after part no.
Surface mount - add SM after part no.
Tape&reel - add SMT&R after part no.
High Isolation Voltage (5.3kV
All electrical parameters 100% tested
Custom electrical selections available
APPLICATIONS
Industrial systems controllers
Signal transmission between systems of
different potentials and impedances
CNY17-1X, CNY17-2X, CNY17-3X, CNY17-4X, CNY17-5X
CNY17-1, CNY17-2, CNY17-3, CNY17-4, CNY17-5
OPTICALLY COUPLED
ISOLATOR
PHOTOTRANSISTOR OUTPUT
ABSOLUTE MAXIMUM RATINGS
(25°C unless otherwise specified)
Lead Soldering Temperature
(1/16 inch (1.6mm) from case for 10 secs) 260°C
INPUT DIODE
OUTPUT TRANSISTOR
Collector-emitter Voltage BV
Collector-base Voltage BV
Emitter-collector Voltage BV
POWER DISSIPATION
(derate linearly 2.67mW/°C above 25°C)
ISOCOM INC
1024 S. Greenville Ave, Suite 240,
Tel: (214) 495-0755 Fax: (214) 495-0901
ISOCOM COMPONENTS LTD
Unit 25B, Park View Road West,
Park View Industrial Estate, Brenda Road
Hartlepool, TS25 1YD England Tel: (01429)863609
Fax : (01429) 863581 e-mail sales@isocom.co.uk
OPTION G
SURFACE MOUNT
OPTION SM
Dimensions in mm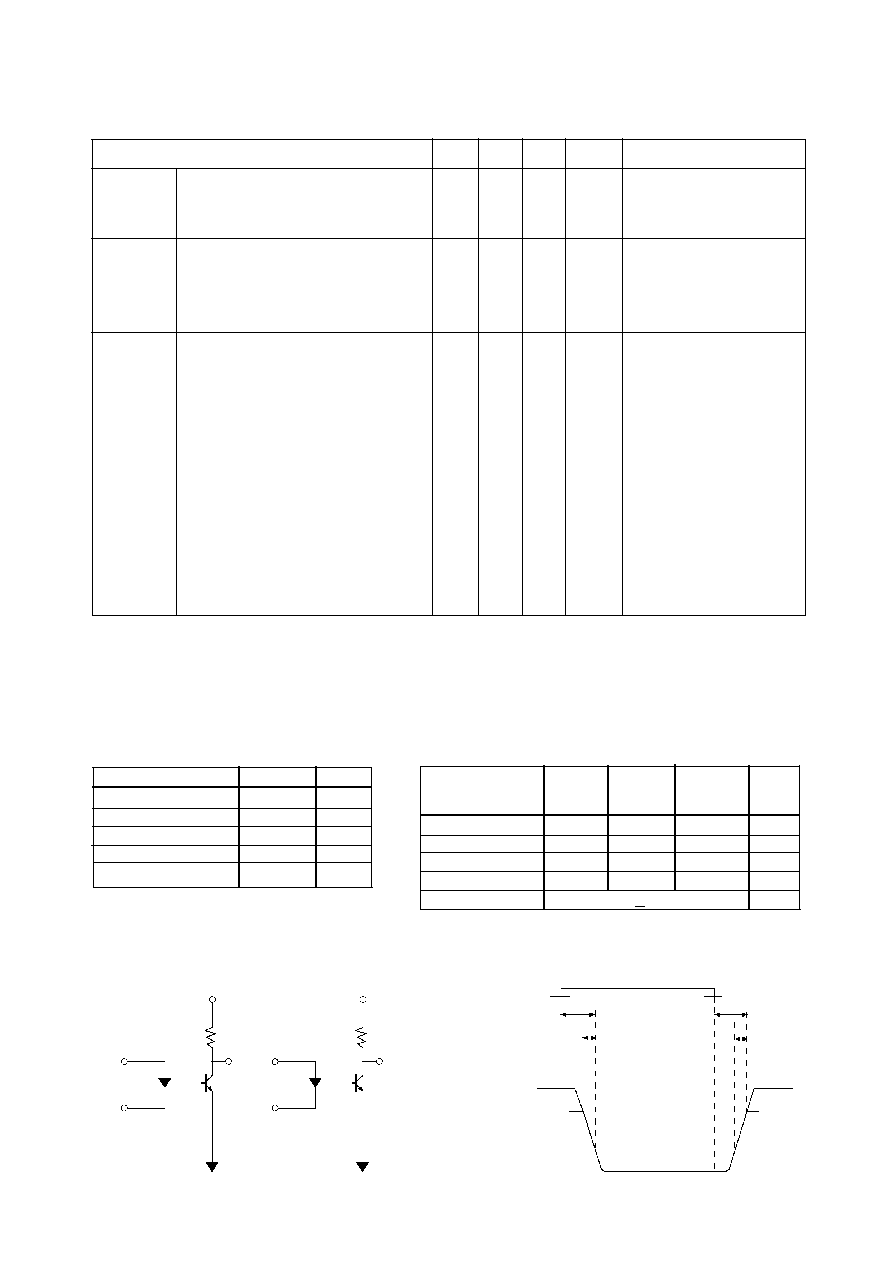 PARAMETER
MIN TYP MAX UNITS TEST CONDITION
Collector-emitter Breakdown (BV
Collector-base Breakdown (BV
Emitter-collector Breakdown (BV
Collector-emitter Dark Current (I
Current Transfer Ratio (CTR) (Note 2)
Collector-emitter Saturation VoltageV
Input to Output Isolation Voltage V
Input-output Isolation Resistance R
Measured with input leads shorted together and output leads shorted together.
Special Selections are available on request. Please consult the factory.
ELECTRICAL CHARACTERISTICS ( T
A
= 25°C Unless otherwise noted )
TYPICAL SWITCHING CHARACTERISTICS
Switching Operation (with saturation) Fig 2
4.2
3.0
23
14
6.0
4.6
25
15
µs
µs
µs
µs
V
Turn-on Time
Rise Time
Turn-off Time
Fall Time
Cut-off Frequency
µs
µs
µs
µs
kHz
Turn-on Time
Rise Time
Turn-off Time
Fall Time
3.0
2.0
18
11
3.0
2.0
2.3
2.0
250
Collector power dissipation P
30
20
Collector Power Dissipation vs. Ambient Temperature
Forward Current vs. Ambient Temperature
Current Transfer Ratio vs. Forward Current
Relative Current Transfer Ratio
vs. Ambient Temperature
Relative current transfer ratio
Current transfer ratio CTR (%)
Collector Current vs. Collector-emitter Voltage
( normalised to CNY17-3 )
Collector-emitter voltage V
Collector-emitter saturation voltage
Collector-emitter Saturation
Voltage vs. Ambient Temperature