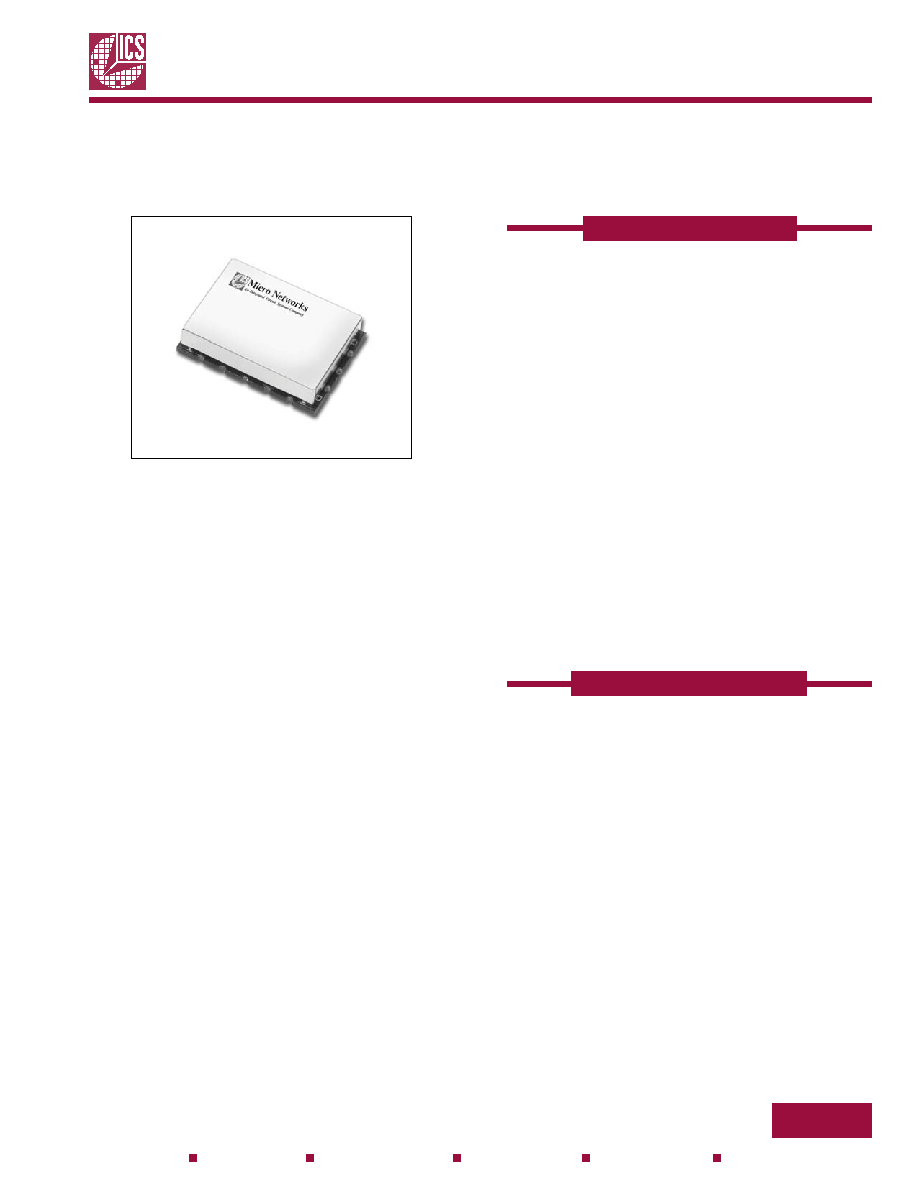 Micro Networks 324 Clark Street Worcester, MA 01606 tel: 508-852-5400 fax: 508-852-8456 www.micronetworks.com
The M105 Series of Fixed Frequency Oscillators
operate up to 2500MHz with high frequency
stability. A sinusoidal output delivers the specified
power level into a 50 load. The device has a
6-sided EMI shield and a surface mount
Fixed Frequency Oscillators
Operating Temp. Range (Case) .............................. 0°C to +70°C
Storage Temp. Range (Ambient) ..................... -40°C to +100°C
Power Supply Voltage .................................................. +5.5 Vdc
Output Current .................................................................. 50mA
Micro Networks
An Integrated Circuit Systems Company
M105 Series
Preliminary Specifications
Micro Networks
An Integrated Circuit Systems Company
M105 Series
Preliminary Specifications
Micro Networks
An Integrated Circuit Systems Company
324 Clark Street Worcester, MA 01606 tel: 508-852-5400 fax: 508-852-8456
European Sales Headquarters Hertogsingel 20 6214 AD Maastricht The Netherlands tel: +31-43-32-70912 fax: +31-43-32-70715
www.micronetworks.com
Specifications @ Vcc = +3.3 Volts and T
A
= +25°C unless otherwise specified
P11
GND
P10
+V
P9
+V
P1
GND
P2
Vin
P3
GND
P4
+V
P5
Vout
Part Number
M105P2488.3200
(i.e. 2488.32MHz center frequency)
Note: The Vin pad indicated above will have no connecion.
Micro Networks makes no assertion or warranty that the circuitry and the uses thereof
disclosed herein are non-infringing on any valid US or foreign patents. Micro Networks
assumes no liability as a result of the use of said specifications and reserves the right to
make changes to specifications without notice. Contact your nearest Micro Networks
sales representative office for the latest specifications.
Frequency Stability (0°C to +70°C)