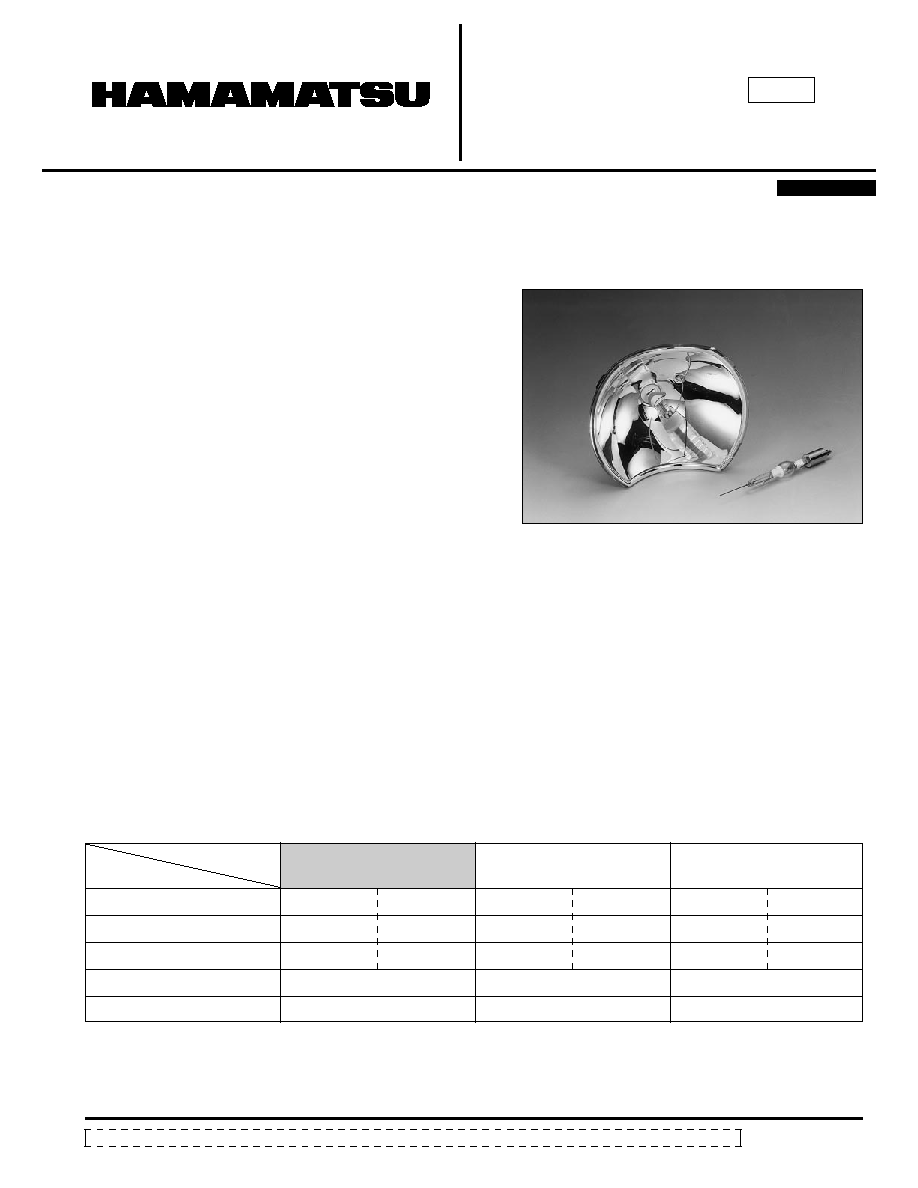 4 Times Higher Luminous Efficiency
(than Xenon Lamp and Halogen Lamp)
White, Point Light Source with 7500 K Color Temperature
PATENT PENDING
Subject to local technical requirements and regulations, availability of products included in this promotional material may vary. Please consult with our sales office.
Information furnished by HAMAMATSU is believed to be reliable. However, no responsibility is assumed for possible inaccuracies or omissions.
Specifications are subjected to change without notice. No patent rights are granted to any of the circuits described herein. © 1997 Hamamatsu Photonics K. K.
Center : L4342-01, Right : L4342
FEATURES
High Luminous Efficiency : 76 lm/W
About 4 times higher luminous efficiency than Xenon lamp
and Halogen lamp (20 to 25 lm/W)
White light, Excellent Color Rendering
:7500 K Color Temperature
Similar color temperature to sun light
(Illumination Metal Halide Lamp : Approx. 4500 K)
Long Life : 3000 hours (Expectancy)
Long life of 3000 hours in spite of compact short-arc type
Short Arc : Arc Gap 5 mm
Easy optical designing because of point light source
Compact Size : Overall Length 76 mm
APPLICATIONS
Liquid Crystal Projector
Over Head Projector
Light Source for Fiber
Film/Slide Projector
Color Printer
Microscope
Parameter
Lamp
CHARACTERISTICS COMPARISON AMONG VARIOUS LAMPS
Metal Halide Lamp
Halogen Lamp
Xenon Lamp
Luminous Efficiency (lm/W)
76
7500
Life (Expectancy) (hours)
3000
SHORT-ARC TYPE
METAL HALIDE LAMP 150W
L4342/L4342-01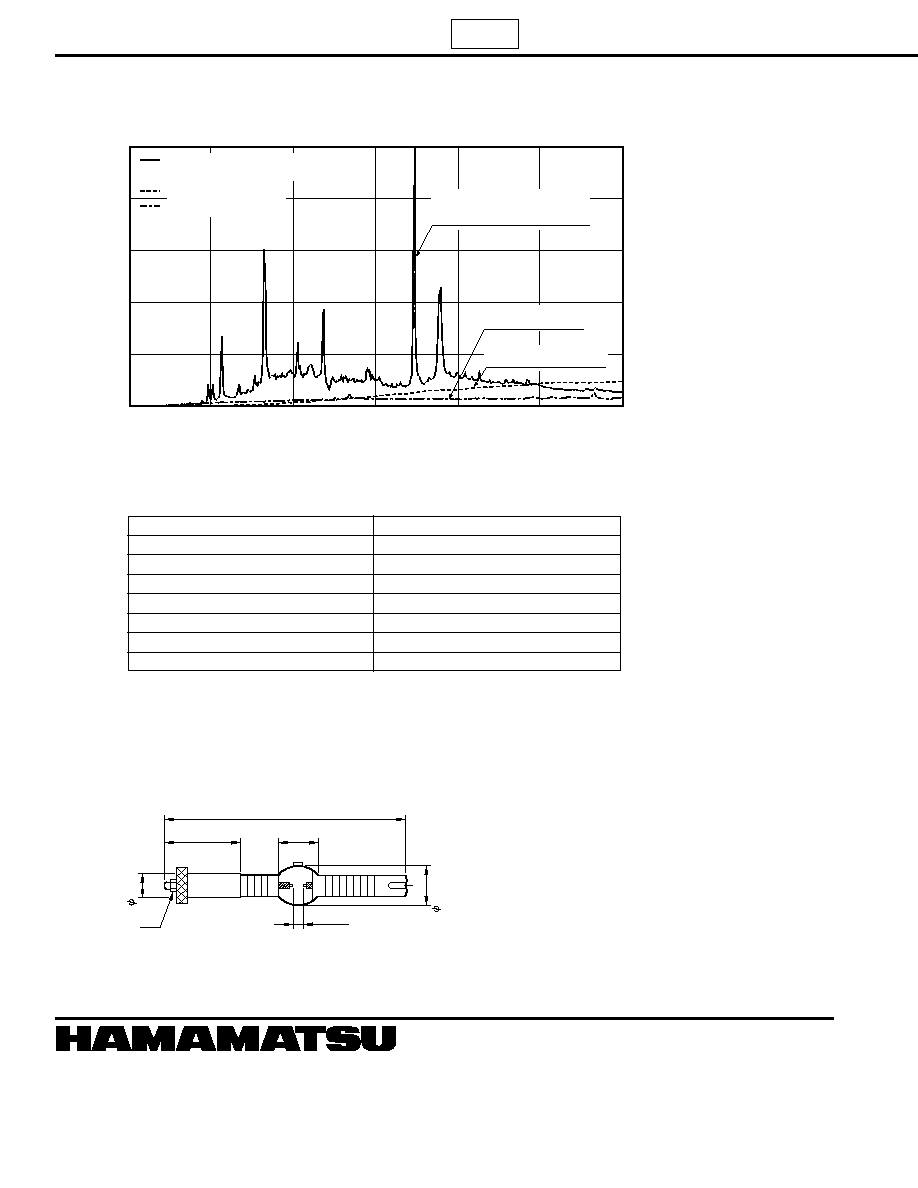 SHORT-ARC TYPE
METAL HALIDE LAMP 150W L4342/L4342-01
Comparison of Spectral Distribution
SPECIFICATIONS
HAMAMATSU PHOTONICS K.K., Electron Tube Center
314-5, Shimokanzo, Toyooka-village, Iwata-gun, Shizuoka-ken, 438-0193, Japan, Telephone: (81)539/62-5248, Fax: (81)539/62-2205, Telex: 4225-186HAMAHQ
U.S.A.: Hamamatsu Corporation: 360 Foothill Road, Bridgewater, N.J. 08807-0910, U.S.A., Telephone: (1)908-231-0960, Fax: (1)908-231-1218
Germany: Hamamatsu Photonics Deutschland GmbH: Arzbergerstr. 10, D-82211 Herrsching am Ammersee, Germany, Telephone: (49)8152-375-0, Fax: (49)8152-2658
France: Hamamatsu Photonics France S.A.R.L.: 8, Rue du Saule Trapu, Parc du Moulin de Massy, 91882 Massy Cedex, France, Telephone: (33)1 69 53 71 00, Fax: (33)1 69 53 71 10
United Kingdom: Hamamatsu Photonics UK Limited: Lough Point, 2 Gladbeck Way, Windmill Hill, Enfield, Middlesex EN2 7JA, United Kingdom, Telephone: (44)181-367-3560, Fax: (44)181-367-6384
North Europe: Hamamatsu Photonics Norden AB: Färögatan 7, S-164-40 Kista, Sweden, Telephone: (46)8-703-29-50, Fax: (46)8-750-58-95
Italy: Hamamatsu Photonics Italia S.R.L.: Via Della Moia, 1/E 20020 Arese, (Milano), Italy, Telephone: (39)2-935 81 733, Fax: (39)2-935 81 741
DIMENSIONAL OUTLINE (Unit:mm)
* PATENT PENDING : JAPAN 17, USA 4, EUROPE 4
TLSO1010E06
NOV. 1997
Created in Japan
SHORT-ARC TYPE
METAL HALIDE LAMP
HALOGEN LAMP
XENON LAMP
RELATIVE OUTPUT INTENSITY(%)
SHORT-ARC TYPE
METAL HALIDE LAMP