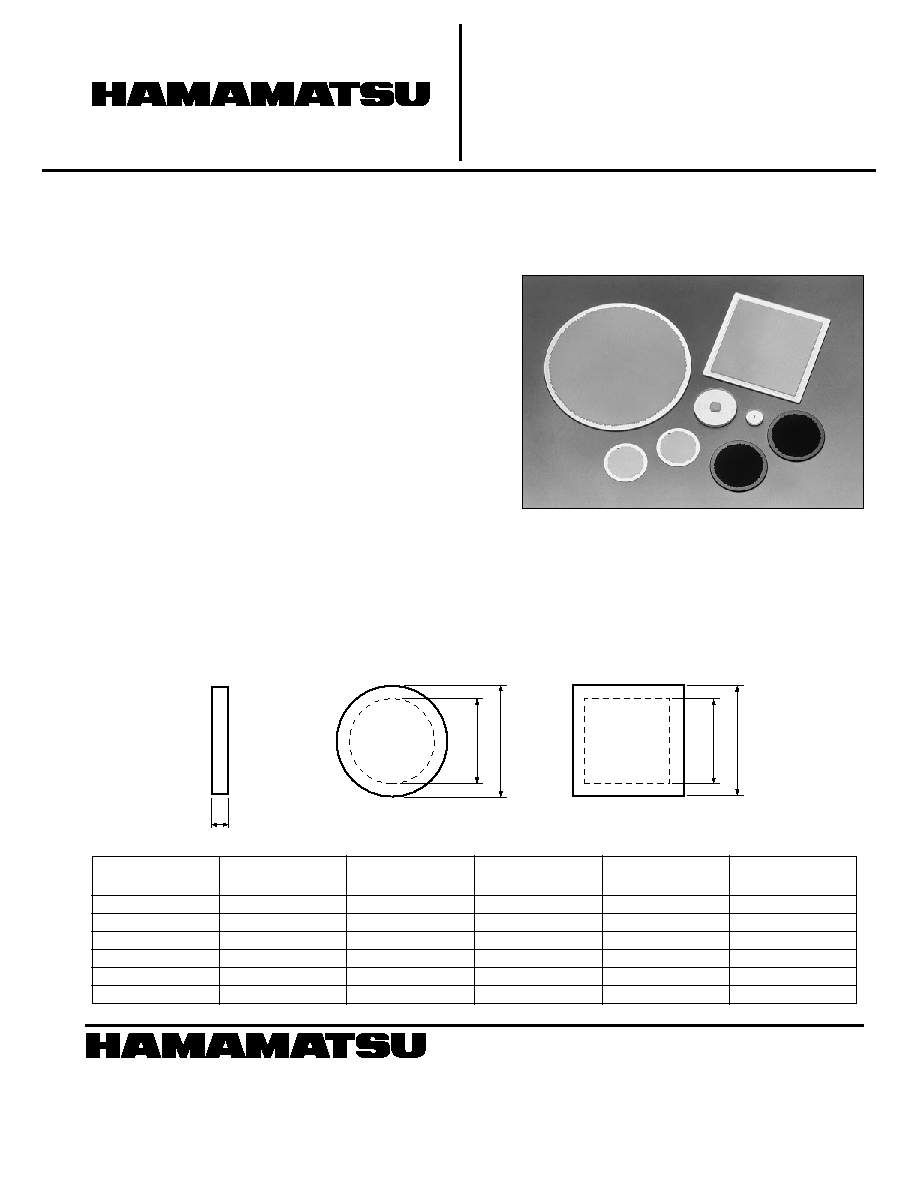 CAPILLARY PLATE
For Liquid/Gas Filter, Differential Pressure Pumping,
Orifice for Mass Spectroscopy, Light/X-ray Collimator
FEATURES
Uniform capillary diameter
Possible to make liquid laminar flow
Possible to give charge particle or molecule directivity
Good mechanical strength
High heat resistance (430
C Max.)
Possible to collimate light
Capillary plate is a circular or rectangular plate where glass capillaries of channel diameter 6 to 25
bundled in parallel. Depending on its channel diameter or thickness, capillary plate can control flow speed or flow
quantity of gas or liquid and can be used as a gas filter or a window material for differential pressure pumping.
Besides it can give directivity to charged particle and molecule, and can be also used as a light or X-ray collimator.
Our capillary plate has as high as over 55 % open area ratio.
DIMENSIONAL OUTLINES AND SPECIFICATIONS (Unit:mm)
Type No.
Size
Effective Area
Channel Diameter
Thickness
L/D
A
B (mm)
D (
m)
L (mm)
HAMAMATSU PHOTONICS K.K., Electron Tube Center
314-5, Shimokanzo, Toyooka-village, Iwata-gun, Shizuoka-ken, 438-0193, Japan, Telephone: (81)539/62-5248, Fax: (81)539/62-2205, Telex: 4225-186HAMAHQ
U.S.A.: Hamamatsu Corporation: 360 Foothill Road, Bridgewater, N.J. 08807-0910, U.S.A., Telephone: (1)908-231-0960, Fax: (1)908-231-1218
Germany: Hamamatsu Photonics Deutschland GmbH: Arzbergerstr. 10, D-82211 Herrsching am Ammersee, Germany, Telephone: (49)8152-375-0, Fax: (49)8152-2658
France: Hamamatsu Photonics France S.A.R.L.: 8, Rue du Saule Trapu, Parc du Moulin de Massy, 91882 Massy Cedex, France, Telephone: (33)1 69 53 71 00, Fax: (33)1 69 53 71 10
United Kingdom: Hamamatsu Photonics UK Limited: Lough Point, 2 Gladbeck Way, Windmill Hill, Enfield, Middlesex EN2 7JA, United Kingdom, Telephone: (44)181-367-3560, Fax: (44)181-367-6384
North Europe: Hamamatsu Photonics Norden AB: Färögatan 7, S-164-40 Kista, Sweden, Telephone: (46)8-703-29-50, Fax: (46)8-750-58-95
Italy: Hamamatsu Photonics Italia S.R.L.: Via Della Moia, 1/E 20020 Arese, (Milano), Italy, Telephone: (39)2-935 81 733, Fax: (39)2-935 81 741
TMCP1017E01
NOV. 97 CR
Created in Japan