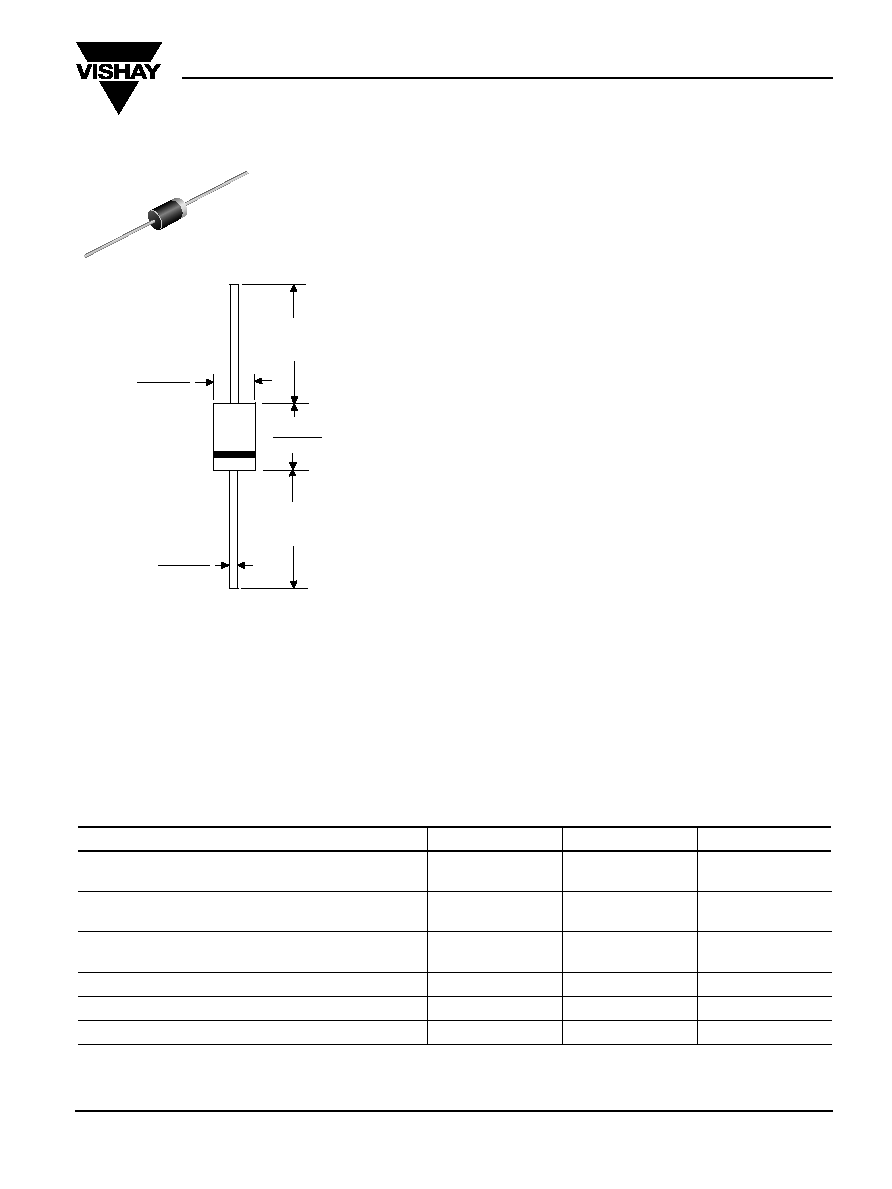 1.5KA6.8 thru 1.5KA43A
formerly General Semiconductor
Automotive Transient Voltage Suppressors
Breakdown Voltage
Peak Pulse Power
Features
· Designed for under the hood applications
· Plastic package has Underwriters Laboratory
Flammability Classification 94V-0
· 1500W peak pulse power surge capability with a
10/1000ms waveform, repetition rate (duty cycle): 0.01%
oxide passivated chip construction
· Excellent clamping capability
· Low incremental surge resistance
· High temperature soldering guaranteed: 300°C/10 seconds,
0.375" (9.5mm) lead length, 5lbs. (2.3 kg) tension
Mechanical Data
Case: Molded plastic over passivated junction
Terminals: Solder plated axial leads, solderable per MIL-
STD-750, Method 2026
Polarity: For unidirectional types the color band denotes
the cathode, which is positive with respect to the anode
under normal TVS operation
Mounting Position: Any
Weight: 0.045 oz., 1.2 g
Packaging codes/options:
1/1.5K per Bulk Box, 15K/box
4/1.4K per 13" Reel (52mm Tape), 5.6K/box
23/1K per Ammo Box (52mm Tape), 9K/box
Maximum Ratings and Thermal Characteristics
= 25°C unless otherwise noted)
Parameter
Symbol
Limit
Unit
Peak pulse power dissipation
Steady state power dissipation at T
lead lengths 0.375" (9.5mm)
Peak forward surge current, 8.3ms single half sine-wave
Maximum instantaneous forward voltage at 100A
Operating junction and storage temperature range
Notes: (1) Non-repetitive current pulse, per Fig. 3 and derated above T
(2) Mounted on copper pad area of 1.6 x 1.6" (40 x 40mm) per Fig. 5
(3) 8.3ms single half sine-wave or equivalent square wave, duty cycle = 4 pulses per minutes maximum
1.0 (25.4)
MIN.
1.0 (25.4)
MIN.
0.375 (9.5)
0.285 (7.2)
0.210 (5.3)
0.190 (4.8)
DIA.
0.042 (1.07)
0.038 (0.96)
DIA.
Available in uni-directional only
Dimensions in inches and (millimeters)
*
Patent #'s 4,980,315
5,166,769
5,278,094
Case Style 1.5KA
1.5KA6.8 thru 1.5KA43A
formerly General Semiconductor
Electrical Characteristics
= 25°C unless otherwise noted)
T
J
=150°C
Maximum
Breakdown Voltage
Maximum
Maximum
Peak Pulse
Maximum
Temp.
V
(BR)
(1)
at I
T
Test
Stand-off
Reverse
Reverse
Current
Clamping
Coefficient
(V)
Current
Voltage
Leakage
Leakage
I
PPM
Voltage
of
I
T
V
WM
at V
WM
at V
WM
(Note 2)
at l
PPM
V
(BR)
Device Type
Min
Max
(mA)
(Volts)
I
D
(
A)
I
D
(
A)
(Amps)
V
C
(Volts)
(% / °C)
Notes: (1) V
s = square wave pulse or equivalent
(2) Surge current waveform per Fig. 3 and derate per Fig. 2
(3) All terms and symbols are consistent with ANSI/IEEE C62.35
1.5KA6.8 thru 1.5KA43A
formerly General Semiconductor
Ratings and
Characteristic Curves
= 25°C unless otherwise noted)
Derating in Percentage, %
Fig. 2 ­ Pulse Derating Curve
Fig. 1 ­ Peak Pulse Power Rating Curve
Fig. 5 ­ Steady State Power
Derating Curve
Non-repetitive Pulse
Waveform shown in Fig. 3
T
Fig. 6 - Maximum Non-Repetitive /Peak
Forward Surge Current

--
Peak Forward Surge Current (A)

--
Junction Capacitance (pF)
f = 1.0MHz
Vsig = 50mVp-p
8.3ms Single Half Sine-Wave
(JEDEC Method)
Measured at
Stand-Off
Voltage, V
Measured at
Zero Bias
, Steady State Power Dissipation (W)
0.8 x 0.8 x 0.040"
(20 x 20 x 1mm)
Copper Heat Sinks
Fig. 4 ­ Typical Junction Capacitance
Unidirectional
Fig. 3 ­ Pulse Waveform
Pulse Width (td)
is defined as the point
where the peak current
decays to 50% of I
Peak Value
I
Half Value -- IPP
I
L = 0.375" (9.5mm)
Lead Lengths