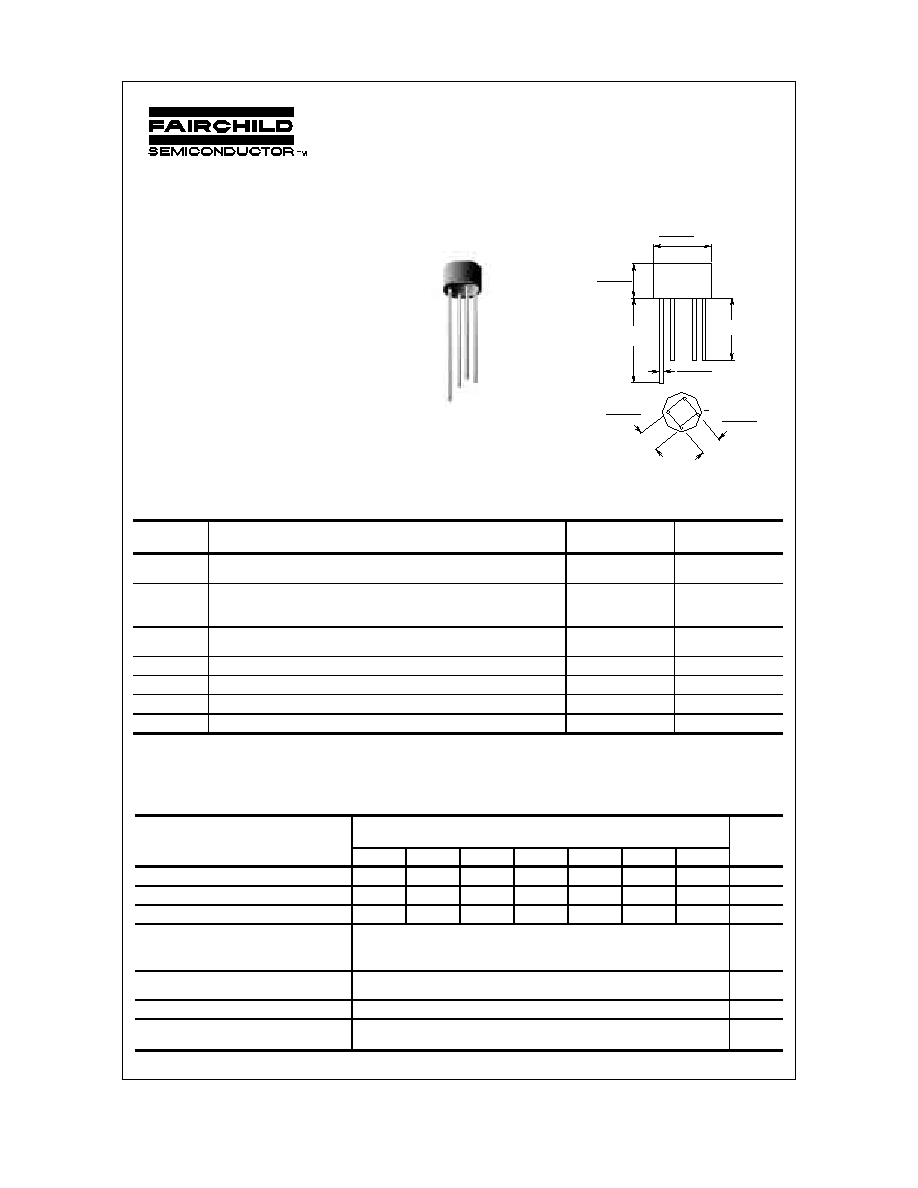 W005G
-
W10G
W005G - W10G
1.5 Ampere Glass Passivated Bridge Rectifiers
Absolute Maximum Ratings*
= 25°C unless otherwise noted
These ratings are limiting values above which the serviceability of any semiconductor device may be impaired.
Device mounted on PCB with 0.375" (9.5 mm) lead length.
Electrical Characteristics
= 25°C unless otherwise noted
1999 Fairchild Semiconductor Corporation
Features
Surge overload rating: 50 amperes
peak.
Glass passivated junction.
Ideal for printed circuit board.
Reliable low cost construction technique
results in inexpensive product.
Parameter
Device
Units
005G
01G
02G
04G
06G
08G
10G
Peak Repetitive Reverse Voltage
Maximum RMS Bridge Input Voltage
Maximum Reverse Leakage,
total bridge @ rated V
Maximum Forward Voltage Drop,
per bridge
Typical Junction Capacitance, per leg
Symbol
Parameter
Value
Units
Average Rectified Current
Peak Forward Surge Current
8.3 ms single half-sine-wave
Superimposed on rated load (JEDEC method)
Thermal Resistance, Junction to Ambient,** per leg
Thermal Resistance, Junction to Lead,** per leg
Storage Temperature Range
Operating Junction Temperature
WOB
0.358(9.1)
0.339(8.6)
0.217(5.5)
0.197(5.0)
0.032(.81)
0.030(.76)
~
~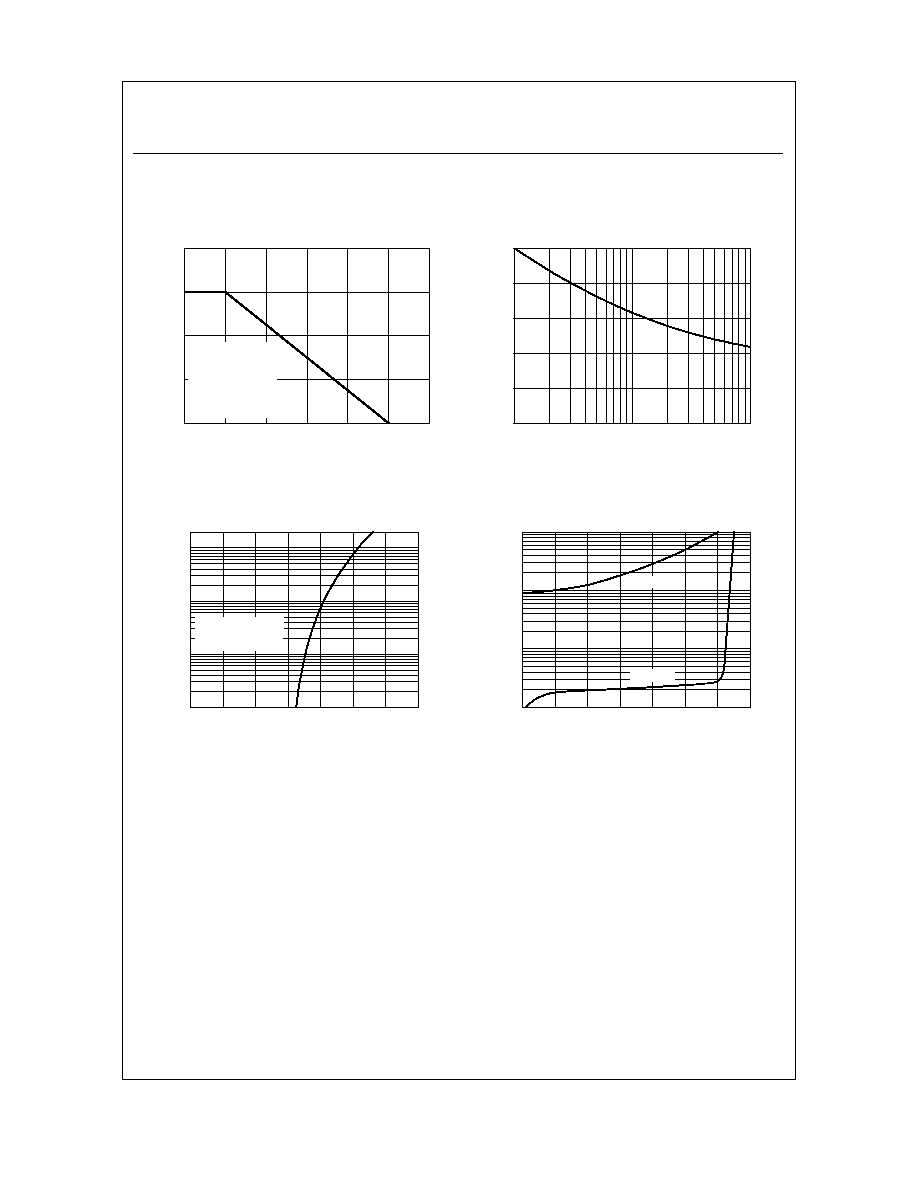 W005G - W10G
Glass Passivated Bridge Rectifiers
Typical Characteristics
Forward Current Derating Curve
AMBIENT TEMPERATURE ( C)
FO
R
W
AR
D
CU
RR
E
N
T
(
A
)
º
SINGLE PHASE
HALF WAVE
60HZ
RESISTIVE OR
INDUCTIVE LOAD
.375" (9.0mm) LEAD
LENGTHS
Non-Repetitive Surge Current
NUMBER OF CYCLES AT 60Hz
PE
AK
F
O
R
W
A
R
D
S
URG
E

CU
RR
ENT
(
A
)
Forward Characteristics
FORWARD VOLTAGE (V)
F
O
R
W
AR
D CU
RR
E
N
T

(
A
)
Pulse Width = 300
s
2% Duty Cycle
T = 25 C
º
A
Reverse Characteristics
PERCENT OF RATED PEAK REVERSE VOLTAGE (%)
R
EVE
R
S
E

C
U
R
R
EN
T
(

A
)

µ
T = 25 C
º
A
T = 100 C
º
A

TRADEMARKS
ACExTM
CoolFETTM
CROSSVOLTTM
E
FACTTM
FACT Quiet SeriesTM
FAST
FASTrTM
GTOTM
HiSeCTM
The following are registered and unregistered trademarks Fairchild Semiconductor owns or is authorized to use and is
not intended to be an exhaustive list of all such trademarks.
LIFE SUPPORT POLICY
FAIRCHILD'S PRODUCTS ARE NOT AUTHORIZED FOR USE AS CRITICAL COMPONENTS IN LIFE SUPPORT
DEVICES OR SYSTEMS WITHOUT THE EXPRESS WRITTEN APPROVAL OF FAIRCHILD SEMICONDUCTOR CORPORATION.
As used herein:
ISOPLANARTM
MICROWIRETM
POPTM
PowerTrenchTM
QSTM
Quiet SeriesTM
SuperSOTTM-3
SuperSOTTM-6
SuperSOTTM-8
TinyLogicTM
1. Life support devices or systems are devices or
systems which, (a) are intended for surgical implant into
the body, or (b) support or sustain life, or (c) whose
failure to perform when properly used in accordance
with instructions for use provided in the labeling, can be
reasonably expected to result in significant injury to the
user.
2. A critical component is any component of a life
support device or system whose failure to perform can
be reasonably expected to cause the failure of the life
support device or system, or to affect its safety or
PRODUCT STATUS DEFINITIONS
Definition of Terms
Datasheet Identification Product Status Definition
This datasheet contains the design specifications for
product development. Specifications may change in
any manner without notice.
This datasheet contains preliminary data, and
supplementary data will be published at a later date.
Fairchild Semiconductor reserves the right to make
changes at any time without notice in order to improve
design.
This datasheet contains final specifications. Fairchild
Semiconductor reserves the right to make changes at
any time without notice in order to improve design.
This datasheet contains specifications on a product
that has been discontinued by Fairchild semiconductor.
The datasheet is printed for reference information only.
Formative or
In Design
DISCLAIMER
FAIRCHILD SEMICONDUCTOR RESERVES THE RIGHT TO MAKE CHANGES WITHOUT FURTHER
NOTICE TO ANY PRODUCTS HEREIN TO IMPROVE RELIABILITY, FUNCTION OR DESIGN. FAIRCHILD
DOES NOT ASSUME ANY LIABILITY ARISING OUT OF THE APPLICATION OR USE OF ANY PRODUCT
OR CIRCUIT DESCRIBED HEREIN; NEITHER DOES IT CONVEY ANY LICENSE UNDER ITS PATENT
RIGHTS, NOR THE RIGHTS OF OTHERS.