Technische Information / Technical Information
BIP AC / 2002-09-11, Keller/Schneider
Features:
· Umschwingdiode nur für Crow Bar
Anwendungen
· Specially designed only for Crow Bar
application
· Volle Sperrfähigkeit bei 140°C mit 50Hz
· Full blocking capability at 140°C with 50Hz
· Elektroaktive Passivierung durch a-C:H
· Electroactive passivation by a-C:H
Elektrische
Eigenschaften
/
Electrical
properties

Höchstzulässige Werte / Maximum rated values
Periodische Spitzensperrspannung
repetitive peak reverse voltage
Stoßspitzensperrspannung
non-repetetive peak reverse voltage
Durchlaßstrom-Grenzeffektivwert
RMS forward current
Dauergrenzstrom
mean forward current
A
A
Stoßstrom-Grenzwert
surge forward current
38
35
kA
kA
Grenzlastintegral
I

Charakteristische Werte / Characteristic values
Durchlaßspannung
forward voltage
Schleusenspannung
threshold voltage
Ersatzwiderstand
forward slope resistance
Durchlaßrechenkennlinie
On-state characteristics for calculation
V
A B i
C
i
D i
F
F
F
F

A
B
C
D
Sperrstrom
reverse current
Technische Information / Technical Information
BIP AC / 2002-09-11, Keller/Schneider
Thermische Eigenschaften / Thermal properties
Innerer Wärmewiderstand
thermal resistance, junction to case
Kühlfläche / cooling surface
beidseitig / two-sided, DC
Anode / anode, DC
Kathode /cathode, DC

max
max
max
0,0236
0,0173

°C/W
°C/W
°C/W
Übergangs-Wärmewiderstand
thermal resistance, case to heatsink
Kühlfläche / cooling surface
beidseitig / two-sided
einseitig / single sided

max
max
0,003
0,006

°C/W
°C/W
Höchstzulässige Sperrschichttemperatur
max. junction temperature
Betriebstemperatur
operating temperature
Lagertemperatur
storage temperature
Mechanische Eigenschaften / Mechanical properties
Gehäuse, siehe Anlage
case, see appendix
Si ­ Element mit Druckkontakt
Si ­ pellet with pressure contact
Anpreßkraft
clampig force
Gewicht
weight
Kriechstrecke
creepage distance
Luftstrecke
air distance
Feuchteklasse
humidity classification
Schwingfestigkeit
vibration resistance




















Mit dieser technischen Information werden Halbleiterbauelemente spezifiziert, jedoch keine Eigenschaften zugesichert. Sie gilt in Verbidung mit den zugehörigen technischen Erläuterungen.
This technical Information specifies semiconductor devices but promises no characteristics. It is valid in combination with the belonging technical notes.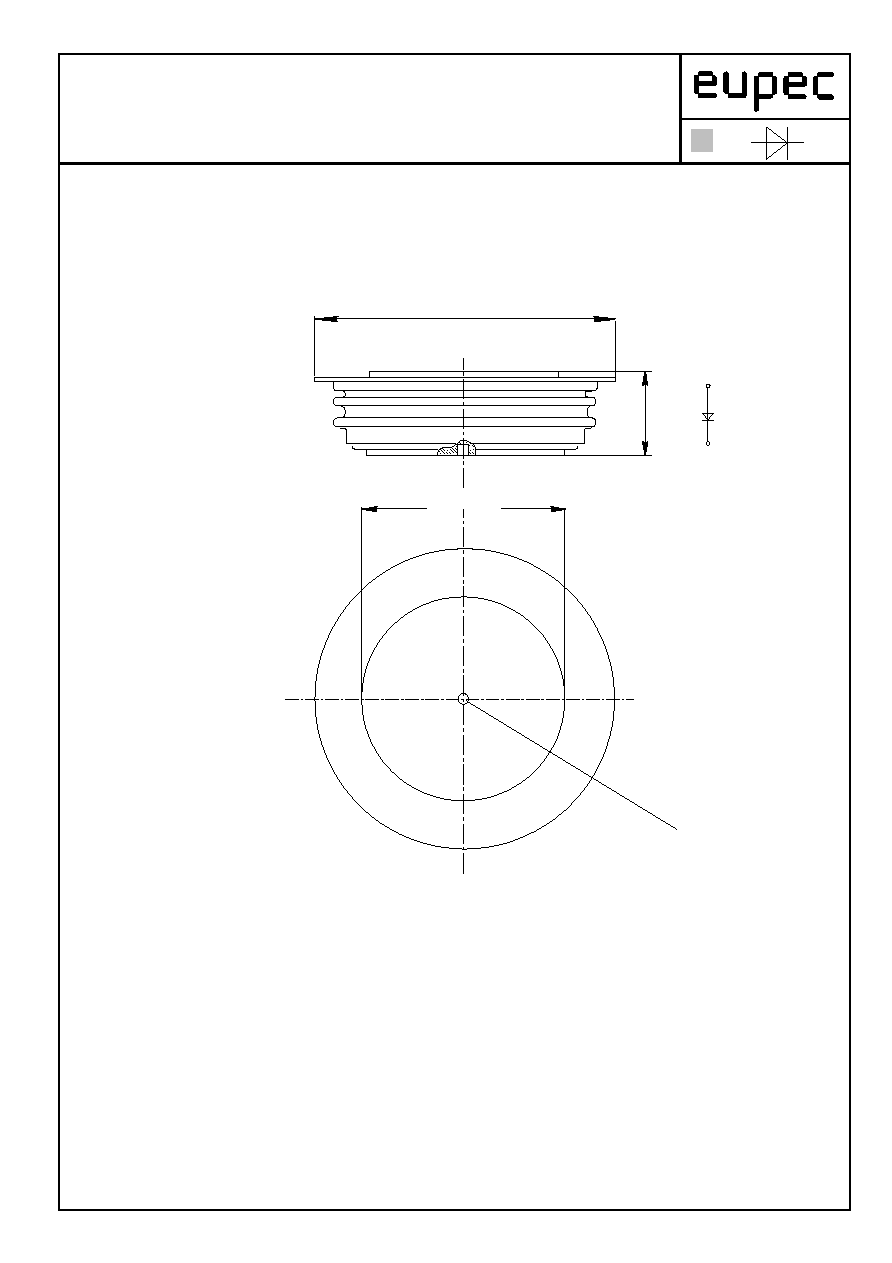 Technische Information / Technical Information
BIP AC / 2002-09-11, Keller/Schneider
Maßbild / Outline drawing
26
+-
0
.
5
100 max
62,8
C
A
2 center holes
3.5 ×1.8
Technische Information / Technical Information
BIP AC / 2002-09-11, Keller/Schneider
On-State Characteristics ( v
F
)
Upper limit of scatter range
T
vj
= 140
° C
v
F
[V]
i
F
[A]
Technische Information / Technical Information
BIP AC / 2002-09-11, Keller/Schneider
Transienter Wärmewiderstand
Transient thermal Impedance Z
(th) JC
= f (t)
Doppelseitige Kühlung / Two sided cooling
Kathodenseitig / cathode side
Anodenseitig / anode side
Z
R
e
thJC
thn
t
n
n
n
Z
th
= f (t)
t / [sec.]
Z (th) JC / [K/W]
both side
cathode side
anode side