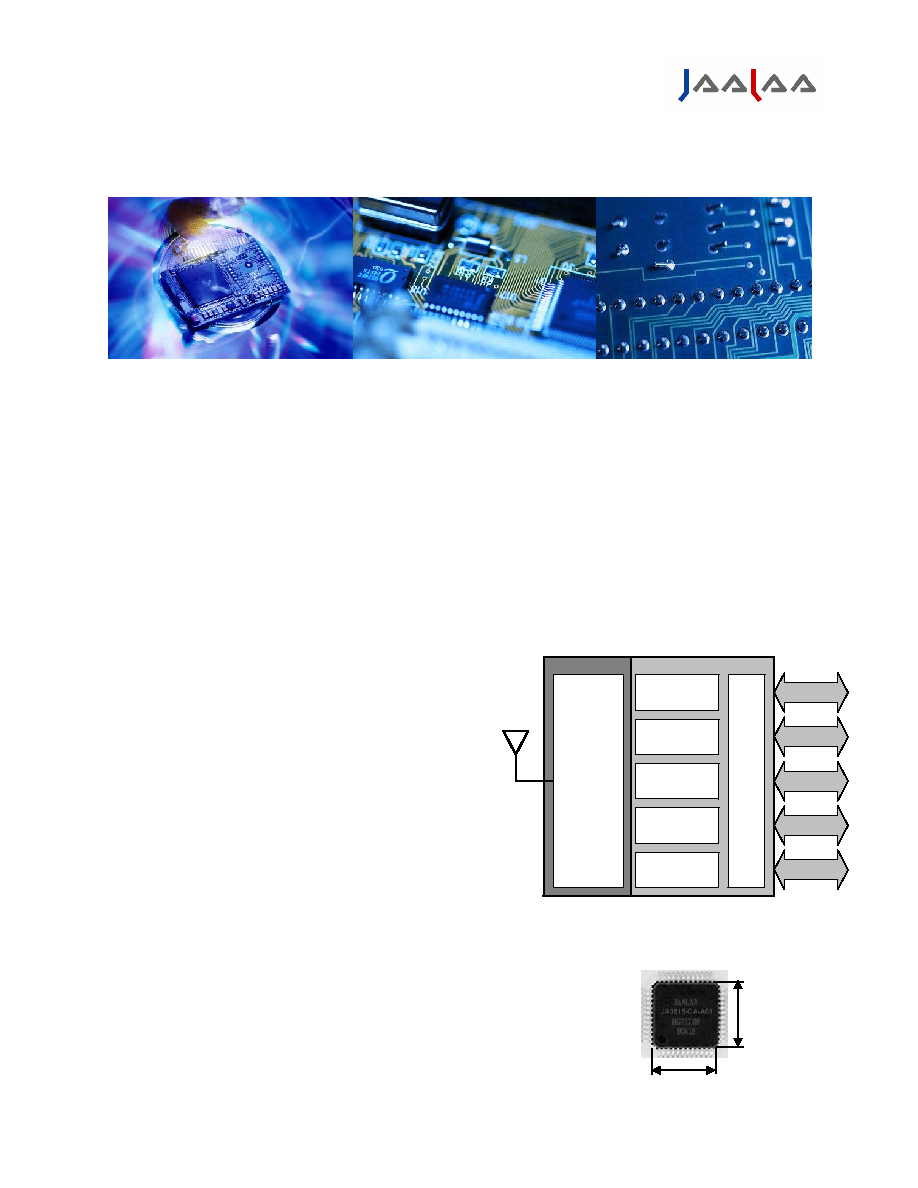 Proprietary and Confidential
JA3515 ­ Transceiver
Wireless Controller IC
Overview
The JA3515 is a low-cost, highly
integrated, tri-band, system-on-chip
targeted for wireless keyboard and mouse
applications. The JA3515 can be used as
a complete, high performance PC
transceiver interface for a wireless
keyboard and mouse, using minimum
external components. All necessary
functions, the RF transceiver, baseband,
modem, control logic and I/O interfaces;
both USB and PS2 are on-chip. The
protocol stack and application software are
integrated in the built-in mask ROM.
The wireless data link runs with very low
latency at data rates up to 64 kbps. The
system incorporates a proprietary media
access control protocol (MAC) that
provides highly reliable wireless data
transfers even in an environment with other
wireless users.

Features
Tri-band, 27 MHz, 40 MHz and 49 MHz
single-chip radio
World-wide unlicensed RF bands
Reliable, bi-directional data link
Robust Interference Avoidance
High tolerant frequency compensation
Application integrated in 24-kByte ROM
Proprietary and Confidential
Technical Specifications:
Min Typ. Max
unit
Operating Temperature
Operating Voltage
Frequency (Band 1)
(Band 2)
(Band 3)
Output Power (Peak)
Output Power Control
Receive Sensitivity @ 1% PER
Modulation/Demodulation
Power Consumption
Continuous Transmit Mode
Continuous Receive Mode
Sleep Mode
Multi-channels
Data Rate

Applications:
For more information please contact: