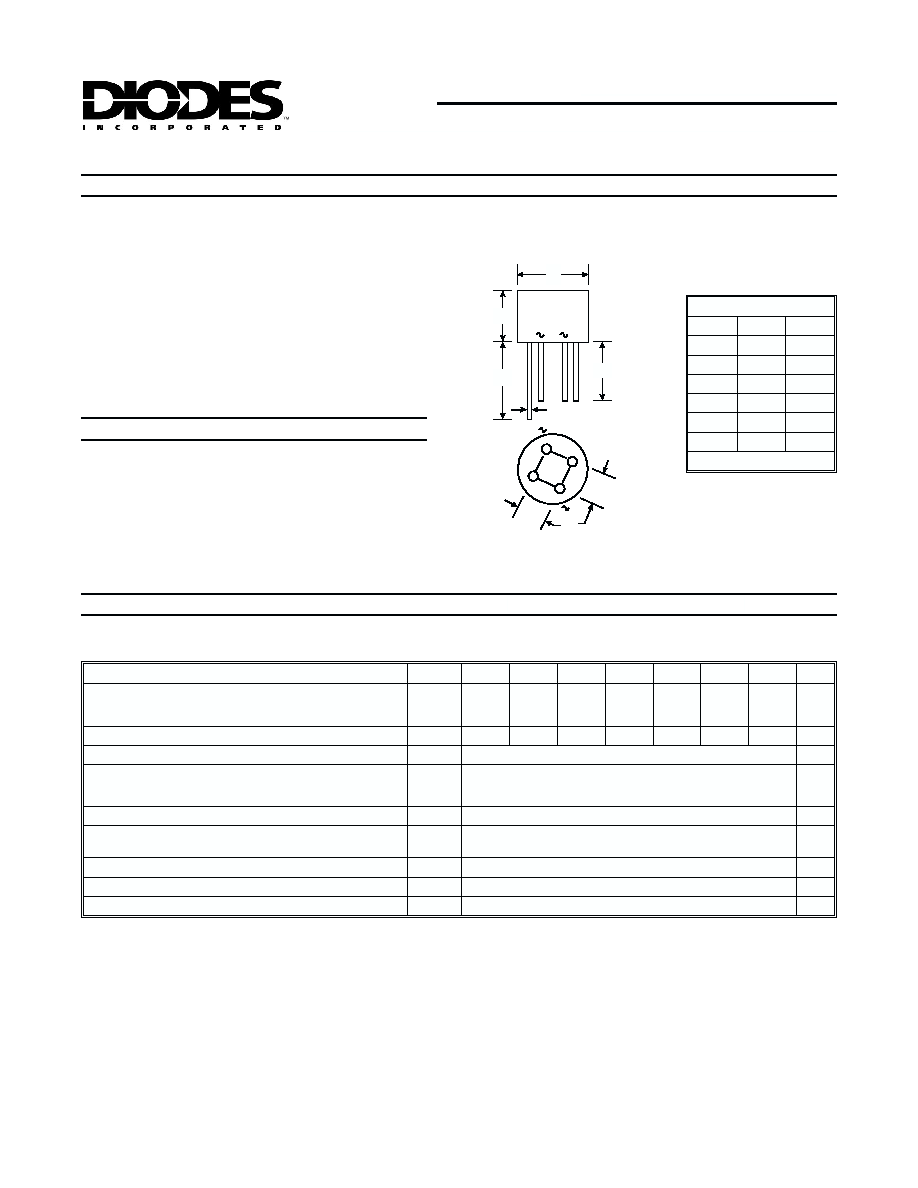 1.5A GLASS PASSIVATED BRIDGE RECTIFIER
Maximum Ratings and Electrical Characteristics
= 25°C unless otherwise specified
Single phase, 60Hz, resistive or inductive load.
For capacitive load, derate current by 20%.
Symbol W005G W01G W02G W04G
Peak Repetitive Reverse Voltage
Working Peak Reverse Voltage
Average Rectified Output Current (Note 1) @ T
Non-Repetitive Peak Forward Surge Current
8.3ms Single half sine-wave superimposed on rated load
per element (JEDEC Method)
Forward Voltage (per element)
at Rated DC Blocking Voltage
Typical Junction Capacitance
Typical Thermal Resistance Junction to Case
Operating and Storage Temperature Range
1. Thermal resistance from junction to case mounted on PC board with 13 x 13mm (0.03mm thick) land areas.
2. Measured at 1.0MHz and applied reverse voltage of 4.0V DC.
Glass Passivated Die Construction
Low Forward Voltage Drop, High Current
Surge Overload Rating to 50A Peak
Ideal for Printed Circuit Boards
Case to Terminal Isolation Voltage 1500V
Plastic Material: UL Flammability
Classification Rating 94V-0
UL Listed Under Recognized Component
Index, File Number E94661
Case: WOG, Molded Plastic
Terminals: Plated Leads Solderable per
Polarity: As marked on Body
Weight: 1.3 grams (approx.)
,
INST
V , INSTANTANEOUS FORWARD VOLTAGE (V)
Fig. 2 Typical Forward Characteristics
,
PEAK
NUMBER OF CYCLES AT 60 Hz
Fig. 3 Max Non-Repetitive Surge Current
,
JUNCTION
j
Fig. 4 Typical Junction Capacitance
,
INST
PERCENT OF RATED PEAK REVERSE VOLTAGE (%)
Fig. 5 Typical Reverse Characteristics
,
A
VERAGE
T , AMBIENT TEMPERATURE (°C)
Fig. 1 Forward Current Derating Curve
Single phase half-sine-wave
60Hz resistive or inductive load