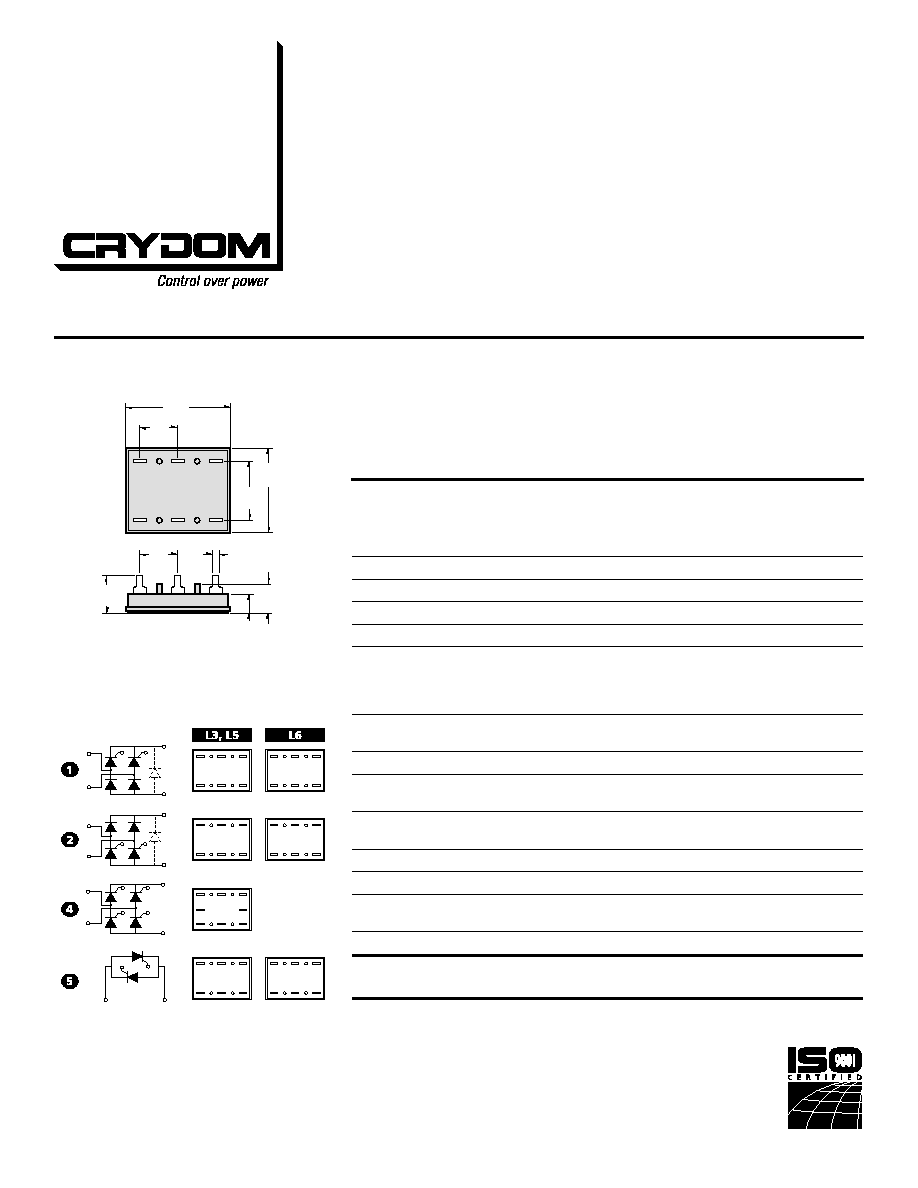 · Low Profil e
· Designed for Printed
Circuit Board Connections
FastFax Document No. 226
SERIES L.
Rev. 041602
PAGE 1 OF 1
Series L
15-42.5 Amp · SCR/DIODE Modules
©2002 CRYDOM CORP, Specifications subject to change without notice.
Circuit Modules provide ratings up to
42.5 amps in a low profile package
designed for printed circuit board con-
nections. Available in three standard
bridge circuits and an AC switch ver-
sion, all models have 2500 Vrms isola-
tion and are UL recognized (file no.
E72445).
Manufactured in Crydom's ISO 9001
Certified facility for optimum product
performance and reliability.
L3
L5
L6
ELECTRICAL SPECIFICATIONS
Maximum DC Output Current (Tc = 85ûC)
Maximum Voltage Drop @ Amps Peak
Operating Junction Temperature Range
Critical Rate of Rise of On-State Current @ TJ=125ûC
Critical Rate of Rise of Off-State Voltage
(Repetitive Peak Reverse Voltage)
Maximum Non-Repetitive Surge Current
(1/2Cycle, 60Hz)
Maximum I2T for Fusing (t=8.3ms) [A2sec]
Maximum Required Gate Current
to Trigger @ 25ûC
Maximum Required Gate Voltage
to Trigger @ 25ûC
Maximum Peak Gate Voltage (Reverse)
Maximum Thermal Resistance Junction to
Ceramic Base per Chip
M ECHANICAL SPECIFICATIONS
PART NUM BER IDENTIFICATION
S
eries Type
C
urre nt
C
ir cuit Type
AC L
ine Vol t ag e
O
pt ions
L
3
1 - 5
1
F
5
2
6
3
4
E
xam ple: L51 2F
* 42.5 Amp Rating Not Available In Circuit 4
.050 Typ.
(1.2)
M ECHANICAL DIM ENSIONS
All dimensions are in inches (millimeters)
APPROVALS
For recommended applications and more information contact:
USA: Sales Support (877) 502-5500 Tech Support (877) 702-7700 FAX (619) 710-8540
Crydom Corp, 2320 Paseo de las Americas, Ste. 201, San Diego, CA 92154
Email: sales@crydom.com WEB SITE: http://www.crydom.com
UK: +44 (0)1202 365070 · FAX +44 (0)1202 365090 Crydom International Ltd., 7 Cobham
Road, Ferndown Industrial Estate, Ferndown, Dorset BH21 7PE, Email: intsales@crydom.com.
GERMANY: +49 (0)180 3000 506