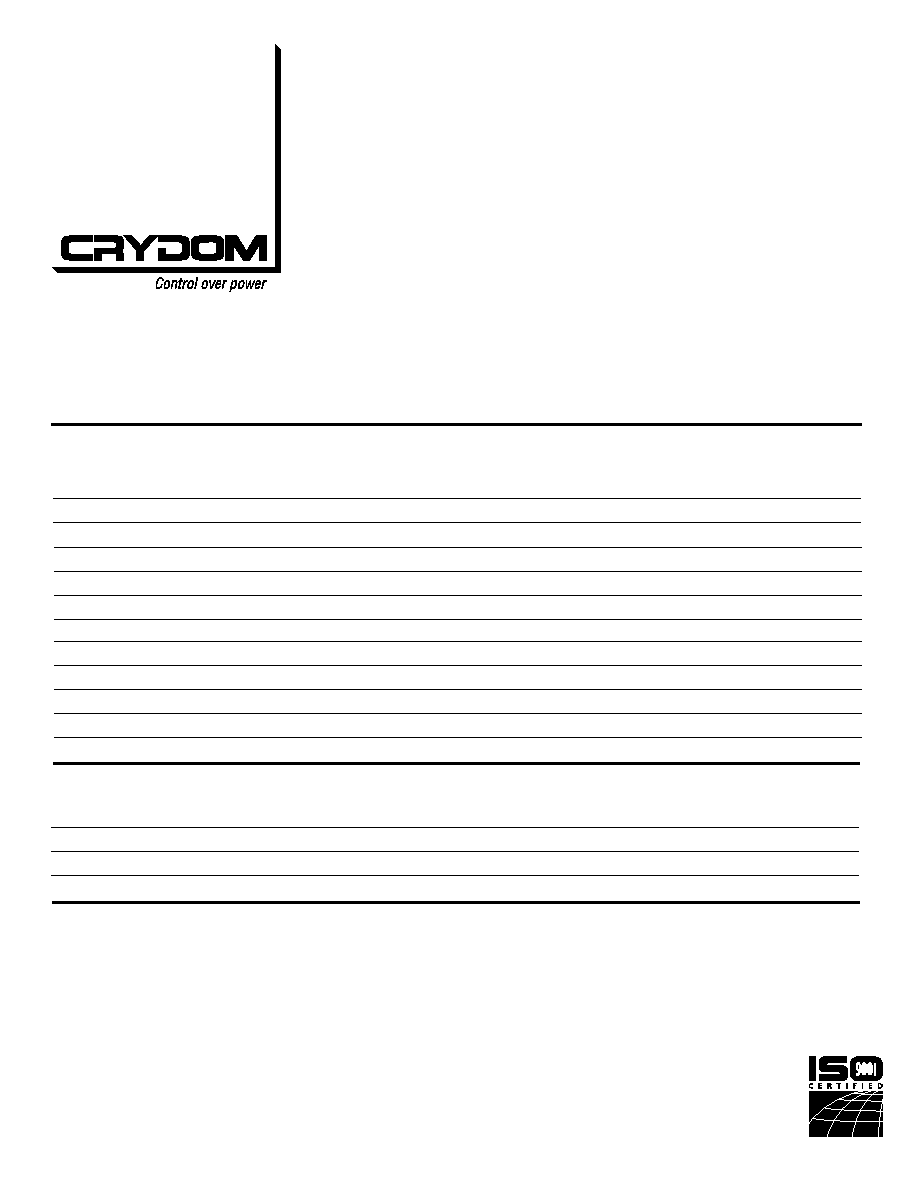 CKRD4810
CKRD4820
CKRD4830
OUTPUT SPECIFICATIONS
CKRA4810
CKRA4820
CKRA4830
Operating Voltage (47-63 Hz) [Vrms]
Max. Load Current @ 25°C Ambient Temperature [Arms]
CKR480
Rev. 012102
PAGE 1 OF 2
Series CKR480
10-30Amp · 480 Vac · AC Output
© 2001 CRYDOM CORP, Specifications subject to change without notice.
GENERAL NOTES
All parameters at 25°C unless otherwise specified.
Off-State dv/dt test method per EIA/NARM standard RS-443, paragraph 13.11.1
Turn-on time for DC control random turn-on versions is 0.02msec.
Input circuitry for DC control version incorporates active current limiter.
The Series CKR Solid State Relays
utilize Crydom's proprietary thermal
management technology providing a
compact and efficient design. Built-in
DIN Rail attachment, easy-to-use Box
Clamp type terminals and integral heat
sinking complete the package. This
compact new design offers up to 30Arms
in ambient temperatures of 25° C.
Manufactured in Crydom's ISO 9001
Certified facility for optimum product
performance and reliability.
Min. Load Current, [Arms]
Transient Overvoltage [Vpk]
Max. Surge Current, (16.6ms) [Apk]
Max. On-State Voltage Drop @ Rated Current [Vpk]
Maximum I 2 t for Fusing, (8.3 msec.) [A 2sec]
Max. Off-State Leakage Current @ Rated Voltage [mArms]
Min. Off-State dv/dt @ Max. Rated Voltage [V/µsec]
1/2 Cycle (DC Control), 10.0 msec (AC Control)
1/2 Cycle (DC Control), 40.0 msec(AC Control)
Power Factor (Min.) with Max. Load
INPUT SPECIFICATIONS
DC CONTROL
AC CONTROL
(E Suffix)
15mA @ 12 Vdc, 20mA @ 24Vdc
AC CONTROL
Standard
2mA @ 120 Vrms, 4 mA @ 240Vrms
· DIN Rail & Panel Mount
· Zero Voltage and Random
Turn-On Switching
· Status Indicating LED
· DC or AC Control
· Integrated Overvoltage
Protection by Automatic
Self Turn-On (Suffix P Option)
· SCR Output
· Low Leakage
· Integral Heatsink (22.5 mm)
· 10A, 20A & 30A Models
· Ground Terminal Included
For recommended applications and more information contact:
USA: Sales Support (877) 502-5500 Tech Support (877) 702-7700 FAX (619) 710-8540
Crydom Corp, 2320 Paseo de las Americas, Ste. 201, San Diego, CA 92154
Email: sales@crydom.com WEB SITE: http://www.crydom.com
UK: +44 (0)1202 365070 · FAX +44 (0)1202 365090 Crydom International Ltd., 7 Cobham
Road, Ferndown Industrial Estate, Ferndown, Dorset BH21 7PE, Email: intsales@crydom.com.
GERMANY: +49 (0)180 3000 506
SOLID STATE
CONTACTOR
MOUNTING
HOLE/SLOT
0.17 (4.3) DIA.
HEAT SINK:
BLACK ANODIZED
ALUMINUM
MECHANICAL SPECIFICATIONS
All dimensions are in inches (millimeters)
AVAILABLE OPTIONS
E
GENERAL SPECIFICATIONS
Dielectric Strength 50/60Hz Input/Output/Base
Insulation Resistance (Min.) @ 500 Vdc
Max. Capacitance Input/Output
Ambient Operating Temperature Range
Ambient Storage Temperature Range
MECHANICAL SPECIFICATIONS
Weight: (typical)
Thermally Conductive Epoxy
APPROVALS
CKR480
Rev. 012102
PAGE 2 OF 2
© 2001 CRYDOM CORP, Specifications subject to change without notice.
Series CKR480
10-30Amp · 480 Vac · AC Output
CURRENT DERATING CURVES
Max. Terminal Screw Torque
Status Indicating Display
24 Vac Input (18-36 Vac)
Example: CKRA4810E
R
Random Turn-On (AC & DC Control)
Phase Controllable (DC Control)
Example: CKRD4810R
P
Internal Overvoltage Protection.
Relay Will Self Trigger Between
900-1200 Vpk.
Not Suitable For Capacitive Loads.
Example: CKRD4810P (AC & DC Control)
CSA LR81689
VDE 129156ÜG
Caution
High Temperature
Current Rating 20A @ 25°C
Min. Side by Side Spacing
For recommended applications and more information contact:
USA: Sales Support (877) 502-5500 Tech Support (877) 702-7700 FAX (619) 710-8540
Crydom Corp, 2320 Paseo de las Americas, Ste. 201, San Diego, CA 92154
Email: sales@crydom.com WEB SITE: http://www.crydom.com
UK: +44 (0)1202 365070 · FAX +44 (0)1202 365090 Crydom International Ltd., 7 Cobham
Road, Ferndown Industrial Estate, Ferndown, Dorset BH21 7PE, Email: intsales@crydom.com.
GERMANY: +49 (0)180 3000 506