AC CONTROL
A24110
A24125
HA48110
HA48125
D C CONTROL
D24110
D24125
HD48110
HD48125
OUTPUT SPECIFICATIONS
Operating Voltage (47-63 Hz) [Vrms]
Min. Load Current, [mArms]
Transient Overvoltage [Vpk]
Max. Surge Current, (16.6ms) [Apk]
Max. On-State Voltage Drop @ Rated Current [Vpk]
Thermal Resistance Junction to Case (R
Maximum I 2 t for Fusing, (8.3 msec.) [A 2sec]
Max. Off-State Leakage Current @ Rated Voltage [mArms]
Min. Off-State dv/dt @ Max. Rated Voltage [V/µsec]
1/2 Cycle (DC Control), 10.0 msec (AC Control)
1/2 Cycle (DC Control), 40.0 msec (AC Control)
Power Factor (Min.) with Max. Load
INPUT SPECIFICATIONS
DC CONTROL
AC CONTROL
AC CONTROL
1500 Ohms (120/240V Models)
3.4mA @ 5 Vdc, 20mA @ 28Vdc
2mA @ 120 Vrms, 4mA @ 240 Vrms
GENERAL NOTES
All parameters at 25°C unless otherwise specified.
Off-State dv/dt test method per EIA/NARM standard RS-443, paragraph 13.11.1
Heat sinking required, for derating curves see page 2.
Turn-on time for random turn-on versions is 0.02 msec (DC Control Models).
Input circuitry for 480V models incorporates active current limiter with 2mA typical input current..
· Zero Voltage and Random
Turn-On Switching
· Panel Mount
· Internal Snubber
FastFax Document No. 152
110/125.
Rev. 042302
PAGE 1 OF 2
Featuring state-of-the-art Surface
Mount Technology, these SPST-NO
relays deliver proven reliability in the
most demanding applications.
Output consists of an SCR AC switch
and is available in zero-cross, random
turn-on (phase controllable) and ver-
sions with either AC or DC input (coil)
control.
Manufactured in Crydom's ISO 9001
Certified facility for optimum product
performance and reliability.
Series 1 - 110/125A
120/240, 480 Vac · AC Output
© 2002 CRYDOM CORP, Specifications subject to change without notice.
· Integrated Overvoltage
Protection by Automatic
Self Turn-On (Suffix P)
For recommended applications and more information contact:
USA: Sales Support (877) 502-5500 Tech Support (877) 702-7700 FAX (619) 710-8540
Crydom Corp, 2320 Paseo de las Americas, Ste. 201, San Diego, CA 92154
Email: sales@crydom.com WEB SITE: http://www.crydom.com
UK: +44 (0)1202 365070 · FAX +44 (0)1202 365090 Crydom International Ltd., 7 Cobham
Road, Ferndown Industrial Estate, Ferndown, Dorset BH21 7PE, Email: intsales@crydom.com.
GERMANY: +49 (0)180 3000 506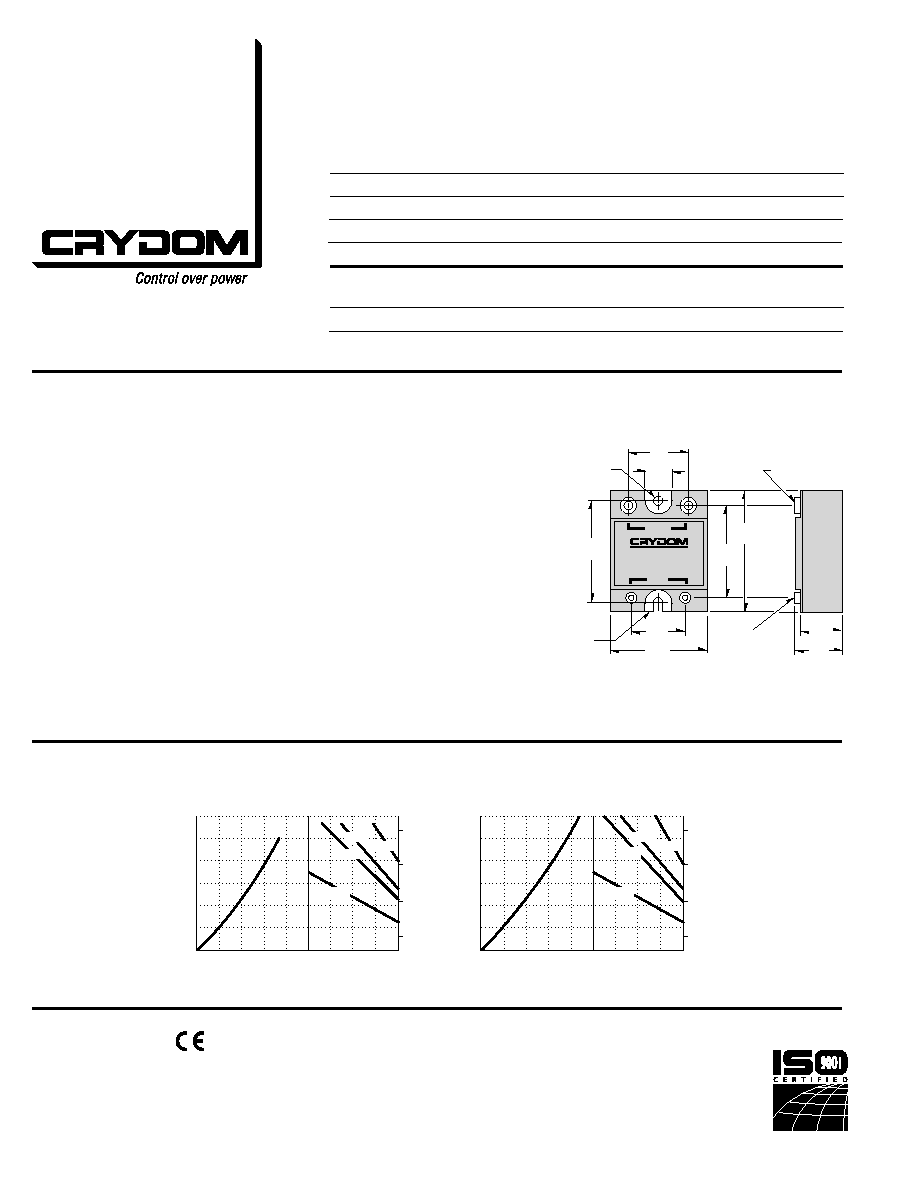 Series 1 - 110/125A
Random Turn-On (AC & DC Control)
Phase Controllable (DC Control)
Example: D24110-10
6-32 TERMINAL
(2 PLACES)
MOUNTING
HOLE/SLOT
0.17 (4.3) DIA.
BASE PLATE
.125 (3.2)
P
Internal Overvoltage Protection.
Relay Will Self Trigger Between
450-600 Vpk (for 240Vac Models 125A)
& 900-1200Vpk (for 480Vac Models125A).
Not Suitable For Capacitive Loads.
Agencies Approval Pending.
Example: D24125P (AC & DC Control)
Example: HD48125P (AC & DC Control)
125A
110A
CURRENT DERATING CURVES
G
Input Status LED.
Agencies Approval Pending
Example: HD48125G
Note: Control Voltage Range 4.5-32Vdc
for DC Control Models.
Ordering System: Combination of the
suffixes should be made in the following order:
EPG-10.
Example: HA48125EPG-10
FastFax Document No. 152
110/125
Rev. 042302
PAGE 2 OF 2
APPROVALS
-10
AVAILABLE OPTIONS
E
24 Vac Input (18-36 Vac)
Example: A24110E
Crydom Heat Sinks
thermal management and are per
fectly matched to the load current
ratings of Crydom panel mount
relays. Request Crydom's Heat Sink
specification sheet for all the details.
Screw Torque Requirements:
6-32 Screws - 10 in./lbs.,
8-32 and 10-32 Screws - 20in./lbs.
(Screws dry without grease.)
120/240, 480 Vac · AC Output
GENERAL SPECIFICATIONS
Dielectric Strength 50/60Hz Input/Output/Base
Insulation Resistance (Min.) @ 500 Vdc
Max. Capacitance Input/Output
Ambient Operating Temperature Range
Ambient Storage Temperature Range
MECHANICAL SPECIFICATIONS
Thermally Conductive Epoxy
Screws and Saddle Clamps Furnished, Unmounted
All dimensions are in inches (millimeters)
© 2002 CRYDOM CORP, Specifications subject to change without notice.
For recommended applications and more information contact:
USA: Sales Support (877) 502-5500 Tech Support (877) 702-7700 FAX (619) 710-8540
Crydom Corp, 2320 Paseo de las Americas, Ste. 201, San Diego, CA 92154
Email: sales@crydom.com WEB SITE: http://www.crydom.com
UK: +44 (0)1202 365070 · FAX +44 (0)1202 365090 Crydom International Ltd., 7 Cobham
Road, Ferndown Industrial Estate, Ferndown, Dorset BH21 7PE, Email: intsales@crydom.com.
GERMANY: +49 (0)180 3000 506