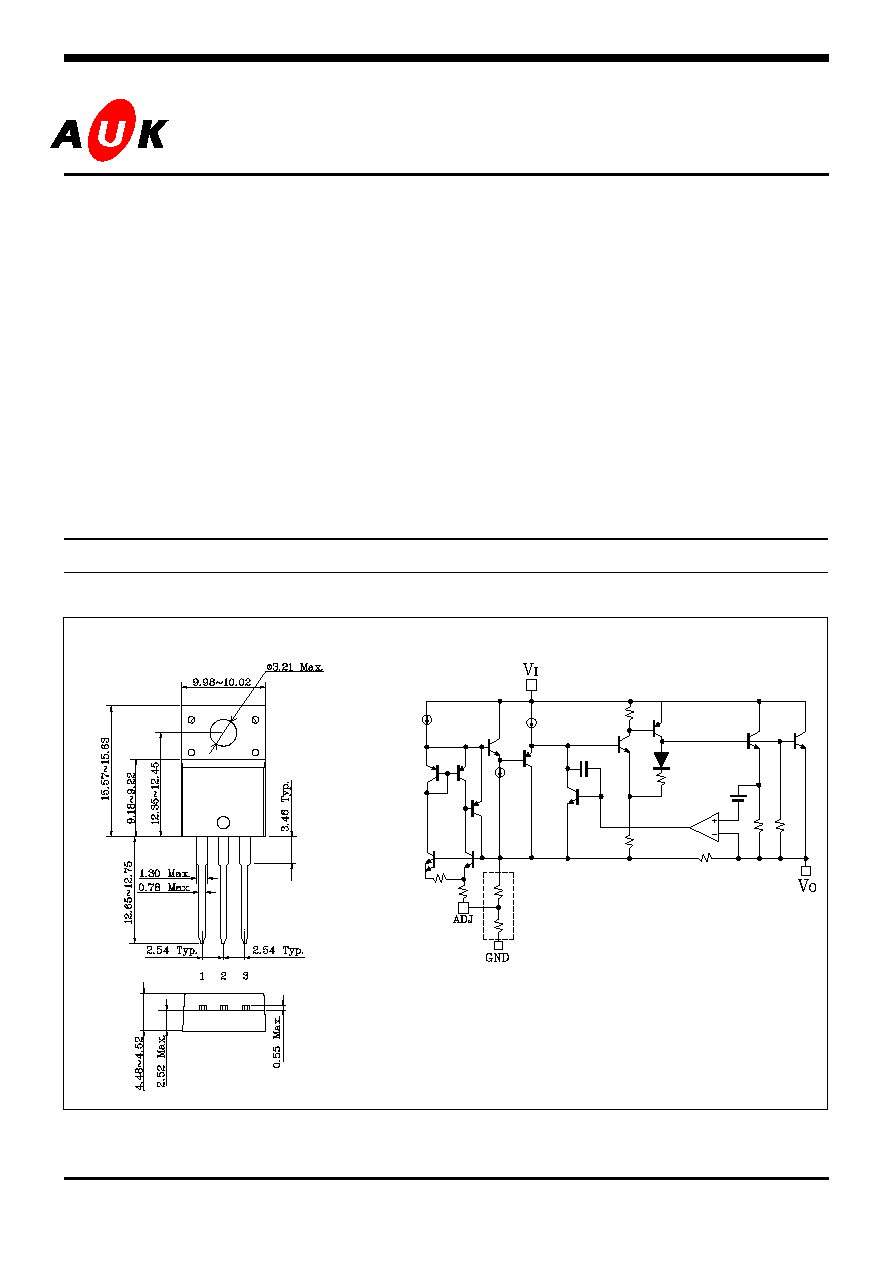 S1117API/S1117-xxPI
Adjustable and Fixed LDO Voltage Regulator
Descriptions
The S1117 series of positive adjustable and fixed regulators are designed to provide 1A
with high efficiency. All internal circuitry is designed to operate down to 1.3V input to
output differential. On-chip trimming adjusts reference voltage to 2%.
Features
· Adjustable or Fixed output
· Output Current of 1A
· Low Dropout, 1.3V maximum at 1A Output Current
· Thermal Shutdown Protection
· Fast Transient Response
Ordering Information
Type NO.
Marking
Package Code
:Voltage Code (Aj : 1.25V, 15:1.5V,:18: 1.8V, 25:2.5V, 33:3.3V, 50:5.0V)
:Voltage Code (285:2.85V)
S
S
e
e
m
m
i
i
c
c
o
o
n
n
d
d
u
u
c
c
t
t
o
o
r
r
PIN Connections
1. GND/Adj
2. Output voltage
Outline Dimensions
BLOCK DIAGRAM

S1117API/S1117-xxPI
Absolute Maximum Ratings
Ta=25
°C
Characteristic Symbol
Rating
Unit
Storage Temperature Range
Device Selection Guide
Device Output
Voltage
Note 1 : Other fixed versions are available V
S1117API/S1117-xxPI

Electrical Characteristics
(Electrical Characteristics at T
=10 unless otherwise specified.)
Characteristic Symbol
Device
Test Condition
Min Typ Max
Unit
S1117-
25
Line Regulation
(Note2)
Ripple Rejection
(Note3)
The * denotes the specifications which apply over the full temperature range.
Note 2: Low duty pulse testing with Kelvin connections required.
Note 3: 120 input ripple (C
S1117API/S1117-xxPI
Typical Applications
S1117A
(Fixed Version)
Fig. 1 Fixed Voltage Regulator
S1117-xx
(Fixed Version)
Fig. 2 Adjustable Voltage Regulator
Notes:
1) C
needed if device is far from filter capacitors
minimum value required for stability
S1117API/S1117-xxPI
Electrical Characteristic Curves
Fig. 3 V
DROP
vs. I
O
Fig. 4 V
O
vs. T
a
Fig. 6 Temperature Stability
Fig. 8 P
D
vs. T
a
Fig. 5 RR vs. Frequency
Fig. 7 I
ADJ
vs. T
a