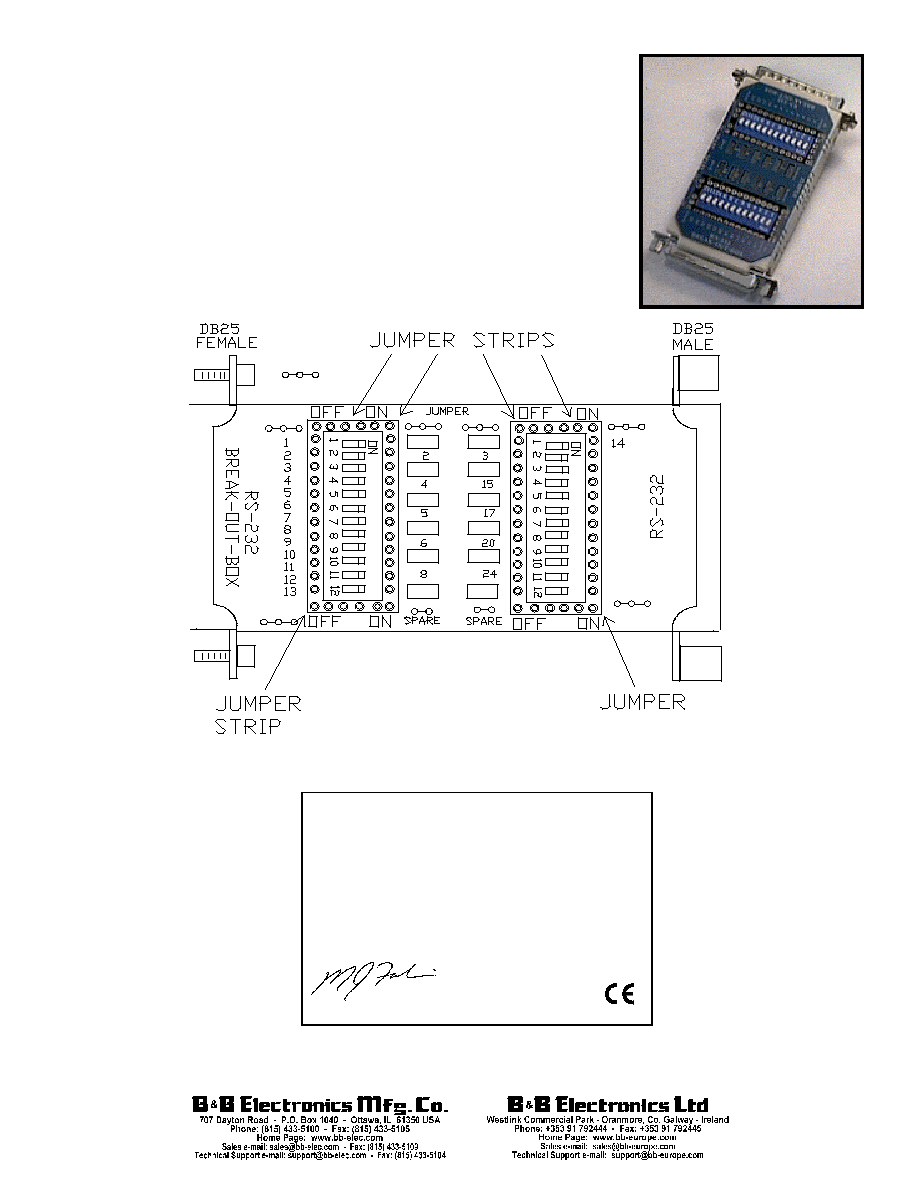 232BOB15299 - pg. 1/1
© B&B Electronics -- Revised January 2000
This product designed and manufactured in USA of domestic and imported parts by
RS-232 BreakOut Box
Model 232BOB1
Test and rewire your RS-232 interfaces with this portable, pocket-size BreakOut Box. It provides
access to all 25 conductors of the RS-232/V.24 interface between the data terminal and data
communications equipment. The LEDs monitor the status of ten primary signals: TD(2), RD(3), RTS(4),
CTS(5), DSR(6), CD(8), TC(15), RC(17), DTR(20), ETC(24), and two additional LEDs for spares. Twenty-
four miniature switches allow all interface conductors (except frame ground on pin 1) to be individually
interrupted for isolated testing and observation of terminal and modem signals. Small jumper cables are
provided to allow cross connection of signal lines.
The 232BOB1 comes with a 26-page instruction manual which helps you understand RS-232. The
manual explains serial data and helps you interconnect two serial devices. Size: 8.9 x 5.3 x 17.8 cm
(3.5 x 2.1 x .7.0 in)
DECLARATION OF CONFORMITY
B&B Electronics Manufacturing Company
P.O. Box 1040
707 Dayton Road
Ottawa, IL 61350 USA
Light industrial ITE equipment
Application of Council Directive:
EN 50082-1 (IEC 801-2, IEC 801-3, IEC 801-4)
EN 50081-1 (EN 55022, IEC 1000-4-2)
EN 61000 (-4-2, -4-3, -4-4, -4-6, -4-8)
ENV 50204
Michael J. Fahrion, Director of Engineering