S2002
DUAL SERIAL BACKPLANE DEVICE
July 16, 1999 / Revision A
S2002
DUAL SERIAL BACKPLANE DEVICE
DEVICE
SPECIFICATION
Figure 1. Typical Dual Gigabit Ethernet Application
FEATURES
· Broad operating rate range (.98 - 1.3 GHz)
- 1062 MHz (Fibre Channel)
- 1250 MHz (Gigabit Ethernet) line rates
· Dual Transmitter with phase-locked loop (PLL)
clock synthesis from low speed reference
· Dual Receiver PLL provides clock and data
· Internally series terminated TTL outputs
· On-chip 8B/10B line encoding and decoding for
two separate parallel 8-bit channels
· Dual 8-bit parallel TTL interfaces with internal
series terminated outputs
· Low-jitter serial PECL interface
· Individual local loopback control
· JTAG 1149.1 Boundary scan on low speed I/O
· Interfaces with coax, twinax, or fiber optics
· Single +3.3V supply, 1.85 W power dissipation
· Compact 21mm x 21mm 156 TBGA package
APPLICATIONS
· Data broadcast environments
· Proprietary extended backplanes
GENERAL DESCRIPTION
The S2002 facilitates high-speed serial transmission
of data in a variety of applications including Gigabit
Ethernet, Fibre Channel, serial backplanes, and pro-
prietary point to point links. The chip provides two
separate transceivers which are operated individu-
ally for a data capacity of >2 Gbps.
Each bi-directional channel provides 8B/10B coding/
decoding, parallel to serial and serial to parallel con-
version, clock generation/recovery, and framing. The
on-chip transmit PLL synthesizes the high-speed
clock from a low-speed reference. The on-chip dual
receive PLL is used for clock recovery and data re-
timing on the two independent data inputs. The
transmitter and receiver each support differential
PECL-compatible I/O for copper or fiber optic com-
ponent interfaces with excellent signal integrity. Lo-
cal loopback mode allows for system diagnostics.
The chip requires a 3.3V power supply and dissi-
pates 1.85 watts.
Figure 1 shows the S2202 and S2002 in a Gigabit
Ethernet application. Figure 2 combines the
S2002 with a crosspoint switch to demonstrate a
serial backplane application. Figure 3 is the input/
output diagram. Figures 4 and 5 show the transmit
and receive block diagrams, respectively.
DUAL SERIAL BACKPLANE DEVICE
S2002
July 16, 1999 / Revision A
Figure 2. Typical Backplane Application
S2002
Switch
S2016
S2025
S2002
Channel
Ethernet
S2002
Channel
Ethernet
S2002
Channel
Ethernet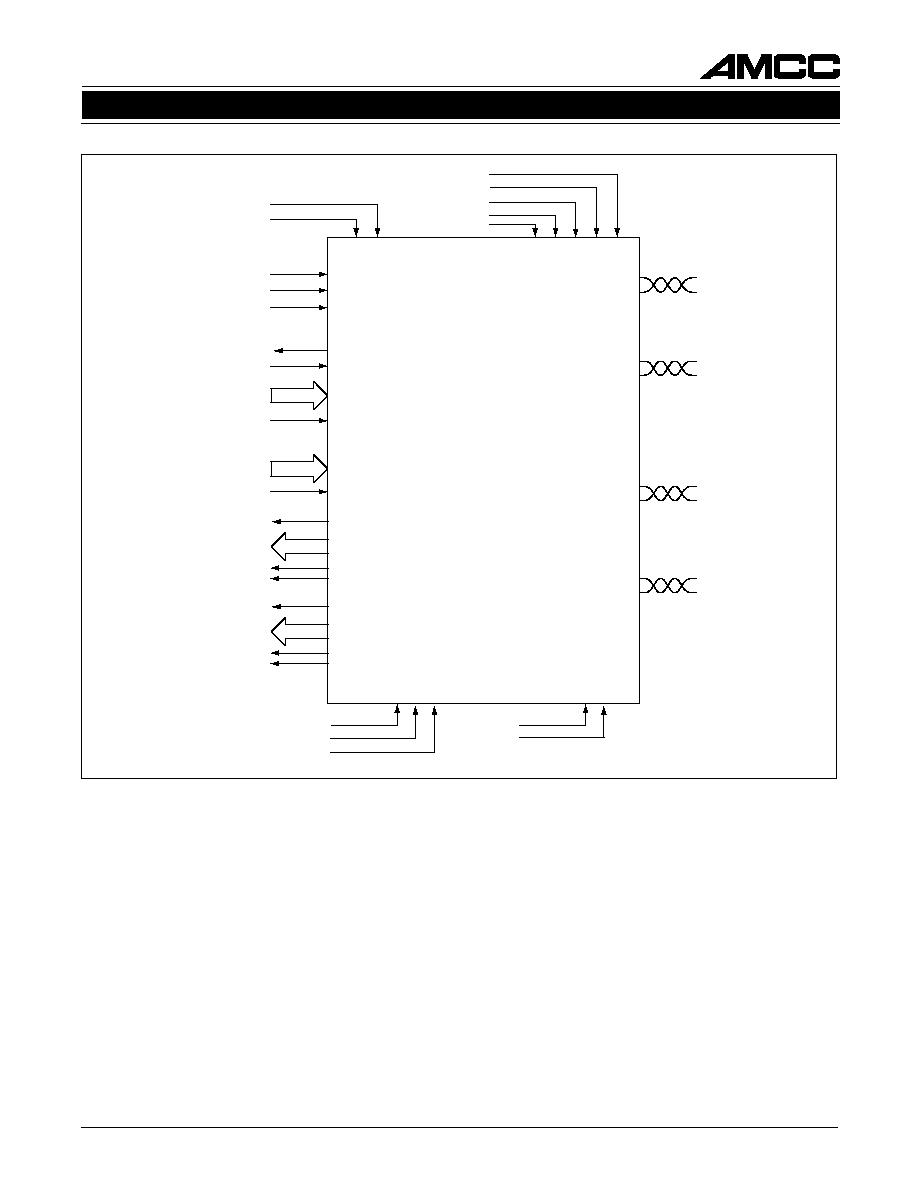 S2002
DUAL SERIAL BACKPLANE DEVICE
July 16, 1999 / Revision A
Figure 3. S2002 Input/Output Diagram
DUAL SERIAL BACKPLANE DEVICE
S2002
July 16, 1999 / Revision A
Figure 4. Transmitter Block Diagram
S2002
DUAL SERIAL BACKPLANE DEVICE
July 16, 1999 / Revision A
Figure 5. Receiver Block Diagram