P r o d u c t B r i e f
Overview
S1215 (Amur) interfaces with 155Mbps/622Mbps
SONET/SDH (1xSTS-12/STM-4, 4xSTS-3/STM-1)
optical signals and 12x DS3/E3 or 32xDS1/E1/J1
copper signals. The device performs standards-
compliant framing, channelization and termina-
tion following SONET/SDH (STS-1 to VT/TU) and
PDH (DS3/E3 to DS1/E1/J1) multiplexing hierar-
chies. Built-in data processors support Frame Relay,
PPP, GFP and ATM data mappings for up to 1024
channels with DS-0 granularity. Additionally, S1215
(Amur) supports add/drop functionality for TDM
traffic with selection down to DS-0 level, enabling
applications such as Circuit Emulation Services or
Voice Processing in Media-Gateways or DS-0 cross-
connects. The high-density channelization, termi-
nation and service assignment flexibility enables
deployment of small form factor access/edge
switches and routers with multi-protocol line
cards. S1215 (Amur), along with nP3705, signifi-
cantly reduces the size, power and cost of MPLS
switches and routers. The programmable features
of the solution enables future software upgrades
to support evolving requirements.
SONET/SDH Line Features
· Provides line-interface for single STS-12/STM-4 or
· Processes any valid combination of SONET/SDH
STS-3c/AU-4, or STS-1/AU-3 tributaries within an
STS-3/STM-1.
· Terminates/generates SONET/SDH section, line,
and path overhead. SONET/SDH processing of
all defined TOH/POH bytes, compliant with Tel-
cordia GR-253 and ANSI T1.105, and ITU G.751,
G.783, G.804.
· Supports independent loop-timing for OC-12/
STM-4 and quad OC-3/STM-1 line configuration.
DS1/E1/J1 Line Interface
· Provides serial LIU ports for 32 individual DS1/
E1/J1 lines for termination/origination of pay-
load.
DS3/E3 Line Interface
· Provides serial LIU ports for 12 individual DS3/E3
lines for termination/origination of payload.
SONET/SDH Protection
· Support protection-switching configurations
Tributary Features
· Processes up to 4 concatenated
· Provides DS3/E3 mapping and
demapping for up to 12 DS3/E3
tributaries.
· Provides framing for 168 DS1/J1 or
· Provides channelized mapping for
up to 168 DS1/J1 into VT1.5/TU-11
or 126 E1/J1 into VT2/TU-12 or any
valid combination.
· Supports loop-timing for DS3/E3
and DS1/E1/J1 on a per tributary
basis.
· Supports full-featured DS3/E3 and
· Supports M23 and C-bit parity DS3
frame formats for demapped tribu-
taries or for native DS3 line inter-
faces.
· Supports G.751and G.832-based
· Supports M13, C-bit parity, and
G.747 (21xE1 into DS-3) for chan-
nelized DS3 applications.
· On chip PRBS generators and
receivers for DS1/E1/J1 and DS3/
E3.
· Loopback capabilities for SONET/
· Channelized loopbacks at payload,
· DS3/E3 and TU-3/VC-3 levels.
· 16-bit general purpose micropro-
cessor interface supporting
· Intel and Motorola modes.
· Configurable power down modes
for different applications.
Proc
12ch
Proc
12ch
4-port
SPI-3
Two-frame
slip buffers
8-bit,
78MHz
8/16 Mb/s
21 Lanes
8/32 Mb/s
104MHz
S1
215
AM
UR
Deep channelization SONET/SDH to PDH framer and
1K Channels HDLC/ATM/GFP processor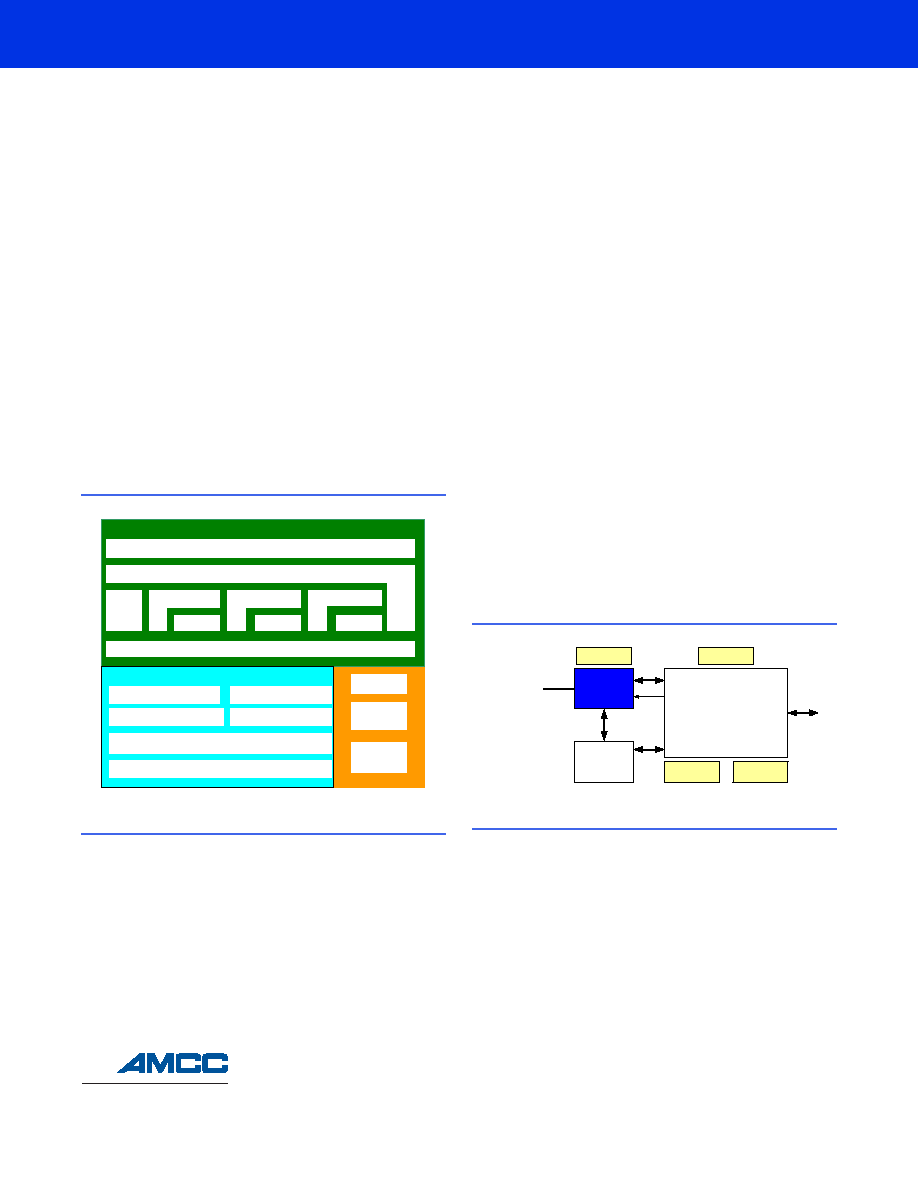 AMCC reserves the right to make changes to its products, or to discontinue any product or service without notice, and advises its customers to obtain the latest version of relevant information to
verify, before placing orders, that the information being relied upon is current.
AMCC is a registered trademark of Applied Micro Circuits Corporation. 3ware, SwitchedRAID and 3DM are registered trademarks in the United States and StorSwitch is a trademark in the United
States, of Applied Micro Circuits Corporation. All other trademarks are the property of their respective holders. Copyright © 2004 Applied Micro Circuits Corporation. All Rights Reserved.
Data Termination Features
· Store and forward architecture with extensive buffering using exter-
nal RLDRAM/FCRAM II memory.
· 1023 duplex channels that can be configured as bit-sync HDLC, byte-
sync HDLC, ATM, or direct-mapped payload.
· 168 channels can be assigned for GFP-F.
· Supports up to 12 subrate DS3 channels.
· On-chip queue management with programmable watermarks and
· Extensive layer 2 error monitoring and statistics collection.
· Packets/cells delivered over a 8/32-bit SPI-3 bus running up to
· 4-port SPI-3 interface with a prepended tag for channel ID, length,
error status, and service-specific fields.
Figure 2. Complete MISSION Access protocol stack support with S1215 (Amur) and nP3705
TDM and Voice Features
· Supports add/drop of TDM tributaries through a Flexible Tributary
Interface Level 2 (FTI-2) providing extraction of VT/TU/STS and PDH
signals with DS0 level marking
· FTI interface provides connectivity to external devices for applica-
tions such as Circuit Emulation Services.
· Supports Voice termination through a synchronous TDM Highway
interface, with an aggregate bandwidth of 2xOC-3/STM-1
· TDM Highway is compatible with H-MVIP and ST-Bus specifications
· Channel Associated Signaling (CAS) processing for up to 4032 DS-0
· CAS marking on FTI and TDM Highway interfaces
· Mixed data / voice termination between internal GHAP processor and
TDM highway supported with per-DS-0 selection
Applications
· Edge Routers and Multi-Service Switches: High integration, deep
channelization (DS1/E1, DS0) data interfaces for ATM, GFP, IMA, MPLS,
Frame Relay, ML-FR, IP/PPP, ML-PPP, services with IP Fragmentation/
reassembly, SARing, QoS, traffic shaping, policing, protocol conver-
sion
· Mixed data/Voice termination in Media/Voice/Wireless Gateways
Figure 3. CES Solution Example Block Diagram
Layer 2 Protocol Inter Working - FRF 8.1, Martini
Per Flow / Per Channel Traffic Management
nP3705
nxDS3/E3, nxDS1/E1/J1, nxDS0
S1215 (AMUR)
S1215
AMUR
Flexible Tributary
Interface
SPI-3 or
SPI-4.2