Advanced Power
P-CHANNEL ENHANCEMENT MODE
Electronics Corp.
POWER MOSFET
Simple Drive Requirement
Small Package Outline
Surface Mount Device
Description
Absolute Maximum Ratings
Thermal Resistance Junction-ambient
Data and specifications subject to change without notice
Pb Free Plating Product
Thermal Data
Operating Junction Temperature Range
Linear Derating Factor
Storage Temperature Range
Drain-Source Voltage
Gate-Source Voltage
Continuous Drain Current
200407042
AP2303GN
The Advanced Power MOSFETs from APEC provide the
designer with the best combination of fast switching,
low on-resistance and cost-effectiveness.
D
G
S
SOT-23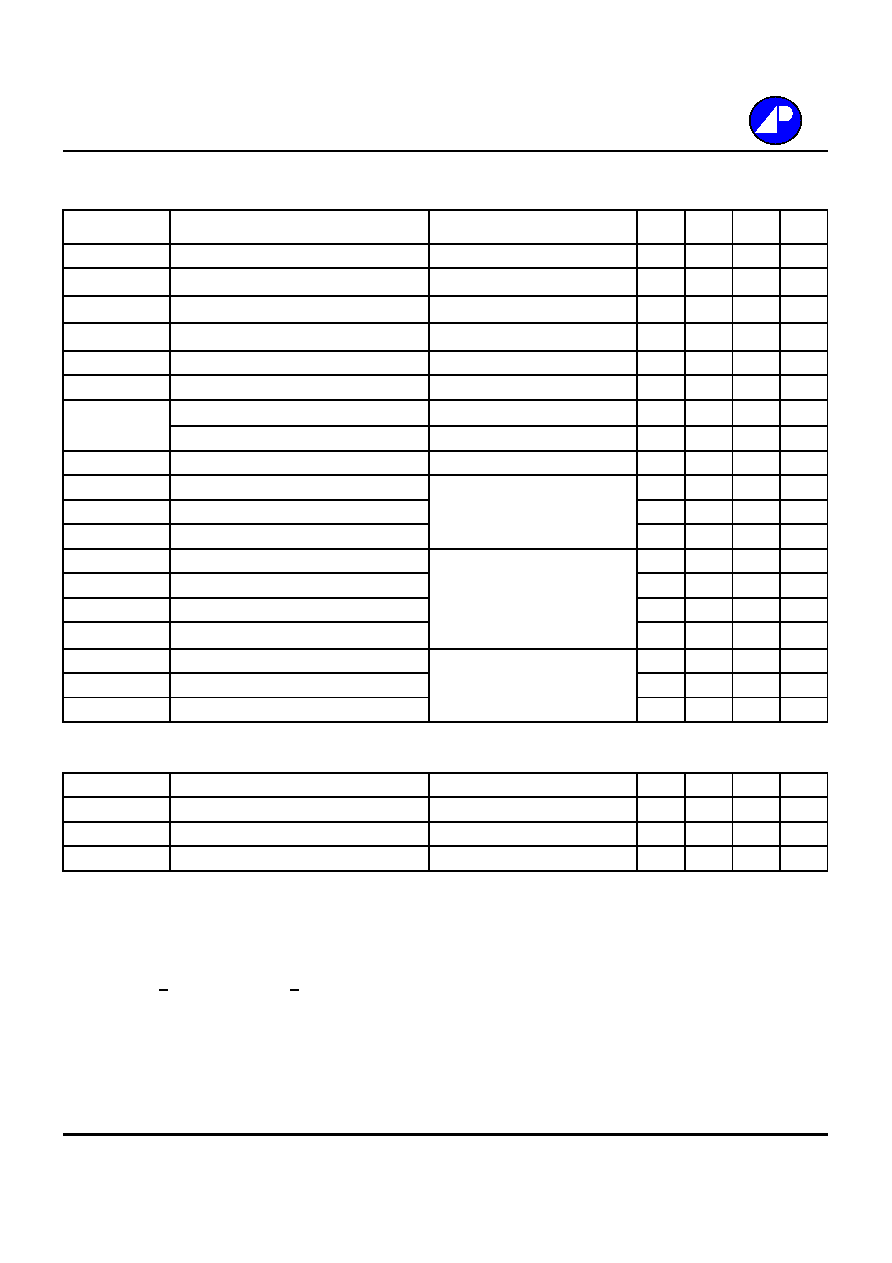 Electrical Characteristics@T
j
=25
o
C(unless otherwise specified)
Drain-Source Breakdown Voltage
Breakdown Voltage Temperature Coefficient
Static Drain-Source On-Resistance
Drain-Source Leakage Current (T
Drain-Source Leakage Current (T
Gate-Drain ("Miller") Charge
Reverse Transfer Capacitance
Source-Drain Diode
Continuous Source Current ( Body Diode )
Pulsed Source Current ( Body Diode )
Notes:
1.Pulse width limited by Max. junction temperature.
2.Pulse width <300us , duty cycle <2%.
3.Surface mounted on 1 in
copper pad of FR4 board ; 270
/W when mounted on min. copper pad.
AP2303GN
AP2303GN
Fig 1. Typical Output Characteristics
Fig 2. Typical Output Characteristics
Fig 3. On-Resistance v.s. Gate Voltage
Fig 4. Normalized On-Resistance
Fig 5. Forward Characteristic of
Fig 6. Gate Threshold Voltage v.s.
Reverse Diode
Junction Temperature
0
2
4
6
8
10
0
1
2
3
4
5
-V
DS
, Drain-to-Source Voltage (V)
-I
D
, Drain
Cu
rre
n
t
(A)
T
A
=150
o
C
V
G
=-4.0V
-10V
-8.0V
-6.0V
-5.0V
100
150
200
250
3
5
7
9
11
-V
GS
, Gate-to-Source Voltage (V)
R
DSON
(m
)
I
D
=-1.3A
T
A
=25
0.6
0.8
1
1.2
1.4
1.6
1.8
-50
0
50
100
150
T
j
, Junction Temperature (
o
C)
N
o
rmalize
d
R
DS(
ON)
V
G
= -10V
I
D
=-1.7A
0
2
4
6
8
10
0
1
2
3
4
5
-V
DS
, Drain-to-Source Voltage (V)
-I
D
, Drain
Cu
rre
n
t
(A)
T
A
=25
o
C
-10V
-8.0V
-6.0V
-5.0V
V
G
=-4.0V
0
0
1
10
0.1
0.3
0.5
0.7
0.9
1.1
1.3
-V
SD
, Source-to-Drain Voltage (V)
-I
F
(A
)
T
j
=25
o
C
T
j
=150
o
C
0
1
2
3
-50
0
50
100
150
T
j
, Junction Temperature (
o
C)
-V
GS(
t
h)
(V
)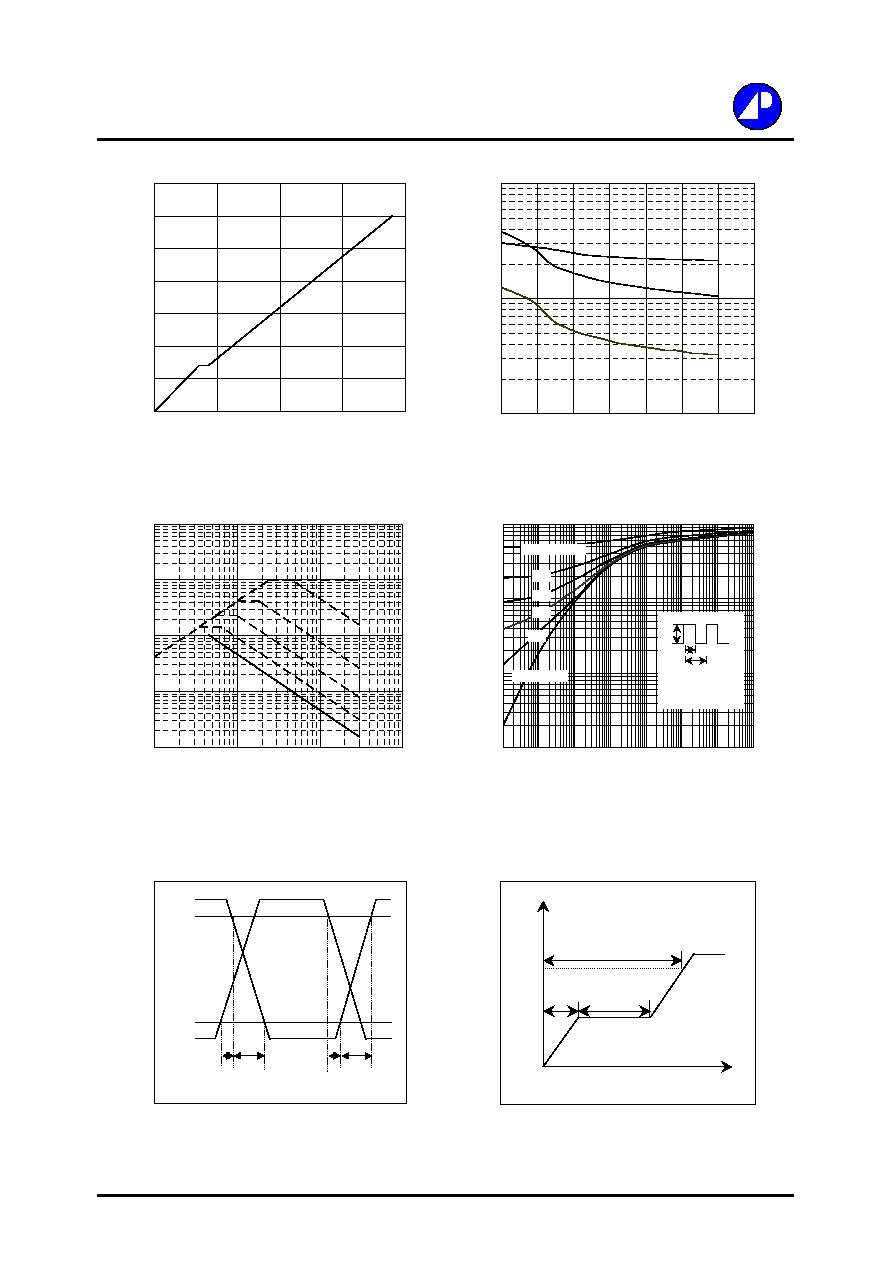 Fig 7. Gate Charge Characteristics
Fig 8. Typical Capacitance Characteristics
Fig 9. Maximum Safe Operating Area
Fig 10. Effective Transient Thermal Impedance
Fig 11. Switching Time Waveform
Fig 12. Gate Charge Waveform
AP2303GN
0.001
0.01
0.1
1
0.0001
0.001
0.01
0.1
1
10
100
1000
t , Pulse Width (s)
Norm
alize
d
Th
e
r
m
al R
e
spon
se
(
R
th
ja
)
0.01
0.05
0.1
0.2
Duty factor=0.5
P
DM
Duty factor = t/T
Peak T
j
= P
DM
x R
thja
+ T
a
R
thja
= 270
/W
t
T
Single Pulse
0.01
0.1
1
10
100
0.1
1
10
100
-V
DS
, Drain-to-Source Voltage (V)
-I
D
(A)
T
A
=25
o
C
Single Pulse
1ms
10ms
100ms
1s
DC
0
2
4
6
8
10
12
14
0
2
4
6
8
Q
G
, Total Gate Charge (nC)
-V
GS
, Gate
to S
o
u
r
c
e
V
oltage
(
V
)
I
D
= -1.7A
V
DS
= -15V
10
100
1000
1
5
9
13
17
21
25
29
-V
DS
, Drain-to-Source Voltage (V)
C (p
F)
f=1.0MHz
C
iss
C
oss
C
rss
t
d(on)
t
r
t
d(off)
t
f
V
DS
V
GS
10%
90%
Q
V
G
-10V
Q
GS
Q
GD
Q
G
Charge