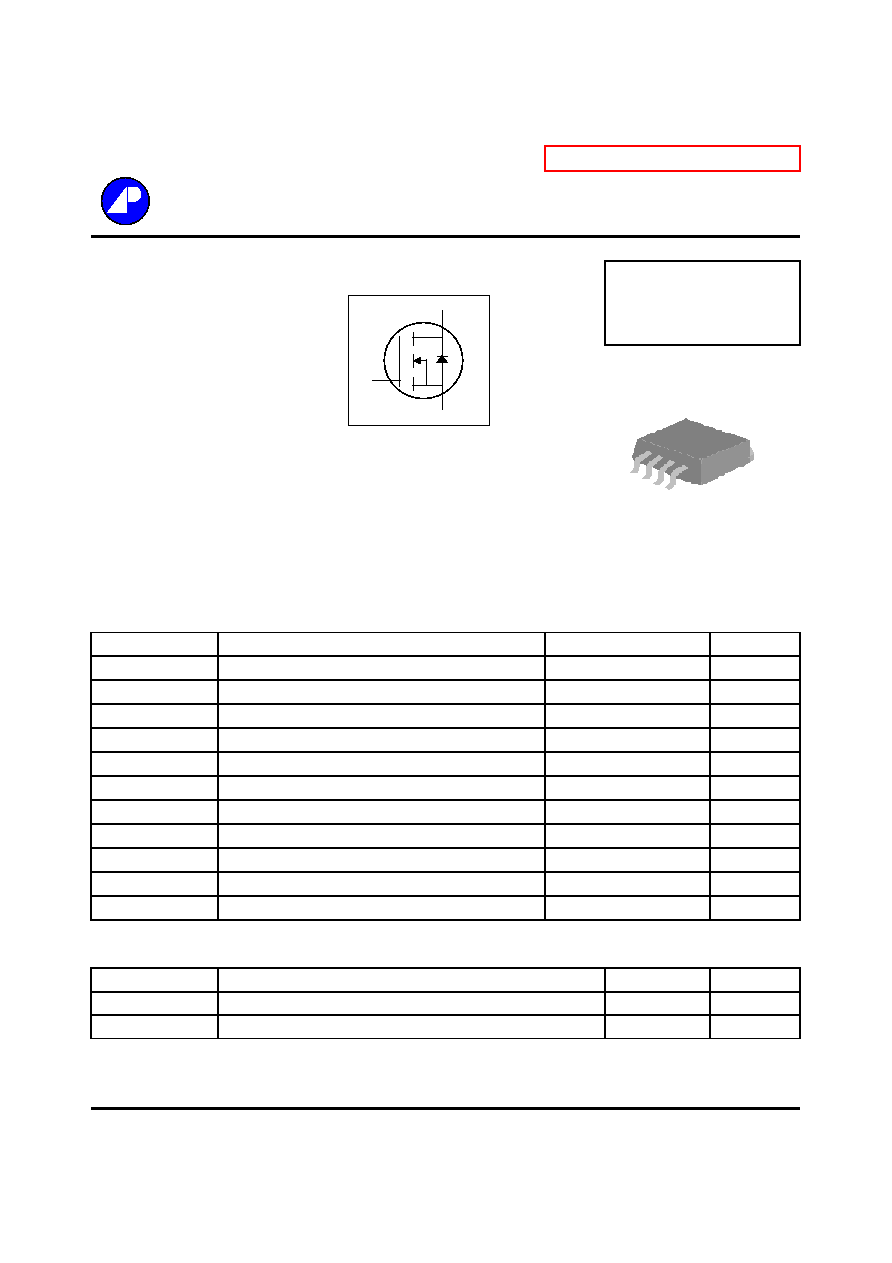 Advanced Power
N-CHANNEL ENHANCEMENT MODE
Electronics Corp.
POWER MOSFET
SO-8 similar area footprint and pin assignment
Low Gate Charge
Fast Switching Speed
RoHS Compliant
Description
Absolute Maximum Ratings
Single Pulse Avalanche Energy
Thermal Resistance Junction-case
Thermal Resistance Junction-ambient
Data and specifications subject to change without notice
Thermal Data
Storage Temperature Range
Operating Junction Temperature Range
Continuous Drain Current, V
Continuous Drain Current, V
200401053-1/4
AP0903GMA
Pb Free Plating Product
29
24
S
S
S G
D
APAK-5
The APAK-5 package is preferred for all commercial-industrial surface
mount applications and suited for low voltage applications such as
DC/DC converters.
Electrical Characteristics@T
j
=25
o
C(unless otherwise specified)
Drain-Source Breakdown Voltage
Breakdown Voltage Temperature Coefficient
Static Drain-Source On-Resistance
Drain-Source Leakage Current (T
Drain-Source Leakage Current (T
Gate-Drain ("Miller") Charge
Reverse Transfer Capacitance
Source-Drain Diode
Notes:
1.Pulse width limited by safe operating area.
2.Pulse width <300us , duty cycle <2%.
3.Surface mounted on FR4 board.
4.Starting T
2/4
AP0903GMA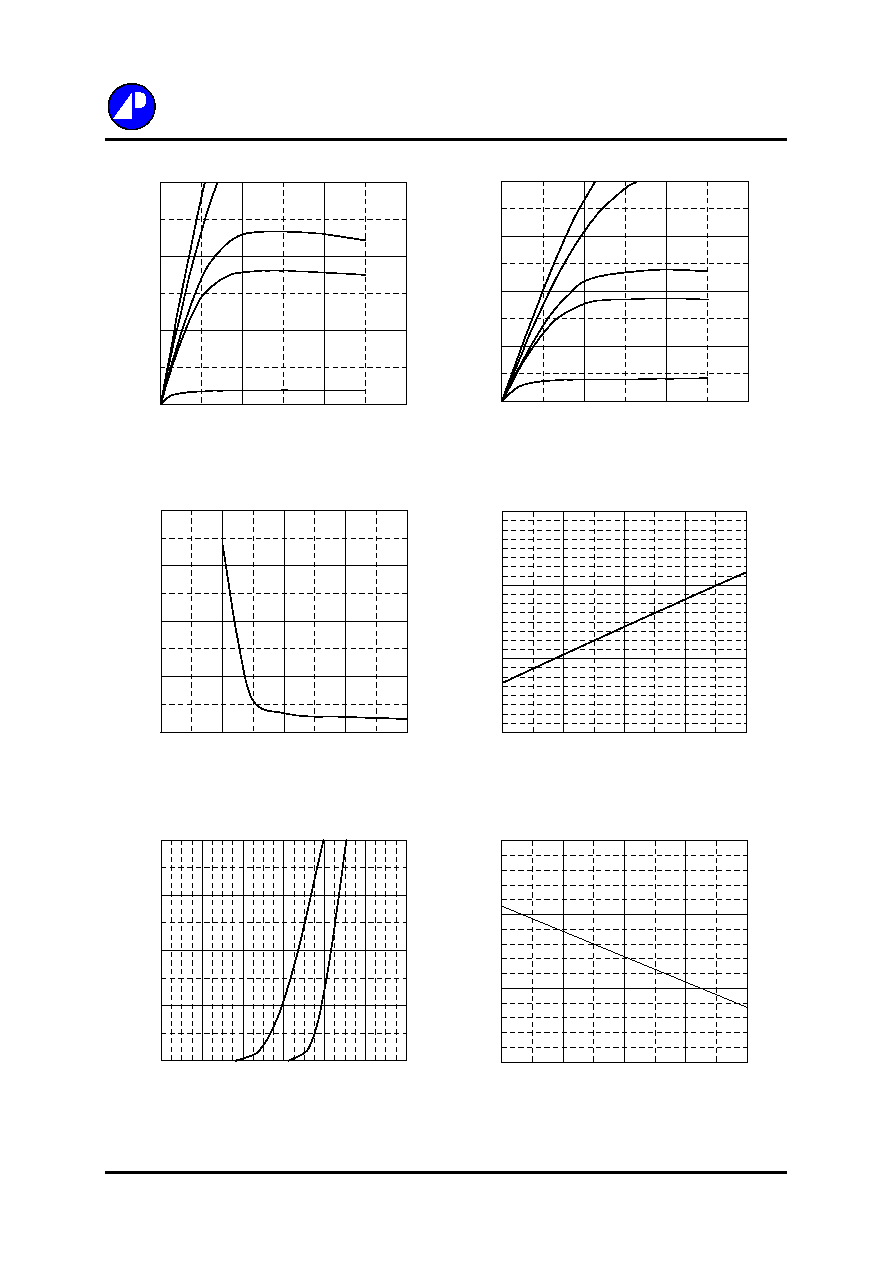 AP0903GMA
Fig 1. Typical Output Characteristics
Fig 2. Typical Output Characteristics
Fig 3. On-Resistance v.s. Gate Voltage
Fig 4. Normalized On-Resistance
v.s. Junction Temperature
Fig 5. Forward Characteristic of
Fig 6. Gate Threshold Voltage v.s.
Reverse Diode
Junction Temperature
3/4
0
30
60
90
120
0
2
4
6
V
DS
, Drain-to-Source Voltage (V)
I
D
, Dr
a
i
n C
u
r
r
e
nt
(A
)
T
C
=150
o
C
10V
7.0V
5.0V
4.5V
V
G
= 3.0 V
0
40
80
120
0
2
4
6
V
DS
, Drain-to-Source Voltage (V)
I
D
, Dr
a
i
n C
u
r
r
e
nt
(A
)
T
C
=25
o
C
10V
7.0V
5.0V
4.5V
V
G
= 3.0 V
0.5
0.9
1.3
1.7
-50
0
50
100
150
T
j
, Junction Temperature (
o
C)
N
o
rmalize
d
R
DS(ON)
I
D
=33A
V
G
=10V
0.2
0.7
1.2
1.7
-50
0
50
100
150
T
j
, Junction Temperature (
o
C )
N
o
rmalize
d
V
GS(t
h)
(V
)
8
12
16
20
24
2
4
6
8
10
V
GS
, Gate-to-Source Voltage (V)
R
DS(ON)
(m
)
I
D
=20A
T
C
=25
0
5
10
15
20
0
0.2
0.4
0.6
0.8
1
1.2
V
SD
, Source-to-Drain Voltage (V)
I
S
(A
)
T
j
=150
o
C
T
j
=25
o
C
Fig 7. Gate Charge Characteristics
Fig 8. Typical Capacitance Characteristics
Fig 9. Maximum Safe Operating Area
Fig10. Effective Transient Thermal Impedance
Fig 11. Transfer Characteristics
Fig 12. Gate Charge Waveform
4/4
AP0903GMA
0
3
6
9
12
0
5
10
15
20
25
Q
G
, Total Gate Charge (nC)
V
GS
,
G
a
te
to S
o
u
r
c
e
Voltage
(
V
)
I
D
=33A
V
DS
=16V
V
DS
=20V
V
DS
=24V
100
1000
10000
1
5
9
13
17
21
25
29
V
DS
, Drain-to-Source Voltage (V)
C (
p
F)
f=1.0MHz
C
iss
C
oss
C
rss
Q
V
G
4.5V
Q
GS
Q
GD
Q
G
Charge
0.01
0.1
1
0.00001
0.0001
0.001
0.01
0.1
1
t , Pulse Width (s)
N
o
rmalize
d
T
h
e
r
mal Re
spon
se
(
R
th
jc
)
P
DM
Duty factor = t/T
Peak T
j
= P
DM
x R
thjc
+ T
C
t
T
0.02
0.01
0.05
0.1
0.2
Duty factor=0.5
Single Pulse
1
10
100
1000
0.1
1
10
100
V
DS
, Drain-to-Source Voltage (V)
I
D
(A
)
T
C
=25
o
C
Single Pulse
100us
1ms
10ms
100ms
DC
0
30
60
90
0
2
4
6
8
V
GS
, Gate-to-Source Voltage (V)
I
D
, Dr
a
i
n C
u
r
r
e
nt
(A
)
T
j
=150
o
C
T
j
=25
o
C
V
DS
=5V